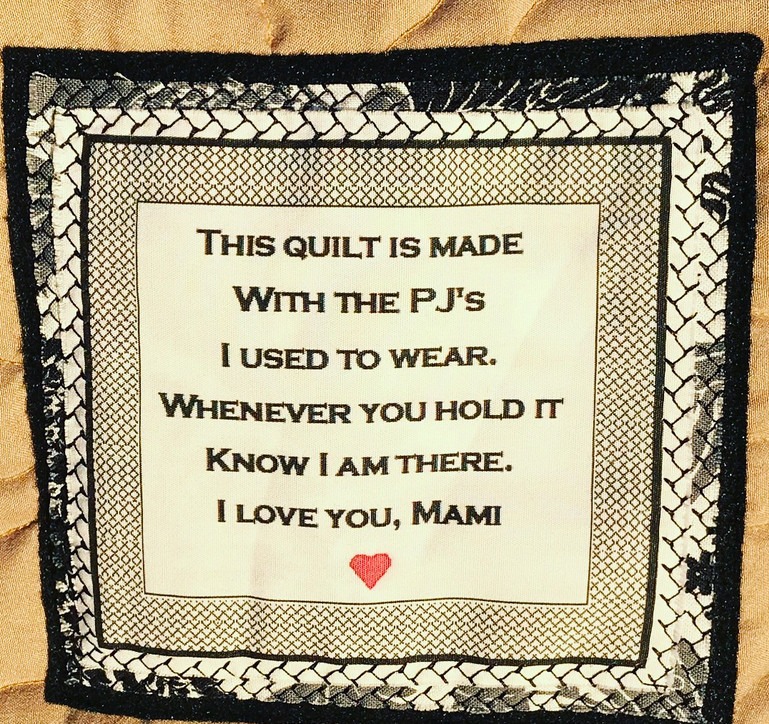 Instagram; Rodrigo Varela/WireImage
Gloria Estefan will now feel as if a piece of her late mother Gloria Fajardo is with her. 
The 60-year-old superstar lost her mother in June but just received a heartfelt gift from her sister Rebecca Fajardo-Cabrera that will give her comfort whenever she misses her mother. 
Estefan shared photos of the quilt that is made up of her late mother's pajamas. 
"This quilt is made of PJs I used to wear. Whenever you hold it know I am there. I love you, Mami," the sewed message reads. 
In the Instagram gallery, we see several pictures of Estefan holding the blanket as she faces the ocean. 
Along with the photos, Estefan wrote lyrics from her song "Wrapped", "Wrapped in your arms where it's peaceful, back in your arms where I'm happy, I would do anything gladly only to see you again. #bestgiftever #thankyoumysister #Imissmymommy."
At the time of her mother's death, Estefan announced the sad news on social media and also shared a touching message about her beloved mom. 
"Tonight at 8:19 pm we lost my beloved mother, the inimitable Gloria Fajardo. She went peacefully surrounded by her daughters, grandchildren, son-in-laws, niece, three loving caregivers, extended family and her most trusted friends, very especially, the two beautiful ladies in each side in this picture, Carmen Corpion & Clara Bris," she writes in the touching Instagram post. "They were an integral part of her posse not only throughout her life but to her last breath. I know it was exactly the way she would have wanted her departure from this earth to be, surrounded by love and the true representations of everyone that was special to her in life."
The singer then went on to explain that her mother's time of death has a particular significance for their family. 
"know she chose the very moment, 8:19, because her beloved mother had died on 8/19 thirty-two years ago and she wanted to make sure that we got the message that she was with our beloved grandmother, Abuela Consuelo and my loving father, Jose Manuel," she explains. "I will miss her every moment of every day, and I thank her for being the incredible mother, woman and role model that she was to so many people."