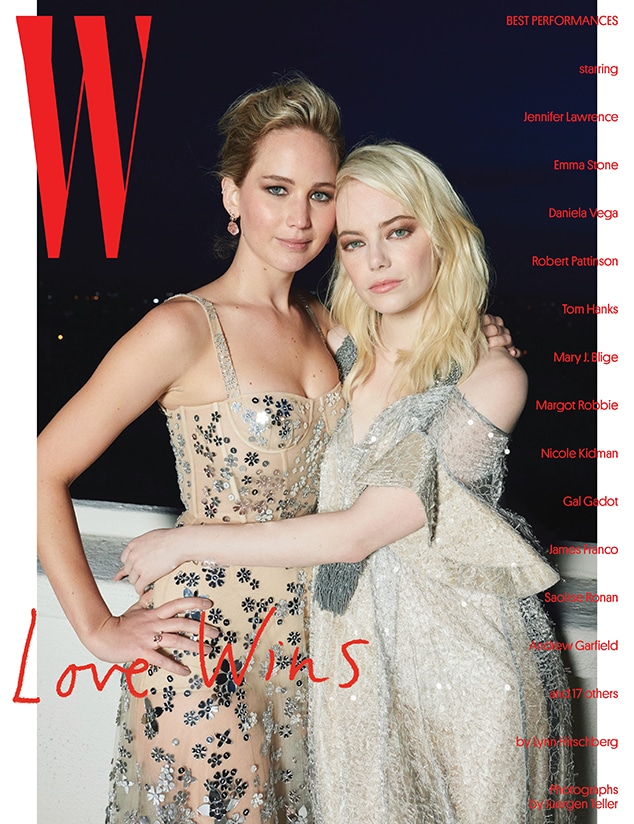 Juergen Teller for W Magazine
We'd be lying if we said we aren't obsessed with Jennifer Lawrence and Emma Stone's friendship.
They're two award-winning leading ladies with a great sense of humor, a down-to-earth vibe and a drive for feminism and equality, all of which makes us love them as individuals. And when you put them together, well, we can only imagine the awesomeness that ensues.
In fact, the ladies are featured together on the cover for one of W magazine's Best Performances Portfolios in which Stone opens up about the origin of their "love story" and how they became friends—which, of course, has quite the unique twist.
"Jennifer Lawrence and I both had the same stalker, John the Orchestra Guy," Stone began.
"He would text us both and say things like 'I'm running late on my way to the soundstage. Can you warm up the orchestra for me? Text me back and let me know you got this,'" the Golden Globe-nominated actress continued. "He wasn't really a stalker. He must have worked at a studio or something, because he had a lot of people's numbers."
So how did John the Orchestra Guy fit into the duo's friendship?
Dave Allocca/StarPix/REX/Shutterstock
"Jen and I texted for a year before we actually met," Stone explained. "As she was driving to my house, she thought, 'Oh, my God, what if it's John the Orchestra Guy?' And I thought, 'Oh, my God, what if it's John the Orchestra Guy?' So Jen calls me and says, 'I just want to make sure you're not John the Orchestra Guy.' I wasn't. And we met. It's our adorable love story."
If that doesn't epitomize these two ladies, we don't know what does.
And speaking of love stories, Lawrence also opened up about another romantic moment in her life: Her first kiss.
"This is going to sound like a murder story, but it was in the woods, outside of a baseball park," she told W. "I had lost my turtle. Curtis, the guy I kissed, found it." LOL!
For more amazing anecdotes, read all of W magazine's Best Performance Profiles here.