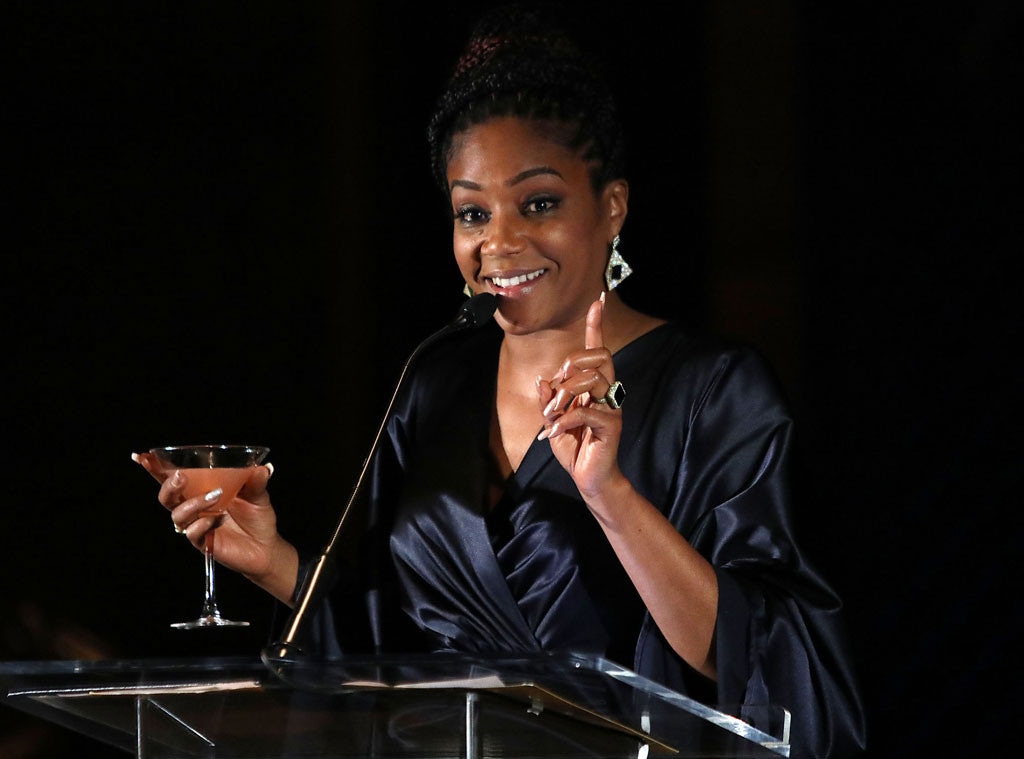 Kristina Bumphrey/Starpix/REX/Shutterstock
No one was more shocked than Tiffany Haddish when she as given the New York Film Critics Circle Award for Best Supporting Actress—because she knew nothing about the annual event.
"I didn't know that existed," Girls Trip's breakout star confessed to The New York Times earlier this week. "I had to ask people, 'What is the importance of it?' [Jada Pinkett Smith] called me and told me, 'I'm so proud of you.' I was like, 'What do you mean?' She was like, 'Girl, it is an honor.' And I said, 'Why is it an honor?' And she said, 'It's an honor because they don't like people.' I said, 'Yeah they do. They gotta like somebody.' And she said, 'It's really hard to get in. You did a good job.' I still had to Google them to try to figure out how prestigious they were."
Haddish showed up to collect her award Wednesday at TAO Downtown, where she delivered a 17-minute acceptance speech that had the audience in stitches. She first referenced her most memorable scene in Girls Trip, joking, "This is not a grapefruit. This is a microphone—and I'm much better with that." Feeling "like magic" after two cocktails, she inspected the award to ensure her name was spelled correctly. "I want to thank God, because without God, my mama and daddy wouldn't have put their two uglies together and they wouldn't have made me. That was all God right there; He put two crazy people together to make one awesome crazy person."
Ironically, Haddish admitted she doesn't ever read reviews. "The most reviews you'll see me read is something that my publicist sends me and says, 'Read this.' I'm like, 'You read!' 'Cause if it hurts my feelings, Imma cuss they ass out in my soul, and then I'm going to pray for them out loud, because I'm super sensitive. I don't mean to be so sensitive, but that's just who I am, and I'm not afraid to admit it," she said. "And I know I'm going to do a lot of things in this business. I'm going to be around here a long time...and I know some people are going to talk s--t about me. It's OK. You know why it's OK? Because you care enough to say something. If you didn't say nothing, then you didn't care. So, if you said something, thank you. I don't care if it's positive or negative. I appreciate you. I'm glad you see me, because it's been so many years nobody so me. You know, when you a little kid going through the [foster] system, you wonder, 'Does anybody even know I'm alive?' To be able to be this example to so many youths...There's so many people like me you guys have no clue about. But they' comin', because I kicked the f--king door open!"
Haddish's words of encouragement didn't end there, either.
"Speak your truth! Be yourself! It's the healthiest way to be. Be who you are! Speak who you are! Don't nobody like you? F--k it! There's 10 other people who do. There's somebody like you and they need to hear you. So, I'm always gon' to be me. I'm never going to be perfect. I'm always going to say what I think and I might get messed up for it, but I don't care," she said. "I wanna give a special shout-out to all the people that supported me throughout all these years."
Haddish also took a moment to share one of her favorite improvised jokes from Girls Trip that ended up on the cutting room floor. "There's a scene where I'm telling [Regina Hall's character] all the things I would do for her, that I got her back. I said, 'No matter what, girl, I got your back...I don't care. We gon' give him some Ambien. Night, night! Night, night!'" she joked. "'And then, when he sleep, we gon' burn yo' name in his dick. Then we gon' put mud and salt on there so it can keloid over. He'll be ribbed for your pleasure. When he wake up we'll look him dead in his eyes—and we'll tell him right to his face—to keep your name outta these bitches' mouths.'"
It's no secret Girls Trip changed everything for Haddish, who starred in her first Showtime special and published a memoir last year. "This whole business is about how you feel and what feeling you put out into the world and how you make other people feel. So, when you feel good about what you doing, in my mind, you make other people feel good. 'Cause let me tell you, on set, working with Queen Latifah, Jada Pinkett Smith and Regina Hall, and them allowing me to be myself, there wasn't no haters. They was like, 'Keep going!' Queen Latifah would egg me on and tell me to do the craziest stuff. I was like, 'She gotta be my friend in real life because we'll never go to jail,'" she laughed. "And she is my friend in real life and we haven't been to jail yet."
Though she had people on the edges of their seats, she eventually had to leave the podium. "I'm thankful for you, critics. I'm learning a lot about you guys," Haddish said. "Only thing I ever known before this was Siskel and Ebert, and when they passed, I was like, 'Oh, well.'" Though she rambled at times, her charming personality kept the audience's attention. "I don't know how you feel about me standing here talking too long," the actress laughed, "and I don't care!"