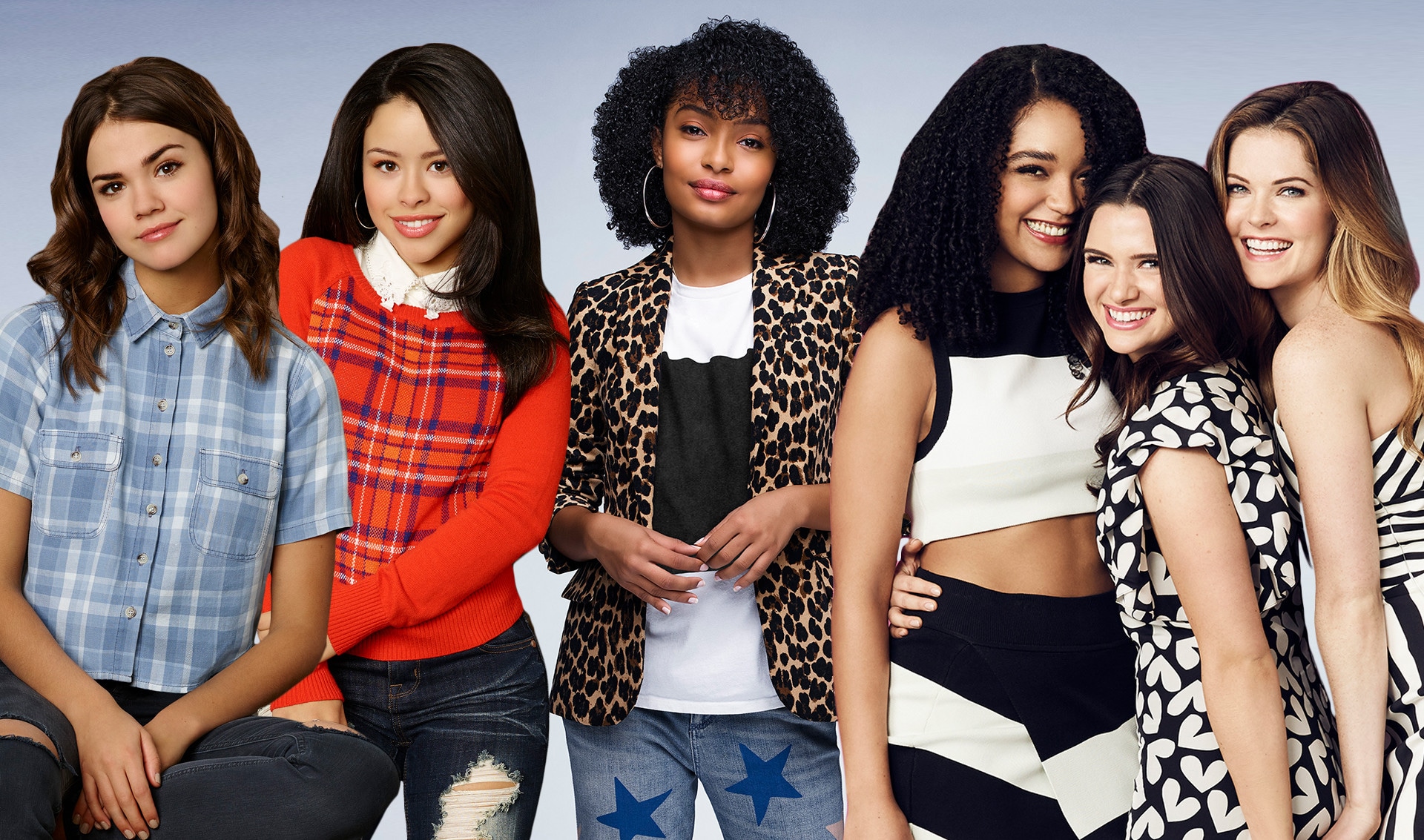 Freeform
When Grown-ish debuts on Freeform tonight, not only will it mark the network's most substantial and promising new comedy to debut since 2015, but if you look closely, you'll notice that Yara Shahidi's arrival on the cable channel marks an even greater shift.
Once seemingly content being known as the network that Pretty Little Liars built (or at least, kept afloat—not that there's anything wrong with that), Freeform has moved away from its desire to replicate that ultra-addictive soap's success with lesser carbon copies and, instead, seems to have decided to become the home of young female women trying to find their way in the world. The shift began almost immediately after PLL unveiled Uber-A in the series finale, when just a few short weeks after, the inspired (and inspiring) new drama The Bold Type debuted.
But with the new year comes a more earnest shift in the face of the network thanks to the arrival of the college campus-set comedy, itself a spinoff from the popular ABC comedy Black-ish. Like The Bold Type's Jane (Katie Stevens), Kat (Aisha Dee), and Sutton (Meghann Fahy) before her, Shahidi's Zoey Johnson is a young woman trying to make sense of her life now that she's leveled up (only swap in the fictional California University for the trio's fictional Scarlet magazine workplace). And just like them, she's not going through it alone.
Grown-ish, which finds Black-ish creator Kenya Barris at the helm (ensuring its damn near as funny, if not more so, than its ABC predecessor), surrounds Zoey with a diverse group of students (many of them also female) who are all trying to make sense of this thing called adulthood, realizing it's handled best when it's handled together. But it's Shahidi who truly stands out, taking this star-making opportunity and running with it and, in the process, giving Freeform's clear target demo a chance to see themselves reflected back from their screens. In tonight's two-part premiere, she deals with the fact that she doesn't know everything she thought she did, she makes some bad decisions, she parties, she studies, she rebounds from her bad decisions into some worse ones. In short, she's human—relatable, sympathetic, real. She's just like you or me. And she's not forced to try and outsmart a series of sadistic omnipresent villains in her small town in the process.
And it's that, the chance for young women to see themselves represented, that continues on the network throughout this new year. Alone Together, the network's next big comedy swing, debuts on January 10 and is co-created by up-and-coming comedian Esther Povitsky, who co-stars alongside her co-creator Benji Aflalo. The show, a look at two millennial misfits bonded in their platonic relationship as they navigate life in Los Angeles, has already been renewed for a second season. And just announced is the network's plan to wrap up the groundbreaking family drama The Fosters this summer, only to spin off main characters Callie (Maia Mitchell) and Mariana (Cierra Ramirez) into a series of their own, following the young women as they embark on the next phase of their lives.
Beyond that, there's the debut of Cloak & Dagger, an adaptation of the Marvel comic series, that stars Olivia Holt as Tandy Bowen, a teenager with the ability to emit light daggers—hence her nick name—to look forward to, as well as mermaid drama Siren and not one, but two more seasons of The Bold Type. Oh, and if you're still hoping to get your patented Freeform fix of PLL insanity, there's still the spinoff, Pretty Little Liars: The Perfectionists, coming down the pike. You didn't think they'd abandon you completely, did they?
"The one thing that I didn't know about college...was that, in all actuality, I would soon discover that I didn't know anything," Zoey admits in the premiere of Grown-ish. While those answers may not come to her easily, it's sure going to be a treat watching her try and learn. And as Freeform's newest star, she's clearly in great company.
Grown-ish premieres Wednesday, Jan. 3 at 8 p.m. on Freeform.