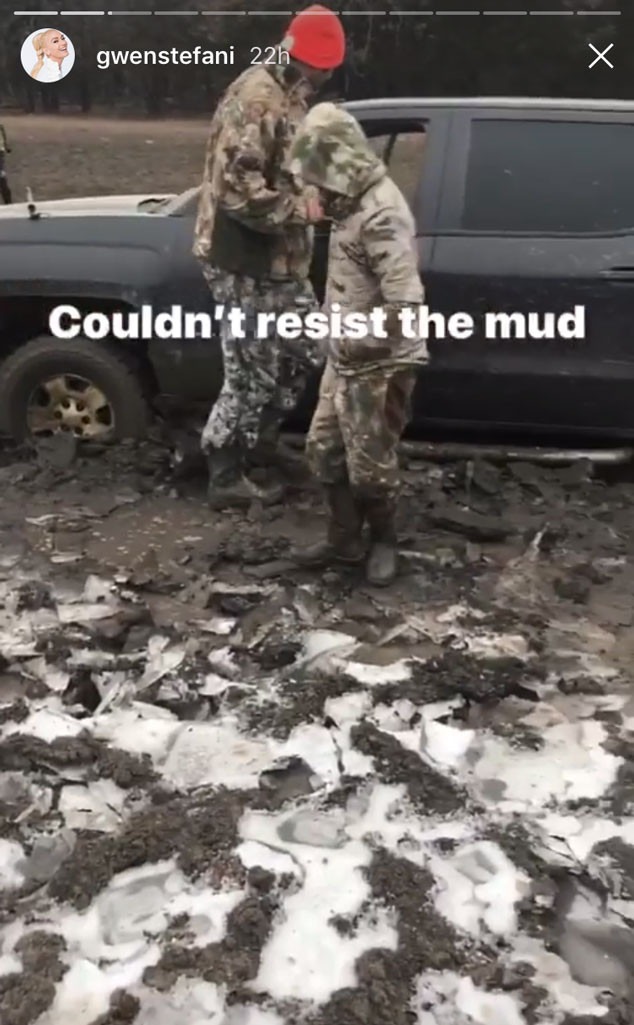 Instagram
Blake Shelton's truck got stuck in the mud while he was teaching Gwen Stefani's 11-year-old son Kingston "how to drive."
The "Make Me Like You" singer, who was visiting Blake in Oklahoma, took to Instagram Story Tuesday to share videos of her trip with her followers. In the first video, Gwen gets out of her car to see what's going on with the truck in the mud as Kingston says, "I did not drive that in there, no I didn't."
"What happened? What did you do?" Gwen laughs.
Blake then tells her, "I was teaching Kingston how to drive and he took off driving like a manic into the middle of the frozen pond."
Gwen then shared another view of the car and wrote "Couldn't resist the mud."
"Blake really wanted to go through the mud and then it got stuck?" Gwen asks.
"This ain't the first one we've blown through," Blake replies as Gwen laughs. In another video we see a second truck help successfully get Blake's car out of the mud.
Also on Tuesday, Gwen shared a video of herself with Blake on the ice. "❤️gx @blakeshelton #Oklahoma #L.A.M.B. #burton," she captioned the post.
But it looks like Gwen has left Oklahoma, she posted on Instagram Story Tuesday evening that she's "going home now." She then shared a picture of Blake with "Bye Blakeeee" written on it with crying emojis.
Gwen and Blake spent Christmas with her three kids, with whom she shares with ex Gavin Rossdale. In an adorable video posted on Gwen's Instagram, Blake can be seen filming the boys' reactions to their Christmas gifts.