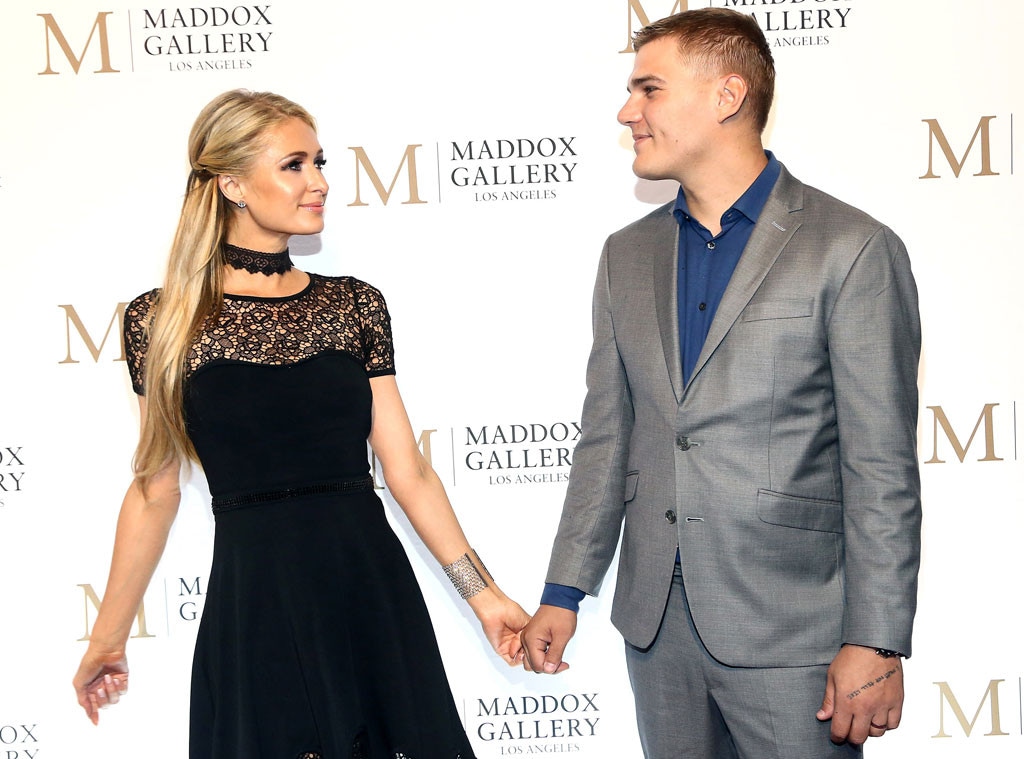 Tommaso Boddi/Getty Images for Maddox Gallery
Chris Zylka wasn't the one after all.
Paris Hilton has called off her engagement, less than a year after The Leftovers actor popped the question on a mountaintop in Aspen with a $2 million diamond ring that took up the entire bottom half of her finger.
The pair had postponed their wedding date—Paris had dreamed of tying the knot on 11-11—supposedly due to the bride-to-be's busy schedule that hadn't left her with enough time to plan her nuptials to the level she envisions for her big day. A spring wedding was looking more likely, a source said.
However, we're told that at a gallery event in Los Angeles last month, she and Zylka were barely acting like a couple. "It was just awkward," another source recalls to E! News. "No affection."
Thwarted plans aside, the hotel heiress, reality-TV star and party girl turned enterprising businesswoman and globetrotting DJ has come a long way since her days as Hollywood's most devoted scenester. Sister Nicky Hilton had settled down and Paris too had her sights set on starting a family of her own.
"I can't wait to have a baby," she told E! News. "I'm gonna be the best mom."
Hilton told People after she got engaged to Zylka, "Ever since our first date I knew there was something special about him. I have never in my life met a man so loyal, dedicated, and loving. I knew right from the start that I wanted to be with him forever."
Her enthusiasm can be infectious.
But this isn't the first broken engagement for Hilton, whose soul mate to date has been love itself.
"I am so happy now," she told London's ES Magazine in the spring of 2017, insisting she didn't miss those crazy days. "When you are young and growing up you find out who you are when you live life. I want to be a good influence on other girls to inspire them to be businesswomen and show, like, girl power." About Zylka, she added, "I'm so in love. He's the man of my life. We're best friends."
If she does walk down the aisle one day, Hilton can rest assured that she packed a lot of living into her bachelorette days, some of which she spent weeding out the guys who seemed like Mr. Right but proved not to be the one, while other times she had us convinced that the party that seemed to always be raging around her circa 2006 would never end.
Still other times she seemed to cycle through men as if they were handbags, enjoying herself at every turn while not wanting to get tied down. Because if dudes could do that, why not the girls?  And then, of course, there were the endless rumors that linked her to every guy she was ever photographed with or even at the same party as, even when she was just hanging out with her friends.
Hilton, who admittedly has had her escapades, was savvy enough at an early age to know that she couldn't go out without making headlines, nor did she necessarily want to, but she tried to keep a lid on whatever stories she could. In 2000, for instance, the then-19-year-old adamantly denied to Vanity Fair that she and Leonardo DiCaprio were anything more than friends.
"We hang out at parties. He's a nice guy, but as far as the story that I..." Paris said, before her mother, Kathy Hilton, interjected, "Did you see the story? I mean, a full page in the National Enquirer? We were harassed! We had camera crews waiting downstairs [outside their NYC home] because it said that [DiCaprio] would come up to the apartment and whatever. The paparazzi stand outside Paris's house in L.A.—they waited for her at the airport!"
"People think I'm just this party girl," Paris added. "Well, I'm not like that. I don't just go to parties. I wake up in the morning and go to auditions. I was going to go to college, but then I decided to take a year off. [My parents] were mad."
But she did go to a lot of parties, and she would turn 21 and start going to even more. In the September 2006 issue of British GQ, Hilton sought to dispel the assumptions that, just because she enjoyed makeout sessions at the clubs didn't mean those kisses were leading to anything more.
"People think I sleep with everyone, but I'm not like that," Hilton said. "Kissing is all I do. I'm not having sex for a year. I've decided...I'll kiss, but nothing else."
Her DUI arrest and eventual trip to jail in 2007 for violating probation served as a wake-up call, but even then... the party wasn't over until it was over.
With those glitter-dusted days long behind her now, Hilton is in an entirely different place in every respect than she was 11 years ago. But a trip down memory lane reminds us of just how wild the mid-'00s really were. 
Seriously, was anyone having a better time than Paris Hilton?
She did her best to set the record straight, no one able to keep up with all of the guys it was just assumed she'd hooked up with, whether she knew them or not. But when you're young and free, who doesn't want to go out, dance and maybe make out like there's no tomorrow? 
"The reason so many of my relationships don't work is guys are like, 'Hey, what's going on? It's been like four months and I'm only getting a kiss here,'" she also told British GQ back in 2006. "I feel good about [my decision to abstain from sex for awhile]. I like the way guys so crazy when they can't have sex with you. If he can't have you, he stays interested. The moment he has you, he's gone. Unless he is really in love with you."
Though Paris almost always seemed to be in the driver's seat when it came to whom she was spending her time with and for how long, not everyone turned out to be a prince. Several famous guys have paraded through Howard Stern's studio and been less than discreet. There are rumors galore about just how close she got to the likes of frequent party pals such as Cristiano Ronaldo, Jared Leto (they were at least kissing buddies), Kid Rock and others. 
But she also just had tons of friends. When you're everywhere, you inevitably come across practically everyone.
And Hilton has long since figured out how to just live her life without worrying what other people are thinking of her.
"I spend my time working rather than just enjoying myself and being on vacation," she told Harper's Bazaar at the end of 2016. "I am very focused on my business and when you live in that mind frame, you can stay away from the trashy tabloids."
She sounded pretty psyched to marry Zylka, but for not the first time she realized that it wouldn't be right to say "I do" if she wasn't ready.
"What made her strong was despite the million things that hurt her," she captioned an Instagram post Sunday night. "She spoke of nothing but happiness..."
(Originally published Jan. 4, 2018, at 5 a.m. PT)