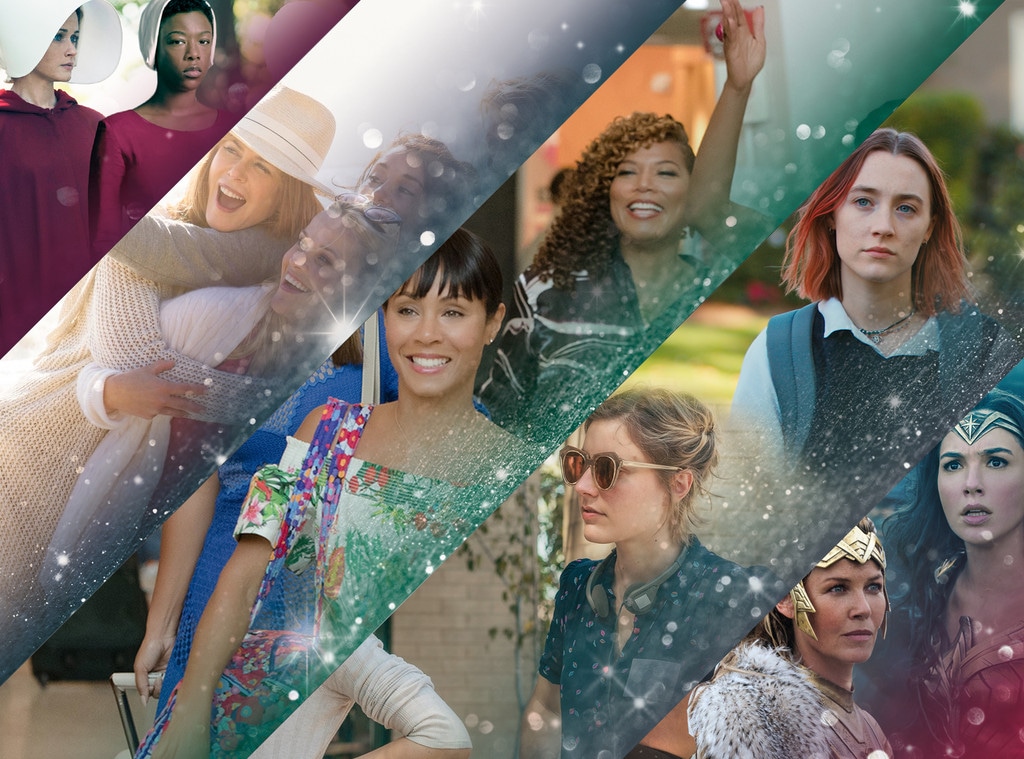 Every year as award season advances on movie fans there will, inevitably, be a few travesties. The Academy is trying but it will be years before the list of nominated films, actors and directors mirrors what the rest of the country looks like. Past award seasons have focused on the #OscarsSoWhite controversy or the seemingly blatant omission of a beloved movie or, like this year, the lack of female representation. 
Yes, #MeToo movement aside, the Golden Globes represent the gender disparity that has been going on behind the camera for far too long. Not a single woman was nominated for Best Director, for example. And that isn't for lack of options—this past year brought many projects made by women, made for women and simply about women. The girl squads were stronger than ever this award season and the multitude of stories that were shared about women is something that should be celebrated. 
So celebrate we will. (That's right, Lady Bird, you're not the only one who can quote Dave Matthews). Even though not all of the all-female all-star movies and shows of 2017 were given equal award season love, they meant something to us (and, by the box office results, to a lot of people). 
A24, Melissa Herwitt/E! Illustration
17 Marvel Cinematic Universe movies have been released as of this date. DC Comics, which has been far less prolific on the big screen, currently has five films. And out of all those, only one of them is about a female superhero. It took 21 comic book adaptations before little girls were given a hero that looked like at least some of them (a hero in the starring role, that is). Which is Wonder Woman was so groundbreaking.
But even more than groundbreaking, it was freaking good. Its arguably one of the best superhero movies to hit theaters and definitely the only one that anyone has willingly admitted to crying during. It of course starred the now-legendary Gal Gadot as Diana Prince—she was introduced to audiences in Batman v Superman but it was Wonder Woman that truly showed all that she can do. And in no coincidence the flick was helmed by a female director. 
Patty Jenkins wrote and directed the early-2000s Oscar darling Monster but had yet to step behind the camera for such a blockbuster (and such high stakes). She ended up knocking it out of the park, pulling in over $800 million to make it the highest-grossing superhero origin story of all time. Box office results are hardly the point with a film whose biggest feat was proving to skeptics everywhere that women really do kick ass, but it's nice as icing on the cake. 
A24, Melissa Herwitt/E! Illustration
It doesn't get much more Oscar bait-y than an early-aughts coming-of-age tale with a little family turmoil and class relations thrown in for good measure—unless you count casting Meryl Streep and Tom Hanks in a story about the Washington Post exposing secrets of the Vietnam War—but there's nothing wrong with Oscar bait. Especially when that bait makes you cry every time you hear "Crash Into Me." 
Lady Bird also has a cast so perfect for award season it's almost crazy. It's the first solo writing/directing project for Greta Gerwig—she was nominated for a Golden Globe in 2014 for her role in Frances Ha but stepped behind the camera this time around. The first great decision she made (besides forking up the dough for the rights to "Crash Into Me") was to cast Saoirse Ronan in the movie's starring role. The Irish actress, who first cemented her status as an awards darling in Brooklyn, is a few years older than the high school senior she plays but couldn't have portrayed the often times unlikable angst of a teenage girl any better. 
Newcomer Beanie Feldstein—who technically happens to be Jonah Hill's younger sister, although that's one of the least interesting things about her—plays her lovingly off-kilter best friend. She scored her first big role alongside the likes of Seth Rogen and Zac Efron in Neighbors 2: Sorority Rising which seems to have cemented her comedy chops. And in an even more serendipitous turn of events, her small singing scene in Lady Bird ended up scoring her a gig on Broadway in the current production of Hello, 
Of course, credit also has to be given to one Laurie Metcalf, a.k.a. Aunt Jackie from television's Roseanne. The Oscars love a seasoned vet with a comeback and this is her year. She plays Lady Bird's occasionally downtrodden mother to an impeccable degree, so much so that it's already nabbed her a Golden Globe nom. 
Universal Pictures, Melissa Herwitt/E! Illustration
How much do we love Girls Trip? Let us count the dick jokes. 
But seriously—this movie's award season snub probably hurts the most. It has been (or at least felt like) years since an actually good comedy hit theaters, and even longer since that comedy was chock-a-block full of insanely talented women. The whole crew was strong and it's hard to imagine anyone else starring in this movie, but of course leader of the pack and chief unicorn Tiffany Haddish is the real story here. 
The comedian-turned-actress became a national sensation after Girls Trip was released this summer, both for her uncanny abilities to recreate a bad trip and tell an amazing story about taking a swamp tour with the Pinkett-Smiths. The country's obsession with her and her role in the comedy helped fuel a box office fire—it was the year's first comedy to cross the $100 million mark.
HBO, Melissa Herwitt/E! Illustration
Who else could get an entire nation to settle in for over seven hours of cliffside ocean panorama shots than these women? It all started with Liane Moriarty, prolific author and actual wizard when it comes to finding fascinating stories about suburban moms. She then passed off her literary baby to some of the finest actresses on both sides of the Pacific and the result was onscreen magic and more than a few gold statues (and a few more to come). 
Nicole Kidman is catching most of the attention simply for the straight-up banner year she had in 2017, but there are many a woman who is now praying at the altar of Laura Dern. (And even more who now own flare jeans just because of her). Zoe Kravitz and Shailene Woodley did an impeccable job keeping up with their more experienced costars and, as always, Reese Witherspoon was brilliantly acerbic. Who else could pull off the line "I love my grudges; I tend to them like little pets"?
Hulu, Melissa Herwitt/E! Illustration
Most people who watched The Handmaid's Tale focused more on its eerie similarities to the current world climate and its role as a cautionary tale, but to forget the kick-ass actresses who chilled us to our very core would be a great disservice. Elisabeth Moss proved yet again that she will always make prestige television her bitch and Samira Wiley was the hero we truly didn't deserve. Alexis Bledel shed any possible chance of a Gilmore Girls typecasting once and for all, and Ann Dowd was a gift sent from above.
If this cautionary tale becomes an honest prediction of the dystopian future we're all barreling towards, we can at least feel happiness in watching her Emmy acceptance speech.