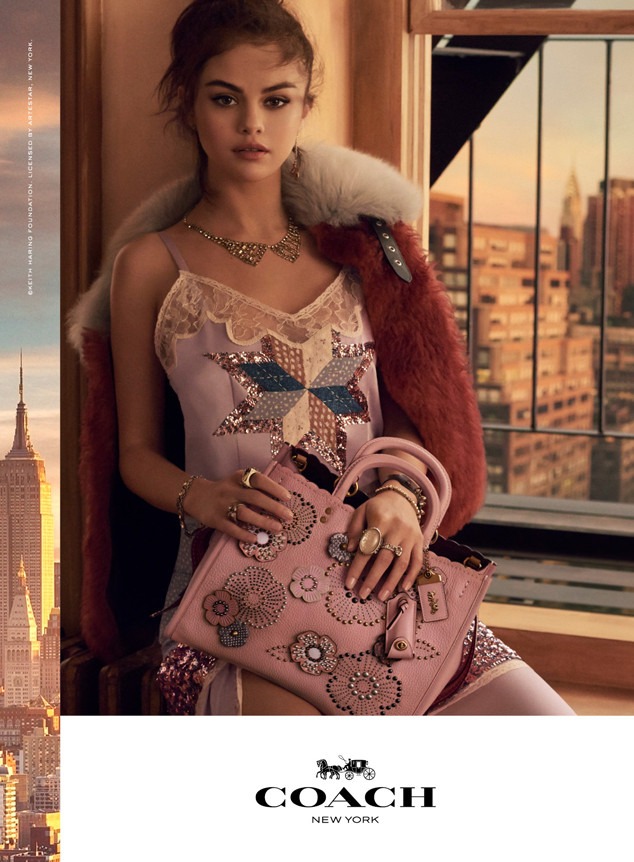 Steven Meisel for Coach
It's out with the old and in with the new…handbag, that is.
Coach released its spring 2018 campaign, featuring Selena Gomez decked out in fur, lace and millennial pink alongside a hazy shot of New York. This is the second time the "Wolves" singer has fronted a Coach campaign (shot by photographer Steven Meisel)—in addition to designing her own bag for the brand, wearing its pieces on the red carpet and even joining creative director Stuart Vevers to high-profile events like The Fashion Awards 2017.
"Creative Director Stuart Vevers makes New York feel like a town, a real community," Selena wrote in a statement. "It just feels like this is where the brand really lives."
In contrast to Selena's first campaign, which features the same '70s-inspired vibe and textures, the latest crop of ads are more feminine in style. In one shot, the "Fetish" singer sits near a balcony in a lace and sequined slip dress, complemented by a brown fur jacket—the embellished, pink handbag accentuates her youthful bow-tie necklace.
In another shot, Selena wears another pink slip—this time, the look is roughed up by a leather jacket and a striped leather bag featuring multi-dimensional piping.
Even in all black, this New York girl shines, wearing a button-down dress that transitions into a micro-pleated, lace skirt. The rhinestones and embellished accents are reminiscent of what you'd see on a bedazzled cowgirl going to a country concert.
The real stunning and most adult look perhaps is one of Selena in a mustard-yellow satin dress atop a black sheer top. The world is seemingly the cosmopolitan girl's oyster, as she sits on stairs overlooking the vast city. The Coach logo print almost looks like an animal print, showing the vibrancy and ferocity of her ambition.
"The Coach girl is real—she's riding the subway or, this season, hanging out in her cool NYC apartment," said Vevers in a press release. "Steven Meisel's photography brings a layer of magic to those seemingly everyday situations. Whilst Selena has a warmth that's special—there is also an authenticity and realness to her that brings the campaign to life."
The shoot was styled by Karl Templer, with makeup by Pat McGrath, hair by Guido Palau and creative direction by Fabien Baron.