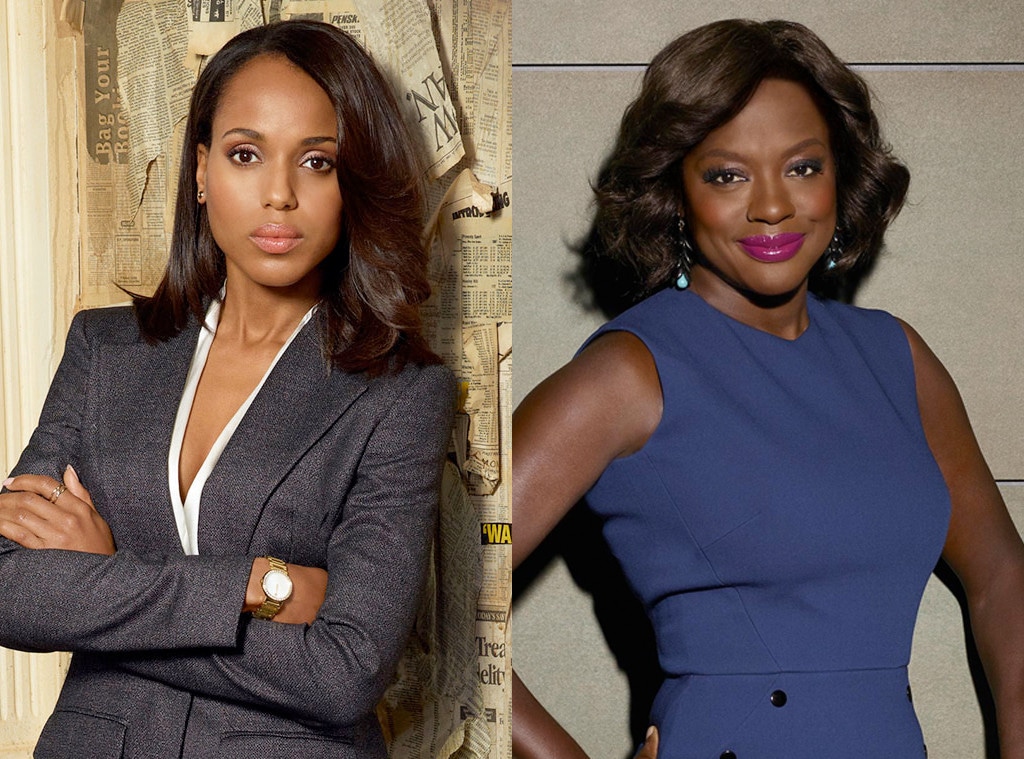 ABC
Olivia Pope, what are you up to?
Scandal star Kerry Washington has just thrown all of Shondaland into a frenzy with one very exciting Instagram post that seems to indicate that, before the long-running political thriller signs off for good this spring, she'll be involved in a crossover with fellow TGIT series How to Get Away With Murder. In the photo, Washington sits, dressed in full Liv Pope attire, on a bench in what is clearly the courthouse set of HTGAWM. "Hey Ms @violadavis check it out," she captioned the post. "This spot look familiar?! Where are you?"
It's crossover time. Scandal creator Shonda Rhimes and How to Get Away With Murder's Peter Nowalk both confirmed the crossover and meeting of Olivia Pope and Viola Davis' Annalise Keating on Twitter. "People. It's happening. @petenowalk, you ready for this? #TGITCrossover #HowtoGetAwaywithScandal," Rhimes tweeted.
Reps for ABC and Shonda Rhimes' Shondaland shingle had no comment when asked about the photo, but Rhimes took to Twitter to confirm the news. The script page teased above features the first meeting between the iconic ABC characters.
Shortly after Washington shared her photo, Davis one-upped her with a photo of her own, shot in front of Mellie's desk on Scandal's Oval Office set. "Hey @KerryWashington, guess where I am?!" she captioned the photo, in which she's clearly dressed in Annalise's finest. 
Deadline first reported a crossover was in the works.
This is the first time the current line-up has ever officially crossed over. In the past, Grey's Anatomy and spinoff Private Practice turned their crossovers into events, but given their interconnected nature, it was an organic given. In recent years, though, ABC has relied on its three leading TGIT ladies to promote the line-up together at publicity events and in fun promos.
Are you excited for the crossover? Share your thoughts in the comments below!
Scandal and How to Get Away With Murder return on Thursday, Jan. 18 at 9 and 10 p.m., respectively, on ABC.
Originally published on Wednesday, Jan. 3, 2018, 9:55 a.m. PST.