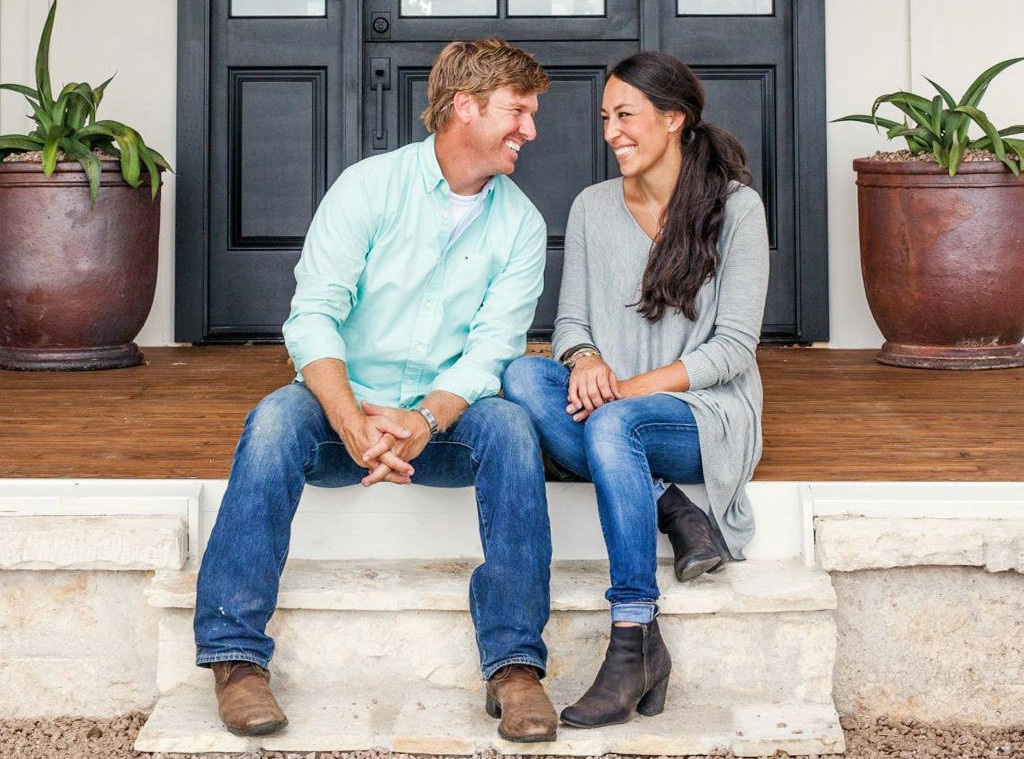 HGTV
Chip Gaines and Joanna Gaines recently revealed they're expecting their fifth child. But before they were parents to a growing family and HGTV's shiplap sweethearts, they were just a boy and a girl who fell in love.
Chip met Joanna in 2001 while she was working at her father's automotive store in Waco, Texas. Chip knew she was the one after seeing her picture behind a counter.
"I knew I'd marry her one day just by the picture on her wall," Chip told PopSugar.
After that, Chip made every excuse to visit the store and hopefully meet his future wife.
"I joke, I mean, I got my brakes fixed one or twice a month whether I needed them or not just to try to have the opportunity to meet this fox," Chip said on an episode of Harry.
Eventually, Chip worked up the courage to ask Joanna on a date. However, it wasn't exactly love at first sight for the future Mrs. Gaines. In their book The Magnolia Story, Joanna revealed Chip was an hour and a half late to pick her up.
"He didn't apologize for being late, either. He had so much confidence. I don't know. I can't explain it," Joanna wrote in an excerpt published by People. "Only Chip could be an hour and a half late and have no one mad about it." 
Still, the couple didn't go on a second date until months later.
"I'd made a bet with [my roommate] Hot John to see who could hold out the longest before calling our dates back," another excerpt written by Chip read. "I really wanted that fifty dollars from John! That's the only reason I didn't call." 
One date led to another, and Chip proposed about a year later. According to another excerpt of the book published in Cosmopolitan, Chip popped the question at a shopping center after telling Joanna they were going to see a concert. The couple then went to a jewelry store owned by Chip's family friend Billy Holder to choose a ring.
"I was able to pick out a nice round diamond and a beautiful, antique-looking platinum setting," the excerpt by Joanna read. "I had a blast sitting there with Billy, designing the perfect ring. Chip just sat there, patiently observing every second of it. After we finished designing, Billy said he would need some time to work on the ring, so he gave me a substitute to wear for the time being, just for fun. It was a great big, gaudy fake diamond that he'd put together so I would have something to show off to my friends and family."
After picking out the ring, the couple met up with their parents and siblings for a celebratory dinner.
Joanna revealed Chip offered to upgrade the engagement ring years later at the couple's anniversary party; however, she turned it down.
"I felt bad that Billy wasn't going to make the big sale he was hoping for that day, but I don't ever want to replace that diamond or that ring," Joanna wrote in the Cosmopolitan published excerpt. "To me, my ring is part of our story."
In 2003, the couple tied a knot. Just a few years later, they decided to have a family and their son Drake, now 12, was born.
In an interview with People, Joanna shared the story of how Chip accidentally left their firstborn son home alone twice when he was a baby.
"'Chip!' I yelled, totally freaked out. I was a first-time mom. Can you imagine?" she told the magazine. "Anyone who's met Chip knows he can get a little sidetracked, but this was our child!"
Luckily, the new-parent experience didn't scare them from having more children. They now have three other children: Ella; 11, Duke, 9; and Emmie, 7.
Over the years, the couple documented their love, family and passion for home design on Fixer Upper. The couple built an empire from the HGTV hit. They have their Magnolia Market store, their magazine The Magnolia Journal and several retail collaborations, including their partnership with Target. 
However, the couple broke fans' hearts when they announced that season five would be their last.
While some suspected marital issues were to blame, the couple insisted this was not the case.
"I'll give [viewers] a little credence. There is always 'What's next?' And for us, the most important thing in the world is Jo and I's relationship, followed very quickly by these four beautiful kids," Chip told Today anchor Savannah Guthrie back in October. "And we didn't want to push it, red line it, for so long that we woke up and realized, we are at a point of no return. So, we wanted to take a step back and focus on the thing that was absolutely the most important thing to us in the world, which is Jo and I's relationship." 
Chip also told Guthrie the couple was "as healthy as we've ever been," and Joanna cited their "growing family" as a reason for leaving the show.
It looks like time will tell what the Gaines' next project will be.