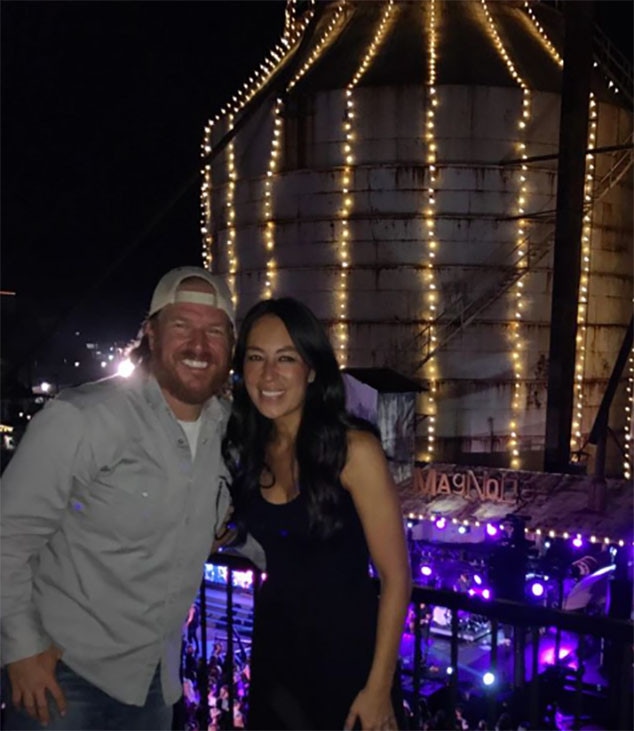 Instagram
While news of Joanna Gaines' pregnancy has taken fans by total surprise, the beloved Fixer Upper couple gave everyone some social media signs love was in the air a few months ago...
According to a new tweet from dad Chip Gaines, the sparks were flying in October when the married pair headed to a Johnnyswim concert for what turned out to be quite the romantic night. 
"You might recall a few months back.. the ever amazing, ever romantic @JOHNNYSWIM was in Waco. And they put on a little too romantic of a concert.. anyways, one thing led to another, & we are officially pregnant. And I could not be more EXCITED! #5 #7ThePerfectNumber," he announced to fans on Tuesday. 
Just as could be expected in this digital age we're in...the two snapped a few photos of the night in question and there was no shortage of smiles. 
"What a night," Gaines captioned a sweet snap of the two of them together. 
"Can't stop thinking about last night, I loved it so much! Chip's #chipstarter was [excellent] and the amazing crowd blew us away, and of course all the music by @castrotheband @jonforeman and @johnnyswim was just so GOOD. Can't wait to do it again tonight! @magnolia#silobration," the expectant star captioned a few more shots from the event. 
Turns out it was a life-changing night. Now, as the proud parents prepare to welcome the newest member of the Gaines family, their four little ones—daughters Ella and Emmie and sons Drake and Duke—will all become big brothers and sisters to their new sibling in just a few months. 
Meanwhile, fans are just as excited for the TV family, especially after learning the two will be saying goodbye to their long-running HGTV show after the fifth and final season. 
"Who knows what the future holds, but we're excited for whatever is around the bend and in the meantime, we will definitely be staying in touch," the couple said in late September upon announcing the news. 
Little did they know a baby would soon be on his or her way—with a little help from Johnnyswim's sweet serenades to set the mood.