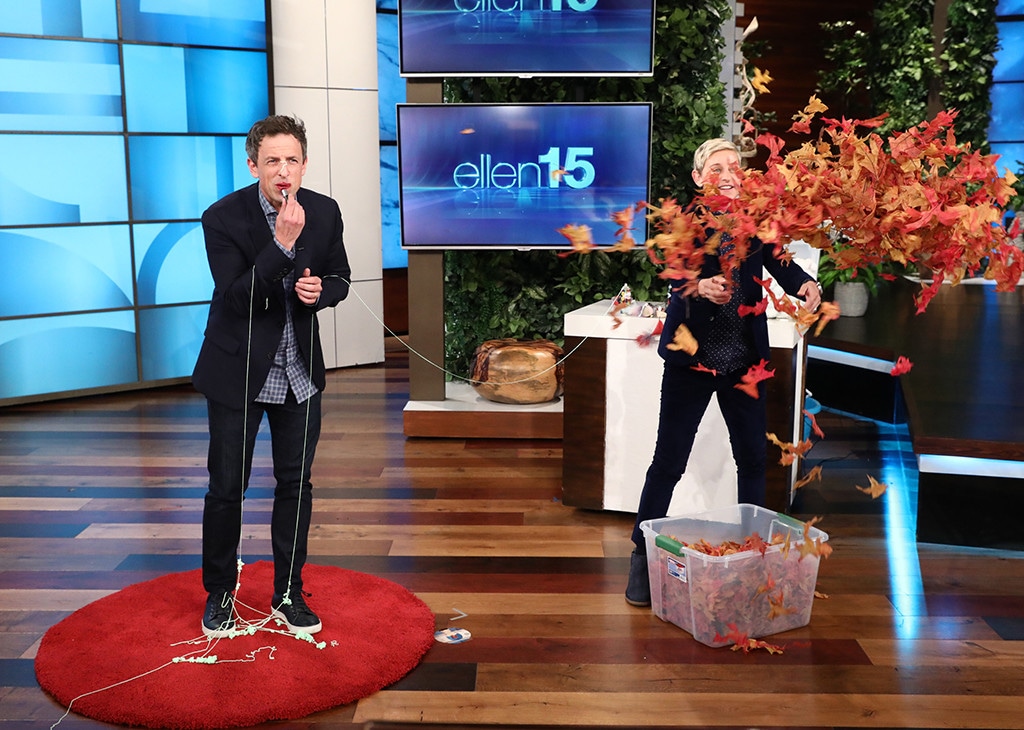 Michael Rozman/Warner Bros.
Seth Meyers has plenty of hosting experience, but with the 2018 Golden Globes just days away, Ellen DeGeneres wanted to ensure he's ready for one of the biggest nights in Hollywood. So, on today's episode of her eponymous daytime talk show, DeGeneres enlisted him in award show boot camp. Knowingly, she reminded Meyers, "Anything could go wrong. Things happen!"
"You've hosted these things," Meyers said. "They're exciting when they're over."
Meyers has interviewed hundreds of celebrities on NBC's Late Night over the years, so he'll recognize a few friendly faces in the audience. While that may be comforting to some hosts, it gives him pause. "You'd rather you didn't recognize them, you know?" he admitted. "I would rather look out at a room full of strangers instead of movie stars and think, 'Oh, this is going to be awkward next time I see them, because they watched me watch them not cracking a smile.'"
That's what the open bar is for, right?
"At what point will you start drinking?" DeGeneres wondered. Meyers laughed and replied, "With the Globes—because everyone's drinking—I think right after the opening monologue."
With that, it was time for award show boot camp to begin. The rules were simple: Meyers had to do whatever the teleprompter said—without question—since "that's what you do as a host." DeGeneres used the rules to her advantage, tricking Meyers into twerking and spraying him with silly string. While he didn't sing Luis Fonsi's "Despacito" ("I don't even know a word of that song," he said), he did apply some red lipstick as he prepared for his close-up. "I hope you're ready for the Golden Globes Sunday night at 8 on NBC," Meyers said. "It's going to be a blast!"