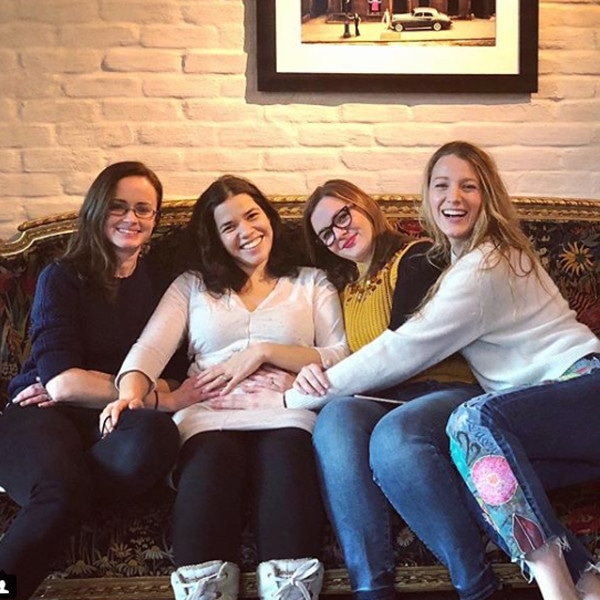 One pair of pants to rule them all!
A whopping 13 years after The Sisterhood of the Traveling Pants made its way into theaters, the film's four leading ladies have gotten back together once again to celebrate castmate America Ferrera's recent pregnancy news.
On Tuesday, the pregnant star, who revealed on New Year's Eve that she and husband Ryan Piers Williams were expecting their first child, met up with her longtime best friends and co-stars Amber Tamblyn, Alexis Bledel and Blake Lively (all of whom are mothers) for a fun-filled reunion.
The former Ugly Betty actress posted a photo of the foursome with all of the ladies touching America's belly. The expectant actress wrote, "Starting the New Year off with blessings from my Sisterhood. We've got work to do for the next generation. Let's get to it. #TIMESUP."
Amber also shared the photo with her fans and wrote, "Didn't think anything could beat kicking off the new year with the #TIMESUP initiative, but then..."
Two of the ladies are wearing jeans in the photos and Blake's DIY jeans look straight outta their movies!
America Ferrera/Instagram
America is the last of her famous co-stars to have a child: Amber has a daughter named Marlow Alice Cross with husband David Cross, Blake has two daughters, Ines and James, with husband Ryan Reynolds and Alexis had a son with husband Vincent Kartheiser in 2016.
So what are some lessons that soon-to-be mom America can learn from her veteran mama pals? We've got five of them!
1. Strong Ladies Lead: Amber is known for her outspoken ways on and off social media. She was a vocal Hillary Clinton supporter and even posted an Instagram of a letter from the former Secretary of State upon baby Marlow's birth.
2. Caring Is Sharing: There's one thing that's clear about those beloved movies about magical pants that travel the world—that to love someone means to share with them the good and the bad of life.
3. Keep Your Private Life Private: Blake, Amber and Alexis are all very private about their relationships and their children, but none more so that Alexis, who has never shown a photo of her son and even secretly married her Mad Men co-star under wraps.
4. A Sense of Humor Is a Must as a Celeb Mom: Before revealing her daughter was named Marlow, Amber joked that the couple named their little girl, "Dauphinoise Petunia Brittany Scheherazade Von Funkinstein Mustard Witch RBG Cross Tamblyn-Bey jr."
5. No Matter How Famous or Busy You Are, Always Make Time for Friends: Blake may be one of the most famous actresses in Hollywood (she was filming a movie in Ireland last month), a mom of two and the wife of Ryan Reynolds, but she still makes time for her closest of friends. 
Keep those pants traveling, ladies!