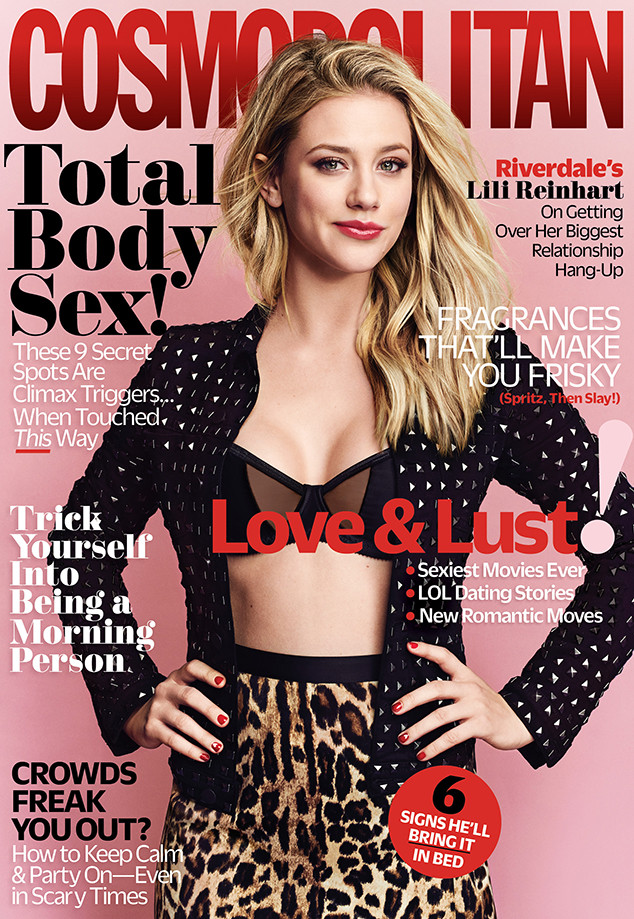 Eric Ray Davidson/Cosmopolitan
Let's talk about sex baby.
While Lili Reinhart and Camila Mendes share a strong bond on-screen thanks to their roles in the CW's Riverdale, the two Hollywood actresses also make up a close squad away from the cameras.
In the February issue of Cosmopolitan, the dynamic duo graces the cover and reveal that talking about sex may have helped their friendship grow even stronger.
"I'm very open sexually," Lili shared in the publication available on newsstands January 9. "I love to talk about it."
Camila added, "That's something that we bonded about. I didn't initially think you would be willing to talk about sex. And then once we started, I was like, 'Oh my god!'"
Eric Ray Davidson/Cosmopolitan
One topic they both address in the new issue is the biggest misconceptions about sex today.
"I've never liked this idea of 'don't give him everything.' Like you've given someone all of yourself by having sex with them. What's valuable to me is giving you my love and my intimacy," Camila explained. "I want to tell [guys], 'Don't have sex at me—have sex with me.' I want them to understand that it's so much better when we're connected."
As for Lili, she wants to tell her fans that sex is likely going to be a different experience depending on who you are with.
"The idea that sex is going to be the same with everyone—that's a misconception," she explained. "That's how I felt when I lost my virginity—I was like, 'So this is sex!' And then you have sex with someone else, and you're like, 'Holy s--t— this is so different.' What you want, what feels good to you—it's all going to change with every partner you have."
Eric Ray Davidson/Cosmopolitan
In recent months, many headlines have surfaced related to sexual misconduct in and around Hollywood. In fact, Lili opened up about past sexual harassment this past October after Harvey Weinstein allegations first surfaced.
"Being a young woman in Hollywood is intimidating. I came forward on my Tumblr to talk about my sexual assault story," Lili explained to Cosmopolitan. "In my situation, I know how powerless I felt, because it was my career on the line. It's hard not to think that your next move dictates your career—aka the rest of your life."
And both Camila and Lili are the first to admit that it doesn't just happen in Hollywood. It happens in many workplaces and even high school.
"We have to start thinking about why these men do this. And how do we teach the next generation that no one has that power over someone else?" Lili explained. Camila added, "How to just respect other human beings. If I could go back to before I started Riverdale, I would tell myself to speak up when I felt like something wasn't right. To use my voice and know that it's worth hearing."