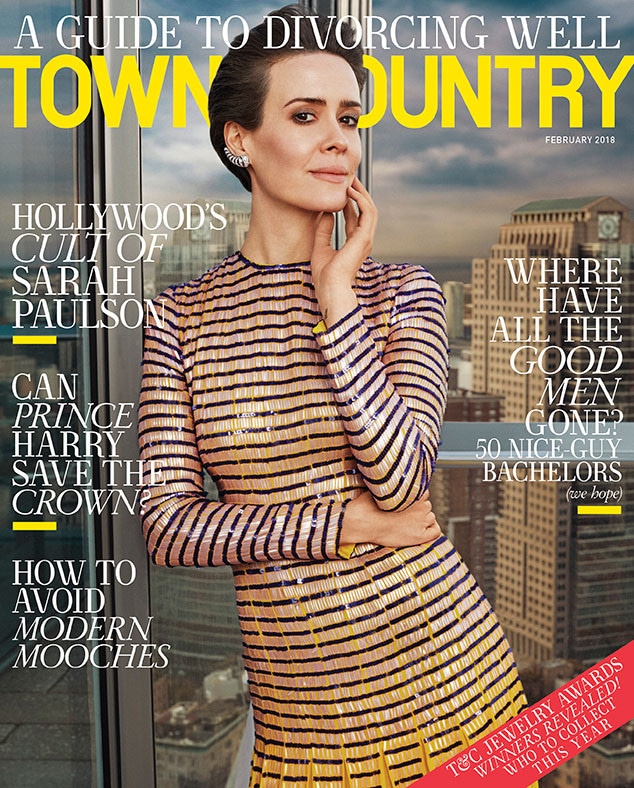 Victor Demarchelier
Many words have been used in regard to Sarah Paulson and Holland Taylor's romance. Now, the television star is sharing a few of her own. 
While the Post star has been notably private about her longtime relationship with the fellow actress (it was months before she even confirmed they were dating back in 2016), in light of a newly published interview for Town & Country's February issue, the celebrated actress has opened up a touch more about her safely guarded personal life—and why it is that way. 
"I do not want to be defined by who I share my bed, my home, my soul with," she told the magazine. "My choices in life have been unconventional, and that's my business."
However, she does acknowledge what being public with her private life can do for others watching. 
"I do want to live responsibly and truthfully without hiding. It's complicated, because there is a lot of hate in this world, and a lot of good can come from quote-unquote normalizing something for people who don't see it as normal. Our relationship represents a certain amount of hope and risk," she elaborated. "Maybe there's something brave in it. Maybe it encourages others to make brave choices."
As the Golden Globe winner quickly learned, not everyone's reaction to her relationship would match her's. "Early on, when people found out I was with Holland, some said: 'I think you have to be careful, I'm afraid it's going to affect your career negatively.' I was like, what? It never occurred to me at all," she previously told The EDIT. 
However, Paulson didn't let others' concerns prevent her from declaring her love to Taylor on the Golden Globes stage as she accepted her statue in January 2017. 
As Paulson candidly told Town & Country a year later, "What else can I say? We love each other."