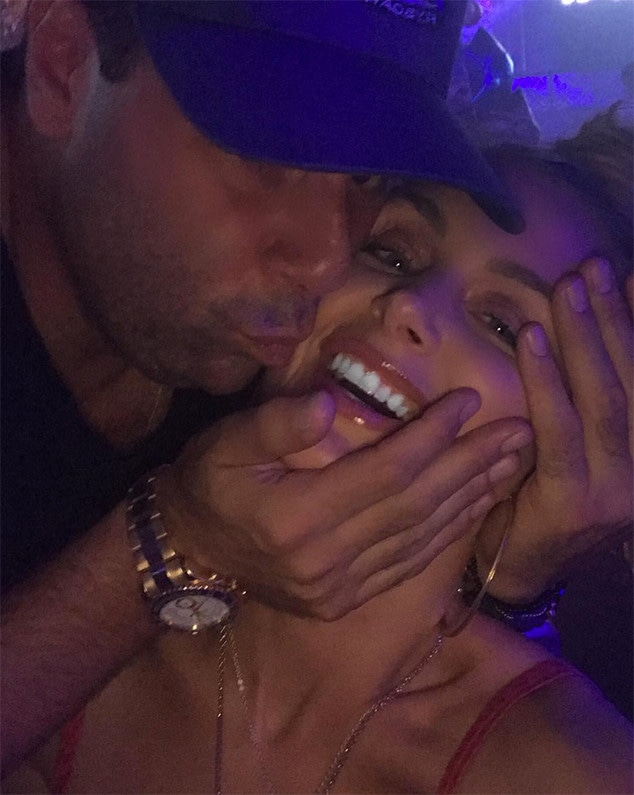 Instagram
Lala Kent is living life out in the open in 2018.
To celebrate the end of one year and the beginning of another, the Vanderpump Rules star posted a pic with boyfriend Randall Emmett on Instagram. "2017...You were tough. You were amazing. You made me cry. You made me smile and sometimes you really sucked," she wrote. "But look where you brought me—just as a human being. The growth I feel is like nothing else."
(Emmett's divorce from actress Ambyr Childers was only recently finalized at the end of last year. He has been in the background of Kent's Instagram Stories before, but never in her feed.)
"I want everyone to remember to shake things off. Go with your heart," the Bravo reality star added. "Go with your gut. Trust your mind. People can say things. People can write things...but no one in the entire world knows your truth. Only you do. Never forget that. I took on 2017 like a f--king champion. I fully intend to do the same in all years to come. I hope you do the same."
It wasn't until late last month that Kent's relationship with Emmett was confirmed, despite rumblings that the reality star and the television producer been an item for about 18 months.
Kent's relationship with Emmett has been the talk of Sur for years—and rumors about its origins continue to create drama on the current season of Vanderpump Rules. Kent herself has admitted that the Power producer bankrolls her lavish lifestyle, buying her a Rolls Royce (she got a new model on Christmas) and other expensive gifts. "Private or first class is how Lala flies. My boyfriend does very well for himself, so we get to fly private," she said in Monday's episode. "If you're not ugly and you have a pair of tits, you're gonna be able to go on a private jet." But whenever her Sur co-workers—Katie Maloney, especially—accuse Kent of being a home wrecker, she blows up. "Katie made a comment about my man? What the f--k did she say?" she asked Scheana Marie. "Get the f--k up outta here, bitch! And you're going to mention my man—again?! Are you trynna get popped or are you trying to get along? We can go both ways."
In a confessional interview in the Dec. 1 episode, Kent further explained her outrage. "Last year, the girls felt that I was attacking Katie, and in return, they were labeling me as someone that broke up a home. That is the furthest thing from the truth. I'm a little confused. I thought that me and Katie had made up and we weren't going to throw stones at each other anymore," the aspiring pop singer said. "So, why is she making comments about my relationship yet again? Either way, Kent warned, "My relationship is not going to be the one that you try to tear down."
Kent and Maloney appear to be on good terms again. In fact, just last month, Maloney flew on Emmett's jet. "She signed an NDA," Kent joked on Instagram, "so I'm not worried about it." Maloney posted the same photo on Instagram, writing, "I signed the NDA. Don't worry about it!"
(E! and Bravo are both members of the NBCUniversal family.)