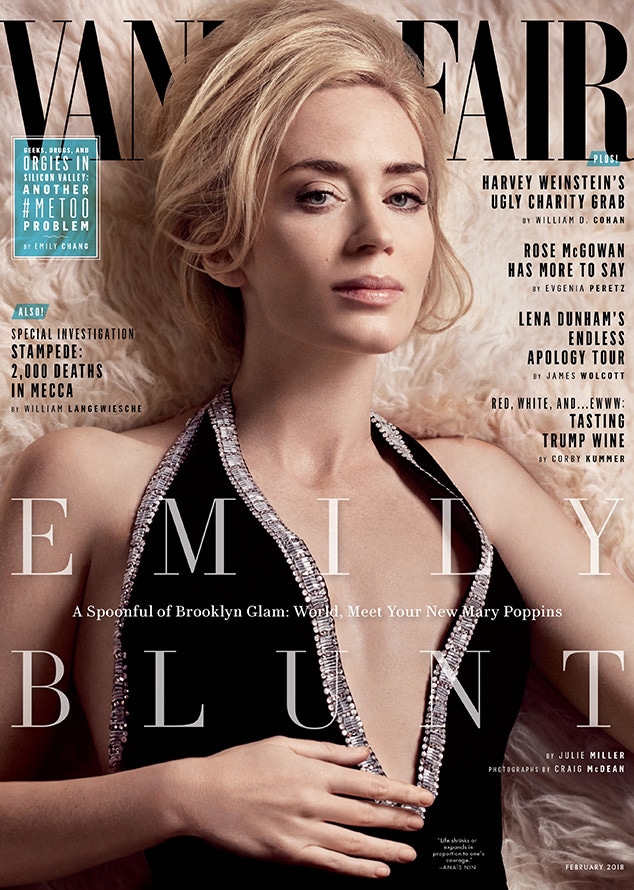 Craig McDean/Vanity Fair
Don't bother asking Emily Blunt for a selfie.
In Vanity Fair's February issue, the 34-year-old Mary Poppins Returns actress says she tries to keep her personal and professional lives as separate as possible—a luxury not afforded to her famous husband John Krasinski. "John is, like, 6-feet-3, and was playing the most approachable man in the world. So people will be, like, 'Jim!'" she tells the mag. "Guys want to high-five him."
Blunt has gotten used to the spotlight, though she keeps her celebrity status in perspective. "I am always under the impression that I have a silly job for a living. But occasionally you will run into someone who deepens your feeling about it. Sometimes people will say they had cancer and The Office was the only thing that made their family laugh during that time," Blunt offers. "You realize when you are in something that really touches people that it does offer an escape."
While the actress appreciates her fans' longstanding support, she's not keen on taking pictures with people—particularly whenever she's approached in public while her two young daughters are present. "Frances McDormand told us—she just makes my teeth ache I love her so much—when someone asks her for a picture, she says, 'You know what? I've actually retired from that. But I would like to shake your hand and meet you,'" she says. According to Blunt, taking selfies with people can actually devalue the experience. "Social media has changed the landscape so an encounter with you is valued more as a social-media currency than a genuine interaction."
Blunt doesn't have a public Facebook, Instagram or Twitter account—and it's unlikely she ever will. But, in the past, she has been encouraged to use social media to promote her film projects. "I don't think it does s--t, to be honest. I think a movie lives or dies on word of mouth and the trailer. I have seen people do endless social media campaigns and the movie tanks, so I don't see a correlation. I strongly believe that my job is to persuade you that I am playing somebody else," Blunt says, "so exposing too much personally is just something I can't get on board with."
In many ways, Blunt is a realist. At first, she says, show business "appears to be made of rainbows and sunbeams. Then you realize it's called show business because it is a business."
"I am not cynical in my personal life. I actually feel quite hopeful," the actress adds. "But with the business itself, you have to approach it in a harder way. I think you have to wear a helmet."
Some time ago, Blunt had an epiphany: "You are part of a machine that is moving and will overwhelm you and drown you if you are not tough in it. It's a very precarious industry that can often be quite crushing, so any advice I have for anyone going into it is to do something else."
And what would Blunt do if she had never become an actress?
"It would be my dream just to flip houses. I adore renovating. I love working with different materials and coming up with a different story for each room," she says. "I am Pinterest-mad." Blunt, whose dry wit is one of her trademarks, then laughs as she considers an alternative future. "Once I begin playing everyone's mother, then I'll just start flipping houses instead."
Vanity Fair's February issue is on newsstands nationwide Jan. 9.