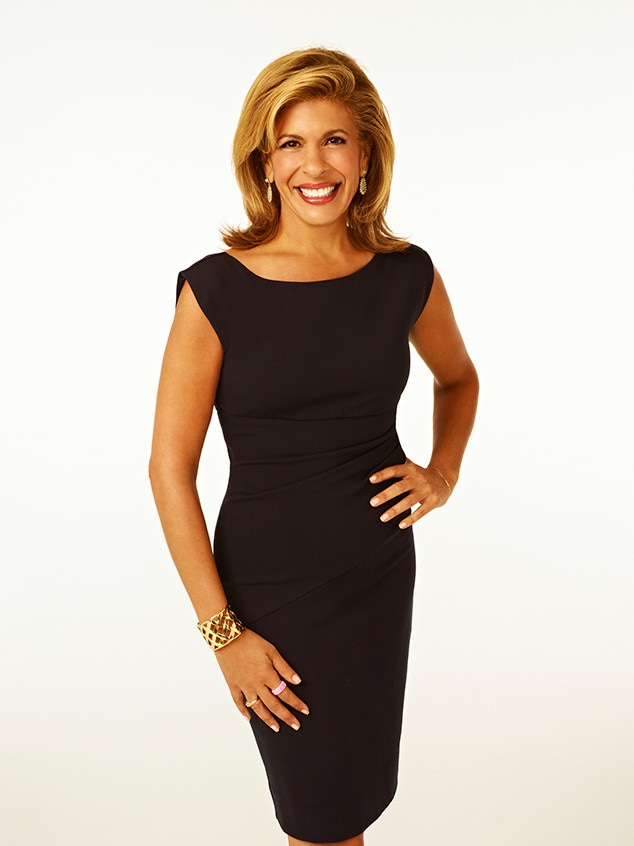 Andrew Eccles/NBC
New year, new duo!
Hoda Kotb has been named the co-anchor of NBC's Today, making her official debut Tuesday. Kotb will join Savannah Guthrie at the anchor desk during the first two hours of the morning news program—and she will continue to co-host the fourth hour alongside Kathie Lee Gifford. "We are kicking off the year right because Hoda is officially the co-anchor of Today. Let's give her a round of applause!" Guthrie, who was named an anchor after replacing Ann Curry in 2012, said. "This has to be the most popular decision NBC has ever made, and I am so thrilled!"
"I am pinching myself," Kotb said. "I think we should send some medics to Alexandria, Va., where my mom has likely fainted after hearing the open of that show!" Guthrie turned to her and said, "Hoda, you are a partner and a friend and a sister and I am so happy to be doing this."
"Well," Kotb told Guthrie, "there is no one I would rather sit next to in 2018 than you."
The rest of the NBC/Today family wasted no time congratulating Kotb:
Kotb joined NBC News in 1998 as a correspondent for Dateline, and she began co-hosting the fourth hour of Today in 2008. She has often filled in for absent anchors—and she's replacing Matt Lauer, who was fired Nov. 28 after allegations of sexual misconduct by a female coworker.
"Over the past several weeks, Hoda has seamlessly stepped into the co-anchor role alongside Savannah, and the two have quickly hit the ground running," NBC News Chairman Andy Lack said in an email Tuesday to staff. "They have an undeniable connection with each other and most importantly, with viewers, a hallmark of Today. Hoda is, in a word, remarkable. She has the rare ability to share authentic and heartfelt moments in even the most difficult news circumstances. It's a tribute to her wide range and her innate curiosity."
Lauer, meanwhile, remains jobless.
To celebrate her promotion, Kotb posed for the cover of People's Jan. 15 issue (on sale Friday). "When you click with someone, man, woman, it doesn't matter. If it works, it works," she said of her natural chemistry with Guthrie. "We're sort of like sisters, and everybody wants a sister."
"There's so much of this that was unexpected. But what's really cool about this is just getting to get up everyday and do the things you love to do with your really good friend who you trust and love and enjoy," Guthrie added. "Our biggest problem is that we actually talk about other things all throughout the show. Sometimes we're like, 'OK, pay attention. Do your jobs ladies!'"
The duo also discussed how difficult it was to break the news of Lauer's firing—live and on-air. "That morning was so hard, but Hoda and I were in it together," Guthrie said. "We are family, and families do go through hard times, and when that happens in good families, you just get closer...It was such a shock to wake up one day and not have Matt, but it was the most natural and comforting thing in the world to have Hoda right there. No one wanted that to stop." Kotb substituted as Guthrie's co-anchor until before the holidays, when NBC execs made a job offer.
Throughout the transitional month of December, Kotb insisted she never considered whether she would permanently fill Lauer's chair. "We were just trying to make it through those days together," she said. "Sometimes when you go through something with someone, you see something special. I think that's what happened. I didn't think about whether it would be me."
(E! and NBC are both members of the NBCUniversal family.)