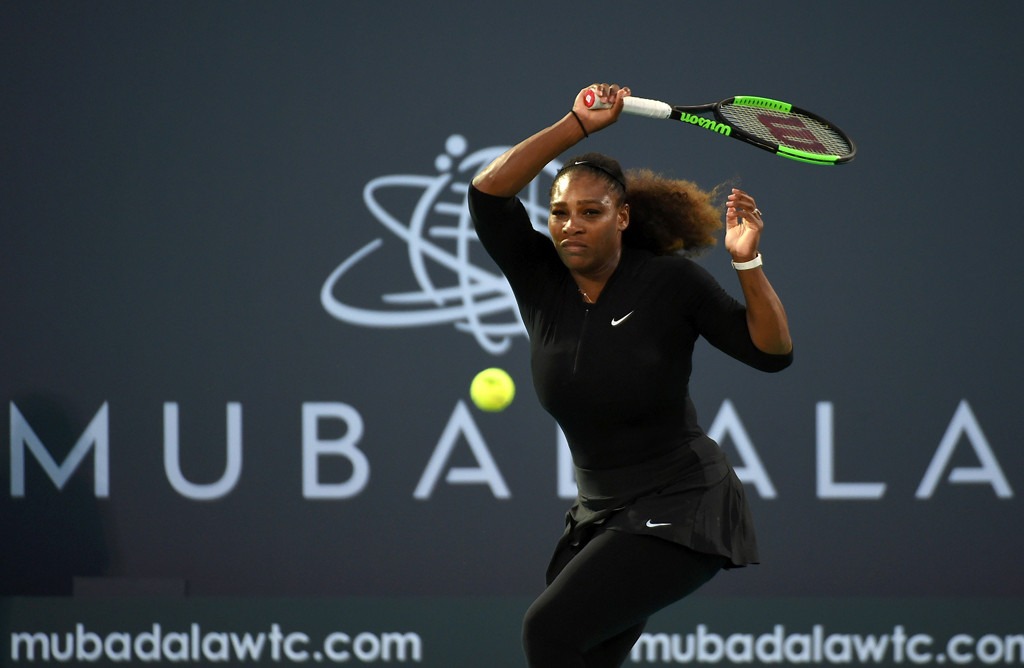 Tom Dulat/Getty Images
Serena Williams is back on the court after taking most of the year off following the birth of her first child, but her comeback was marred by a loss.
On Saturday, four months after she and husband Alexis Ohanian welcomed daughter Alexis Olympia, Serena played an exhibition match against defending French Open champion Jelena Ostapenko at the Mubadala World Tennis Championship in Abu Dhabi. She dropped the first set 6-2, rebounded to win the second set 6-3 and then fell behind 5-0 while losing the match tiebreaker 10-5, according to ESPN.
"I'm excited. It's good to be back on the court," Williams said after the match, the outlet reported. "This was such a good time for me...First matches back are always super-incredibly hard, especially after having a baby. It was great. I was glad I could do it here."
This marked Serena's first competitive game since she won her record 23rd Grand Slam title at the 2017 Australian Open in January—when she was nine weeks pregnant.
Australian Open tournament director Craig Tiley told reporters earlier this month that Williams was "very likely" to return to play at the annual event, which begins on January 15, to defend her Grand Slam title.
Serena's husband joined her and cheered her on in Abu Dhabi.
"Mama is back in the office," he wrote on Instagram on Saturday.
Watch:
Most Unexpected Moments From Serena Williams' Wedding
A day earlier, the 36-year-old tennis champion, the world's highest paid female athlete, posted on her Instagram page photos from her pregnancy, including a picture of her at the 2017 Australian Open.
"This year has been amazing for me. As it comes to its end I want to share 10 personal moments," she wrote. "1. The day I found out I was pregnant. I had to pretend I everything was normal but I was dying inside. After all I had a grand slam to play. 2. Melbourne 7 weeks pregnant 3. Wow I won the Australian Open. I was 9 weeks by than. No one knew outside of [my sister] Venus [Williams] and my fiancé Alexis."
She also included pics of her playing tennis when she was over seven weeks pregnant, a photo of herself when she was 24 weeks pregnant, a pic of her a day before she checked into the hospital to give birth, images from her bridal shower, and Vanity Fair's cover of her posing nude while pregnant.
Serena's rep had said in April that the tennis star would take maternity leave and take time off from tennis until 2018.
Serena's husband, co-founder of Reddit, had also taken paternity leave to bond with their child. 
Check out sweet photos of Serena and Alexis' baby girl:
Watch Daily Pop weekdays on E! at 12 p.m.
Don't miss E! News every weekday at 7 and 11 p.m.