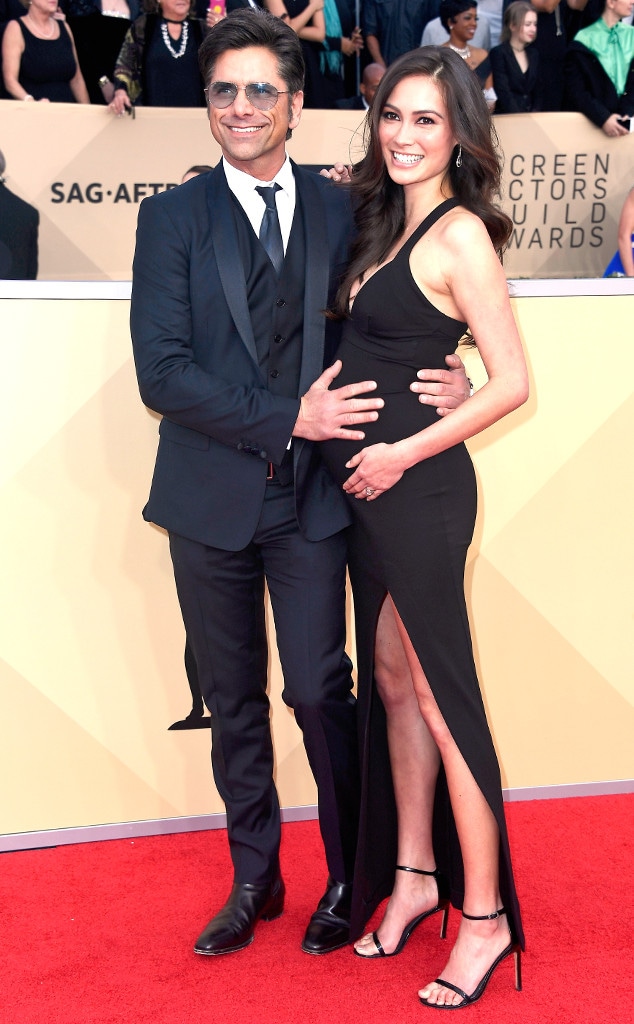 Frazer Harrison/Getty Images
If anyone was living the life, it was John Stamos.
At least, that's what his most ardent, usually male admirers figured, guessing that the long-divorced bachelor could have his pick of women and, therefore, why would he ever settle down again?
But then John Stamos did settle down and now, at 54, he's a first-time father. He announced Sunday that he and wife Caitlyn McHugh have welcomed a son named Billy, after Stamos' father.
"From now on the best part of me will always be my wife and my son," the actor wrote in tenderly introducing his baby boy to the world.
Not that the actor and musician is the first fellow in Hollywood to abide by the George Clooney Guide to Life (and neither was George Clooney), but had had long since been lapped by ex-wife Rebecca Romijn in the moving-on department and he never noticeably got serious with anyone for almost 12 years.
Yet there were plenty of indications that Stamos craved a more stable situation—a fuller house, if you will.
"If I died and didn't have any children," he told People in 2009, "I would feel like, whatever good things I've done in my life, I've accomplished nothing."
Stamos and Romijn met in 1994 at a Victoria's Secret fashion show she was modeling in and they started dating shortly afterward.
Dave Allocca/DMI/The LIFE Picture Collection/Getty Images
Full House ended the following year, after which it was one TV movie after another for Stamos, as well as a number of roles on Broadway and a side gig performing with the Beach Boys (which continues to this day); Romijn, who's 10 years younger, was just embarking on her acting career (which down the road would lead to the X-Men movies, Ugly Betty, Pepper Dennis and more).
The couple tied the knot in 1998 and the missus memorably changed her name to Rebecca Romijn-Stamos. 
In 2006 Stamos would tell Howard Stern (one of the aforementioned admirers) that their marriage was actually over about six months before they announced it, but they announced it in April 2004. Stamos filed for divorce that August.
Coincidentally, the unfair rumor that would soon plague Jennifer Aniston—that she and Brad Pitt split up because he wanted to start a family and she didn't—also plagued Romijn with her own breakup. Stamos, meanwhile, was rumored to be jealous of his wife's success and partying too much in response.
While he would soon have a TV renaissance in 2005 with the short-lived sitcom Jake in Progress followed by a four-year run on ER, Stamos told Details in 2015 that Ryan Murphy had tried to work with him after Full House ended. Without naming names, he indicated that Romijn stopped him from taking the opportunity.
"[Murphy] wanted to do three male hookers, like Charlie's Angels, who'd go in and save relationships by having sex with the husband and the wife," the actor said. "Maybe I was too afraid then. Ryan also wrote Nip/Tuck for me, but the person with whom I was in a relationship at the time read the script and said, 'That's demeaning toward women.' I'm not with her anymore."
Nip/Tuck, about two plastic surgeon brothers in Miami, premiered on FX in 2003.
Justin Lubin/NBCU Photo Bank
Stamos was "heartbroken" over the breakup of his marriage though—as he'd end up swearing to in 2010 at the trial of a man and young woman accused of trying to extort him after the woman encountered Stamos at am Orlando, Fla., club in 2004.
The defendants were charged with threatening to release allegedly compromising photos of Stamos if he didn't give them $680,000. The woman's lawyer claimed the actor had a short fling with her client, who was 17 when she met him.
Stamos' attorney denied that there was any relationship, as well as the existence of any photos.
"I was heartbroken that night," he said on the stand, adding that on the night in question they were "just hanging out" in a group in his hotel room. The man and woman were convicted of attempting to extort Stamos and each sentenced to four years in prison. 
And whatever the reason it ultimately ended, Stamos was devastated by the breakup of his and Romijn's 10-year relationship, start to finish.
"In my book at this point I would still be married and have three kids," he admitted to People. "So it was more about that plan being foiled than anything. I felt like a failure. It wasn't as much about her as it was that the whole thing didn't work."
"Everybody thought that she dumped me [because] her career was on fire and mine wasn't," he added, "but that wasn't the case. We just both woke up one day and it had run its course." 
While he didn't think partying was the culprit, either, Stamos said, "I was lost there for a while. I think I needed to be on my own to be me again."
He decamped to Malibu, where he grew a beard, went fishing and spent time with pals like Bob Saget.
But while he would later deny during that trial that he was engaging in any illegal drug use (as his would-be blackmailers claimed), Stamos was headed down a slippery slope. In 2007 he made the wrong kind of headlines when he appeared loopy on an Australian TV show, prompting speculation that he was under the influence of something.
"The press beat me up so hard," he lamented to People. "I felt awful. It's like 25 years of good behavior and one slip-up." He added, "I have to keep myself in check. That's part of growing up. I pride myself on having a lot of discipline."
Stamos also admittedly wasn't too lonely, at least from a non-existential standpoint. He was "there for" Denise Richards (whom he'd also dated years beforehand) after her split from Charlie Sheen, and before his marriage he "kinda" went out with Heather Locklear. (Meanwhile, as he told the story to Stern, he was also friends with both Sheen and Locklear's ex Richie Sambora.) He also admitted to doing the deed on camera a few times, but "for the few times I've done it, I have the video and I have it on a hard drive in my safe."
But by 2009 he was already wondering if the 46-year-old bachelor behavior was becoming a little cliché.
"Running around town, dating a lot of people—it's a sign of holding onto your youth," he said. "I'm getting to the age when there are girls that are too young. There was a girl [I went out with] recently who told a friend, 'Eh, he's kind of too old for me.' And it's true! I'm not complaining. I sound like a woman now, but I don't want to just give myself to anybody, you know what I mean?"
Jason Merritt/Getty Images
In a perfect world, he would have walked outside and met the next Mrs. Stamos the next day, but, a few fairy tales aside, that's not how it works.
Amy Poehler, who went on a was-that-a-date? with Stamos when she was first separated from Will Arnett after meeting him on a movie set, has since come to terms with the fact that she wasn't the one.
"I think if you just are around him you are...handsome men are really something else," Poehler relayed the obviously funny anecdote on The Howard Stern Show in 2014. "First of all, they're so handsome. And John is..." "Ridiculously handsome?" Stern agreed.
Because old habits die hard, Romijn, who let her ex do most of the public postmortem about their relationship, was asked by Us Weekly at an event in 2013 how Stamos was doing. She admitted, "I have no idea what is going on with him these days."
Considering she had already been remarried to Jerry O'Connell since 2007, that's understandable. She and Jerry also welcomed twins in 2008.
What Stamos was up to in 2013 was shooting guest arcs on The New Normal, in which he got to kiss screen siren Ellen Barkin, and Necessary Roughness.
By then he had taken up pilates and attributed his eternally youthful looks to years of going to bed early and good genes. He also picked up transcendental meditation from his time with the Beach Boys, and he tries to meditate every day.
Courtesy of Miguel Pola for Polaroid Fotobar
In September 2014, however, Stamos was devastated by the death of his mother, Loretta Stamos, whom he was very close to. In a picture taken right before he turned 50 in 2013, he had tweeted that he was spending the end of his 40s with his mom, "the love of my life."
He lost his grip the following year and his wake-up call came in the form of an arrest for DUI in Beverly Hills in June 2015. That prompted him to spend a month in rehab, after which he told Details he felt "better than I have in a decade."
"I've had a rough year with my mom dying, so it all came to a head, and it was a turning point," Stamos admitted of his arrest (for which he eventually pleaded no contest to a misdemeanor charge of driving under the influence of drugs and was sentenced to probation, counseling and AA meetings). "You either continue on that path—and some of it's fun, but a lot of it's not—or there's this other thing, this golden opportunity sitting there with all this work and all this goodwill that you have going for you. That's the key."
Stamos also admitted that it had been hard for him to stay out of trouble when he wasn't super-busy, but he was slowly learning to cope better with free time.
"I'm trying, I swear to God I'm trying," he told Details. "It's not as much fun, but you have to be responsible. It's about discipline, which I lost for a while. Part of being undisciplined for the past five or six years is that I didn't work as much as it looked like. I had some high-profile jobs, like a Super Bowl commercial or a few episodes of Glee, but there was a lot of downtime, and that can be, obviously, dangerous."
At the time his new show was Grandfathered, in which his bachelor character finds out he has a long-lost son and a grandchild all at once, so that inevitably led to lots of family talk in interviews.
Rather than getting advice about fatherhood from his family, he joked to People in November 2015, "I get a stern, 'It's time for you to have kids, go impregnate somebody...but make sure it's a nice girl.'"
"When the time is right, it'll happen," Stamos said about having kids of his own one day. "This year has been about clearing my head, being healthy and getting my career on track. I think everything will fall into place as long as I'm good, solid and spiritual."
And ultimately the universe did decide that, ready or not, John Stamos' time had come.
Chris Polk/KCA2017/Getty Images for Nickelodeon
"The look on John's face when I told him we were pregnant was priceless," McHugh added. "It was the look of a man who has wanted a family of his own but wasn't sure it was going to happen for him. Now it is!"
The couple tied the knot on Feb. 3 at the Little Brown Church in Studio City, Calif., and celebrated with an intimate backyard reception at their Beverly Hills home. Then it was off to Walt Disney World in Orlando, Fla., for their honeymoon, which in their case doubled as a babymoon.
In the expectant dad homestretch in March, Stamos posted a throwback from his Full House days featuring Uncle Jesse with a baby bump and wrote, "This is the longest 9 months of my life! #cantwait 4 #fatherhood."
And now his own house is fuller at last.
(A previous version of this story was originally published Dec. 30, 2017, at 6 a.m. PT)