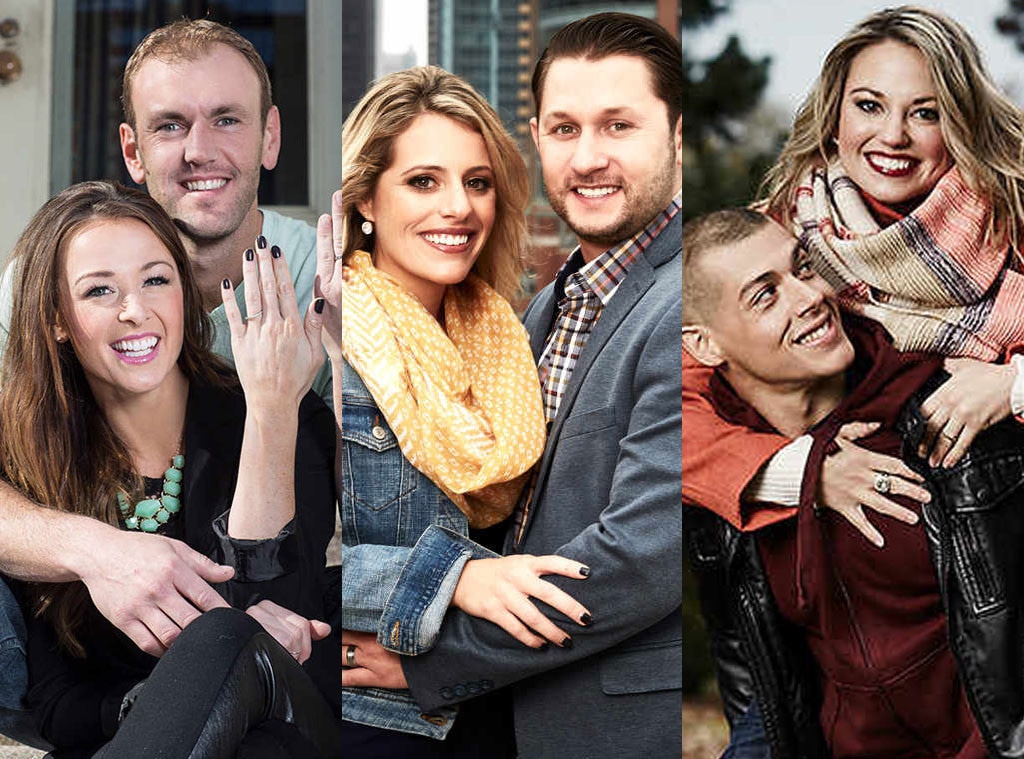 Karolina Wojtasik/A+E Networks, FYI
Have you ever considered getting Married at First Sight?
It's a question that could bring out a whole lot of discussion and opinions from many Americans. And while a majority may say no way, others have decided to find their happily ever after on Lifetime's addictive reality series.
Tonight marks the beginning of season six where we will meet six individuals ready to say "I Do" to their husband or wife after barely saying hello. 
And while it absolutely brings must-see TV, the concept has also proven to bring long lasting marriages for a few beloved couples.
"In the beginning, Jamie Otis and I both made a commitment to ourselves, and to each other, that we would give the experiment everything that we had," Doug Hehner shared with E! News exclusively. "We promised that we would both work as hard as we could to build the marriage and see where it goes."
With the birth of their baby girl Henley Grace, the famous couple from season one continues to remind fans that one's happily ever after can happen in some pretty unique ways.
"As time went on, we grew closer and closer and built up such a strong foundation that quitting was never an option," Doug added.
Fortunately, Doug and Jamie aren't alone in their modern day success story. In celebration of Married at First Sight's new season, we talked to three couples from the show who remain happily married and willing to share their secrets to romance.
"Anything is possible," Ashley Petta shared with E! News after marrying Anthony D'Amico in season five. "Although the odds don't look very good, the reward is definitely worth the risk."
Cortney Hendrix and Jason Carrion
Back in the summer of 2014, viewers watched Cortney and Jason say "I Do" before any formal introduction. Fast-forward to today and the pair remain dedicated to making their love last. "We have learned that peaks and valleys are going to be a part of our relationship and if we want to weather the storm and find ourselves still standing at the end, we must work on it daily," Cortney explained to E! News. "We have survived and will continue to survive and love each other because we make decisions daily to build each other up."
For Jason, he realized early on in the relationship that he was focusing too much time at work as a firefighter and professional wrestler and not enough time on his marriage. "I had to take a step back and re-evaluate what was most important in my life—my wife," he explained. "I started making our marriage my main priority and started to see a huge growth in our relationship."
While Jason admires his wife's smile and the way she carries herself wherever she goes, Cortney is impressed that he "lays his life down for others every single day."
And through it all, Cortney believes she has a higher power on her side. "I am a firm believer that God has a hand in my marriage every day and if he can put Jason and I together, he can do the same for others," she shared. "I don't limit my God."
Ashley Petta and Anthony D'Amico
Married at First Sight's latest success story involves a national business development manager and bar owner who have been happily married for almost a year and a half. While Anthony admires his wife's "infectious" smile and Ashley loves her man's "sense of humor," the pair has embraced each other exactly the way they are. "We had a chance to go through 'it.' When I say 'it,' I mean all the laughing, all the fights, all the tears, all the joy, everything that happens in a normal relationship in marriage," Anthony explained to us.
When asked what they would share with the couples beginning a new life in season six, both argue that it's so important to be genuine and open about the process.
"Put in the work. It's not always going to be easy but really give it a chance," Ashley said. Anthony added, "Open up early and see things from the other's perspective. Listen, just don't hear."
And while some may still think this love story is unconventional, Anthony swears it's not as crazy as you may think. "Relationships have been happening like this since way before MAFS was created," he explained. "Hell, my grandparents were married through arranged marriage."
Jamie Otis and Doug Hehner
For this Married at First Sight couple, love at first sight may not be the most fitting description. However, this duo quickly became one of the franchise's most beloved couples for their honesty, authenticity and love for one another.
"True love grows over time," Jamie shared with E! News. "It's okay if you're not smitten with each other from the get-go. And if you are instantly attracted and the flame dies down, that doesn't mean it's going to go away forever. All relationships take work."
Today, Jamie loves how patient, kind and caring her husband is. "Watching him be a daddy to our daughter has made me fall in love with him all over again," she wrote. As for Doug, he can't say enough good things about his wife's strength and determination. "She has the biggest heart and love for family," he gushed.
Married at First Sight airs Tuesday nights at 9 p.m. on Lifetime.  And watch Married at First Sight: Jamie and Doug Plus One Tuesdays at 10 p.m. also on Lifetime.