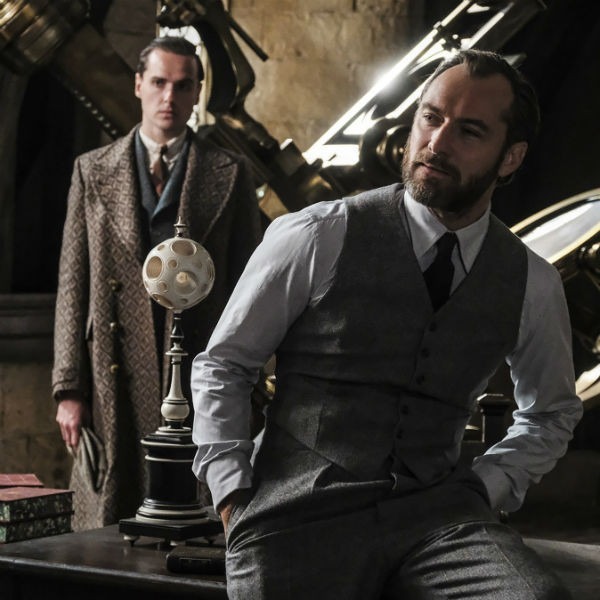 Warner Bros.
New images have just been released from Fantastic Beasts: The Crimes of Grindelwald.
The sequel to 2016's Fantastic Beasts and Where to Find Them will hit theaters on Nov. 16, 2018 and now we're getting a new sneak peek at the upcoming movie.
Back in April, it was revealed that Jude Law had been cast in the second installment of the film series as Albus Dumbledore, who audiences were introduced to in his later years at Hogwarts in the Harry Potter series. In Fantastic Beasts: The Crimes of Grindelwald, the audience will meet Dumbledore in his earlier years.
Johnny Depp reprises his role of Gellert Grindelwald in the sequel and is seen standing in the street alongside Rosier (Poppy Corby-Tuech) in the just-released photos.
"At the end of the first film, the powerful Dark wizard Gellert Grindelwald (Johnny Depp) was captured by MACUSA (Magical Congress of the United States of America), with the help of Newt Scamander (Eddie Redmayne), But, making good on his threat, Grindelwald escaped custody and has set about gathering followers, most unsuspecting of his true agenda: to raise pure-blood wizards up to rule over all non-magical beings," a description of the Warner Bros. movie reads.
The description continues, "In an effort to thwart Grindelwald's plans, Albus Dumbledore (Jude Law) enlists his former student Newt Scamander, who agrees to help, unaware of the dangers that lie ahead. Lines are drawn as love and loyalty are tested, even among the truest friends and family, in an increasingly divided wizarding world."
Take a look at all of the new pics and let us know what you think! Are you excited for the sequel?
Sound off in the comments!