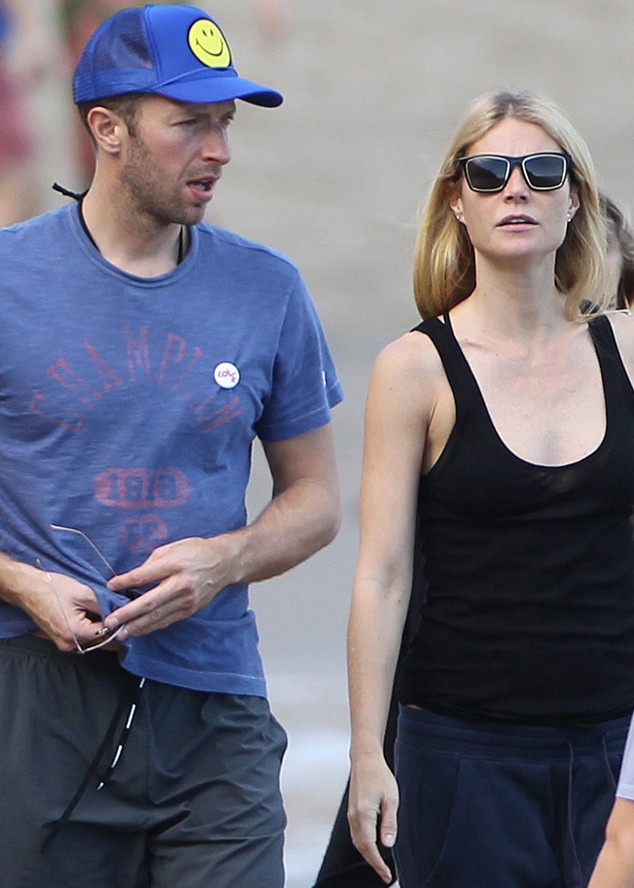 Pablo/Ink/FAMEFLYNET PICTURES
Gwyneth Paltrow and Chris Martin continue to remain friendly exes, more than three years after their "conscious uncoupling."
The 45-year-old Oscar-winning actress and 40-year-old Coldplay singer are vacationing with their kids on the Caribbean island of Antigua. Paltrow posted on her Instagram page on Thursday a photo of her ex-husband and their 13-year-old daughter Apple leaping in the air on a beach.
Paltrow and Martin, who also share 11-year-old son Moses, married in 2003 and in 2014, they announced on her Goop blog that they had split, or undergone an "conscious uncoupling." They finalized a divorce in 2016.
The two have continued to spend time together and have also vacationed together with their kids since their split.
"They always keep it very amicable around the holidays and they have remained good friends," a source told E! News exclusively. "Gwyneth and Chris try to keep things as normal as possible for their children, and always have a good time together as a family unit. They try to plan at least one family vacation together per year for the sake of the kids. The children are used to the family dynamic now and love when they are all are able to be together."
"They only want the best for one another and are very supportive," another source said. "They have moved on from being married into this new phase of their life. Its unconventional, but it works. They made a commitment to always put their kids first and do what's best for them and that's exactly what they are doing. That means spending the holidays together, traveling together and being a family. A lot of Gywneth's divorced friends go to her for advice because she has made this transition looks so easy. She says it's not easy, but you just do it because you want what's best for your kids."
Last year, Paltrow told InStyle magazine that Martin is at her house "every day," adding, "We have our own lives but we still have our family life."
 "To this day, Chris would take a bullet for me, even though I'm not his wife," she added. "I honestly think Chris and I have contributed something positive to the culture of divorce."
Three years ago, Paltrow started dating new beau Brad Falchuk, co-creator and executive producer of Glee. The two met on the set of the show in 2010, when the actress debuted her recurring character Holly Holiday.
Paltrow and Falchuk had brunch with Martin over Thanksgiving weekend last month.
The week prior, E! News reported that Paltrow and Falchuk, who also has two kids of his own, had gotten engaged. They have not commented.