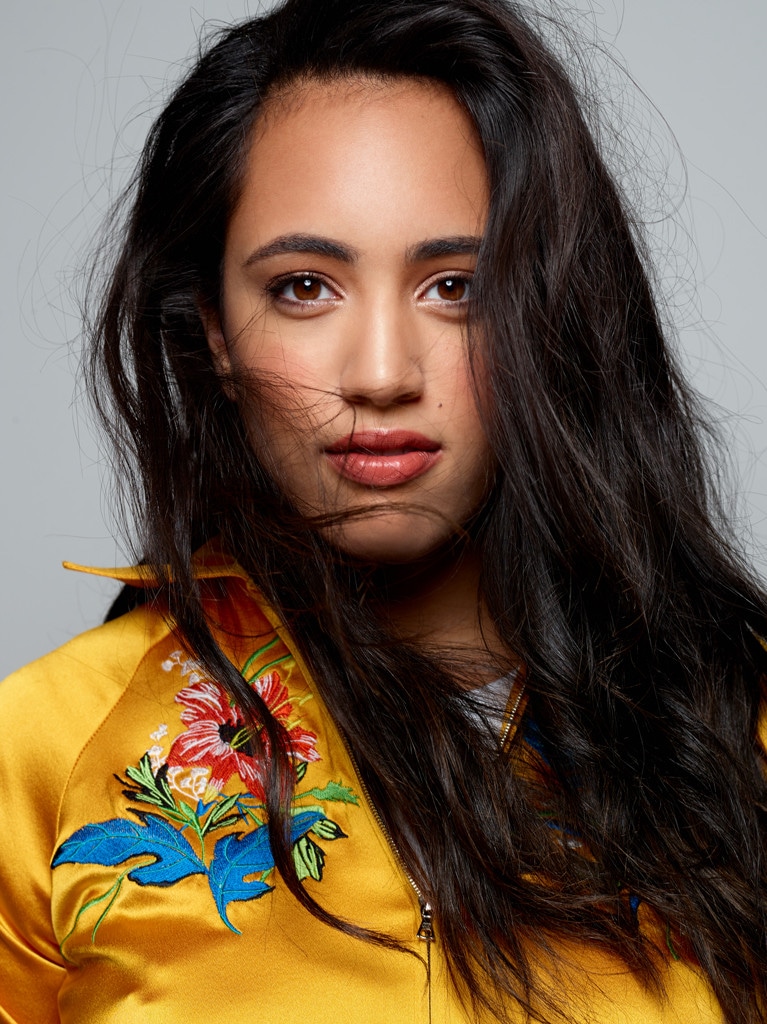 Gray Lane
Simone Garcia Johnson had a particularly sweet 16th birthday last year.
It was on that very day that she found out she'd been named Golden Globes Ambassador for 2018.
"It was surreal and I was immediately so excited," Garcia Johnson, whose parents are Dwayne Johnson and Dany Garcia, recalled to E! News. "The first person I told was my best friend."
Texting your BFF with big news may be a typical high school move, but of course Garcia Johnson is hardly your typical high school kid—and it's really only fitting that she's one of the women who will help usher the Globes into the future this Sunday.
In addition to being a full-time student and an IMG model, Garcia Johnson has partnered with GlobalGirl, a nonprofit that helps further opportunities for economically disadvantaged women. The civic-minded activist and author (she wrote her first novel at 11) has voiced her support for a number of socially conscious causes, including Black Lives Matter, inclusivity in media and the fashion industry, and, more recently, the Time's Up initiative launched by women in Hollywood to combat sexual harassment and gender discrimination.
"I think the biggest social issue young people face today is that we seem to be told that our opinions are often invalid," she tells E! News. "I think some of the older generation has this idea that because we're young and the world is evolving so quickly, we have a false sense of 'real' social issues, which isn't true. My advice to my generation would be to continue to fight for things you're passionate about and want to change about the world."
Garcia Johnson credits her parents for encouraging her to follow her passions, which include being behind the scenes as a producer and manager.
"They've been so supportive, which I'm extremely thankful for," she says. "My mom has always told me to be the most authentic version of myself and always be a strong woman."
Johnson and Garcia divorced in 2008 but they remained friendly co-parents and business partners as founders of Seven Bucks Productions. Garcia also heads brand management firm The Garcia Companies and she stayed on as Johnson's manager—which obviously turned out quite well. The wrestler turned movie star ended up atop Forbes' list of the highest-paid movie actors in 2016 and last month he was honored with a star on the Hollywood Walk of Fame.
On Christmas Eve Johnson posted a photo with Simone in front of the tree on Instagram, writing, "From talkin' about one of our fav humans @gal_gadot to important stuff like who's IPhone is better...Love my #1."
Garcia Johnson has also found a strong female role model in wrestler and model Natalie Eva Marie, the next person who comes to mind after her parents when she thinks of who has inspired her in life.
"She's like a big sister to me and there isn't one thing about her that I don't admire," the teen says.
With some unbelievable support in her corner, Garcia Johnson is already achieving goals right and left—and she helped us achieve a pre-Globes goal by filling out our E!Q. We want to be able to say, "we knew all about her when..."
Age: 16
Hometown: South Florida
Grade: 11
What time did you wake up this morning? 6 a.m. (unfortunately)
Who's the first person you talked to today? My mom
What do you never leave the house without? My phone and chapstick.
Favorite school subject? Psychology
Secret talent: I'm good at accents.
Twitter or Instagram? Instagram
Salty or sweet? Salty
Favorite vacation? Ireland
Last movie you saw? Thor Ragnarok
Next TV binge? The Defenders
What's the last thing you Googled? 2018 Grammy Nominations
Hobby you wish you could spend more time on? Writing
Name your favorite thing that starts with the letter "E": Eating
A young lady after our own hearts.
Looking ahead to the 2018 Golden Globes, which also happens to mark the show's 75th anniversary, Garcia Johnson has her outfit all picked out—but she's not spilling any details.
"I do know what I'm wearing, but it's a secret!" Garcia Johnson tells E! News. The teen also can't wait to see what everyone else is wearing and, if she's there, Agent Carter star Hayley Atwell is at the top of her list of actors she'd want to meet. (We're definitely sensing a superhero theme among the women, Mom included, whom Simone most admires. Atwell was at an HFPA celebration for the 75th anniversary of the Globes in London, so here's hoping she's part of the festivities in L.A. too.) 
Coincidentally, Garcia Johnson's favorite color is black ("and it shows" in her everyday style, she says) in case that translates to her red carpet look—and this happens to be the year when blending in with the crowd will still get a girl noticed. A number of female attendees are planning to purposely wear black on Sunday to protest the mistreatment of women in show business and beyond. Dwayne Johnson is among the men who are reportedly planning to wear (even more) black in solidarity as well.
And to kick off what's gearing up to be an eventful award season, the Hollywood Foreign Press has also done away with the more pageant-reminiscent title of Miss Golden Globe (albeit one that's been proudly bestowed on the daughter—or in Mr. Golden Globe Freddie Prinze Jr.'s case, son—of major stars since 1962) in favor of Ambassador, making Simone Garcia Johnson the first to wear that crown.
Asked if she'd received any advice from her predecessors, Garcia Johnson says that Jamie Foxx's daughter Corinne Foxx—who did the honors in 2016—"told me to enjoy the experience and be excited for the big night."