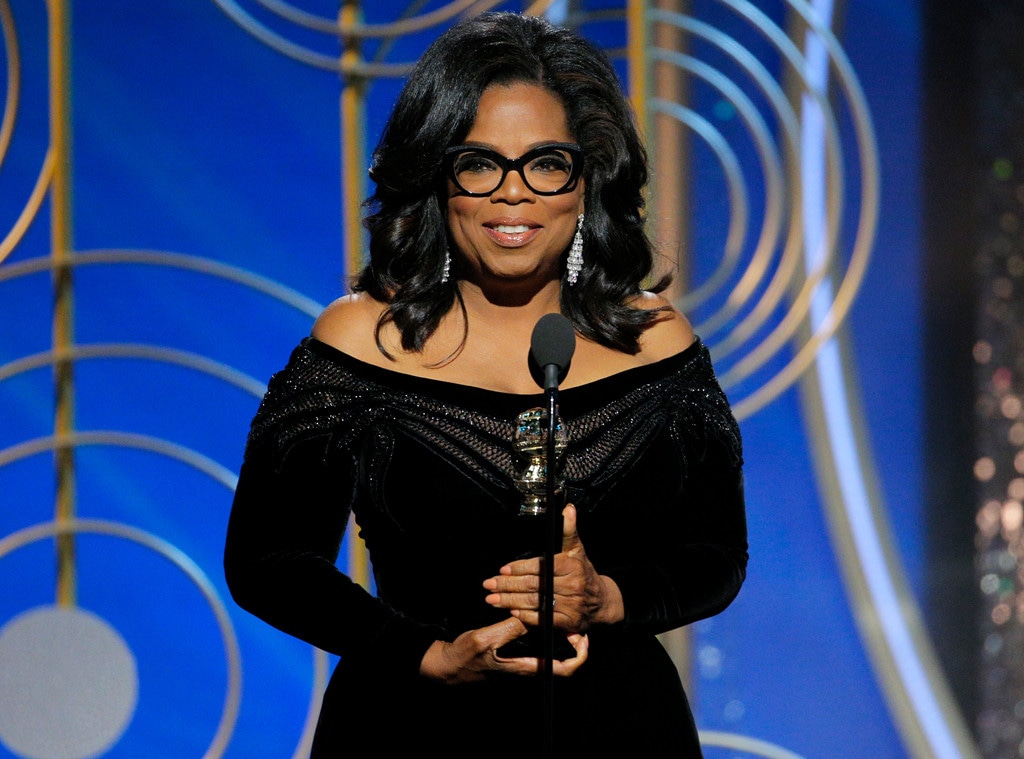 Paul Drinkwater/NBC
Literally three massive cheers for Oprah Winfrey!
The TV legend and philanthropist was presented with the prestigious Cecil B. DeMille award at the 2018 Golden Globes on Sunday, making history by becoming the first black woman to receive the honor, and received not one but three standing ovations before, during and after her speech.
The annual award is presented to a person who has made "outstanding contributions to the world of entertainment" as is named after its first recipient, director Cecil B. DeMille. The list of past honorees also includes Sean Connery, Barbra Streisand, Harrison Ford, Robin Williams, Steve Spielberg, Morgan Freeman, Woody Allen, Dustin Hoffman, George Clooney and Meryl Streep, who received the award last year.
Winfrey was greeted by a standing ovation. In her speech, she spoke against sexual assault and harassment of women. She and most people at the awards wore black to show support for Time's Up anti-sexual harassment and pro-equality in the workplace fundraising campaign, which was launched a few weeks ago in wake of the growing #MeToo movement that rose amid growing sexual misconduct allegations made against powerful men in and outside of Hollywood.
"For too long, women have not been heard or believed if they dare speak the truth to the power of those men. But their time is up," Winfrey said, drawing her second standing ovation. "Their time is up!"
"I want all the girls watching here and now to know that a new day is on the horizon!" she later said, drawing her third standing ovation. "And when that new day final dawns, it will be because of a lot of magnificent women, many of whom are right here in this room tonight, and some pretty phenomenal men, fighting hard to make sure that they become the leaders who take us to the time when nobody ever has to say 'Me Too' again!"
During her speech, Winfrey also received a smaller applause break after saying, "In 1982, Sidney [Poitier] received the Cecil B. DeMille award right here at the Golden Globes and it is not lost on me that at this moment, there are some little girls watching as I become the first black woman to be given this same award."
Winfrey rose to fame hosting her famous talk show The Oprah Winfrey Show for 25 years until 2011, when she launched her own cable channel, OWN. She continues to appear on television and has several shows on the network, such as Oprah's Master Class and Oprah: Where Are They Now?
She is also an actress. She made her film debut in Spielberg's 1985 movie The Color Purple, which earned her both Golden Globe and Oscar nominations for her supporting role. Winfrey can be seen next on the big screen in Disney's fantasy film A Wrinkle in Time, which is set for release on March 9.
In addition, Winfrey has her own magazine, O, the Oprah Magazine, and website Oprah.com, both of which she also uses to unveil her annual Oprah's Favorite Things list.