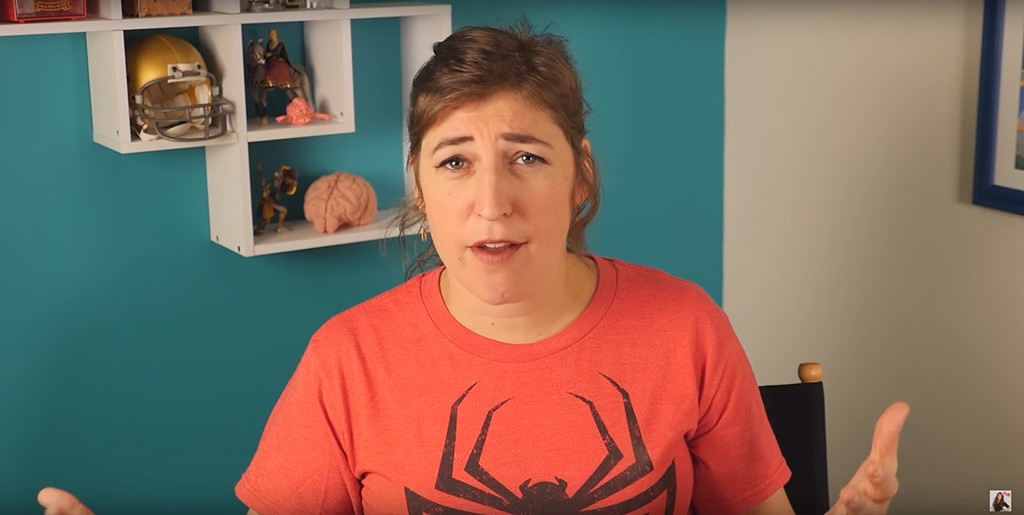 YouTube
Mother knows best? But which one? Mayim Bialik is tired of moms competing with each other all the time. And whatever you do, don't show her your new mommy manicure.
In a video that was posted and shared by scores of moms and others on Facebook and YouTube on Thursday, the Big Bang Theory star and Blossom alum said that after she give birth to her first child, now-12-year-old son Miles, she attended a local mom's group and "instantly felt out of place." Needless to say, the meeting did not go well. In fact, it was her last.
"I used cloth diapers. I didn't use pacifiers or bottles," said Bialik, a 42-year-old mother of two. "I didn't have fancy clothes and neither did my baby. I didn't have a manicure. I mean, I barely had time to shower. How was I gonna have time to get a manicure?"
Bialik, who has often spoken out about her views on society, then did impressions of some of the moms at the meeting, saying they asked questions like, "Why does my baby want to be held so much?" and "How can I get a 3-week-old baby to sleep through the night?"
She said the moms were encouraged to brag about things like the speed of their labor and "how precocious their babies were with pooping, rolling over, sitting up, smiling."
"Everything was a competition," she said. "There were not my people. I left in tears."
"Moms are so competitive! Why is that?" Bialik asked. "Is it because we're just catty and combative by nature? Is it because we're bored and we have nothing better to do?"
Bialik offered her own theory; she said she thinks the competition is mostly confined to her generation, which she said was the first to be raised "after the revolutionary turmoil of the women's movement" and the first who "was constitutionally raised to believe that we can and should do it all." She said these beliefs prepared women to compete in the workplace.
"So, when this generation became mothers and removed ourselves from the career world, we took that competitive drive and we seem to have superimposed it on our lives as mothers," she said.
Bialik said she would like people to find "more meaningful things to connect about as a society and especially as moms" and for women to support each other more.
"Let's get back to a model of camaraderie that reduces competition, fosters friendship and empathy and increases the success of a society that is built on the foundation principles of woman-to-woman support, which has sustained our species for so long, so well," she said. "We can only do this together."