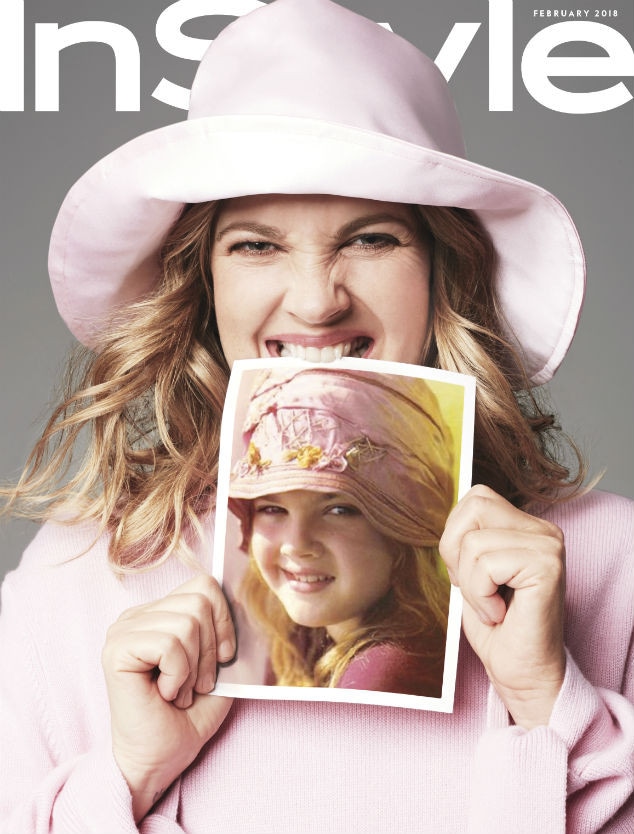 Anthony Maule/Artists & Company
Drew Barrymore is taking a trip down memory lane.
The actress is on multiple covers of InStyle's February edition, recreating some of her most memorable childhood looks.
"We are recreating looks from a very specific time period in my life from when I'm about five to 10, which would be about 1980 to 1985," Drew shares with the magazine.
Holding a photo of herself in a pink hat, Drew explains that this a pic of her from a photo shoot in 1984 when she was nine.
Anthony Maule/Artists & Company
In the photo above, Drew is holding a picture of herself from 1983.
"This was me in 1983 at the Beverly Hilton in Los Angeles where the Golden Globes take place every year at the mother-daughter fashion show...but I'm dressed like the mother," Drew says. "I loved when I first unearthed this photo because I was like, 'Are you kidding me that is my daughter Olive's body.' Like genetics are crazy, this is Olive, 100 percent."
Anthony Maule/Artists & Company
Drew grew up in the spotlight, working as an actress from a very young age.
"From a young age I was overly passionate and thought everything lived and died in a professional atmosphere because, back then, it was really all I had," Drew shares with InStyle. "I didn't have a family. I've been working as long as I can remember."
Drew's career continues to flourish today, both in the acting world and outside of it. And she's a mom to two young girls, Olive and Frankie, with whom she shares with ex-husband Will Kopleman.
Talking about her love life, Drew shares, "My daughters are so fulfilling that I feel like my cup is just avalanching over. If love took on a physical analogy form, I'd be an overstuffed turkey or a piñata. So I'm not really hungry for it at this moment."
She adds, "I don't think I would have ever known that I could be this content, this whole, without being in a romantic relationship. That would have been a surprise to my younger self."
Drew has been through a lot over the years and in the process has grown and learned a lot. Giving an insight into her personality today, Drew shares with the magazine, "...I definitely have a ferociousness. And I've always had it. I completely rebel against authority. Scrappy. I am very f--king scrappy."