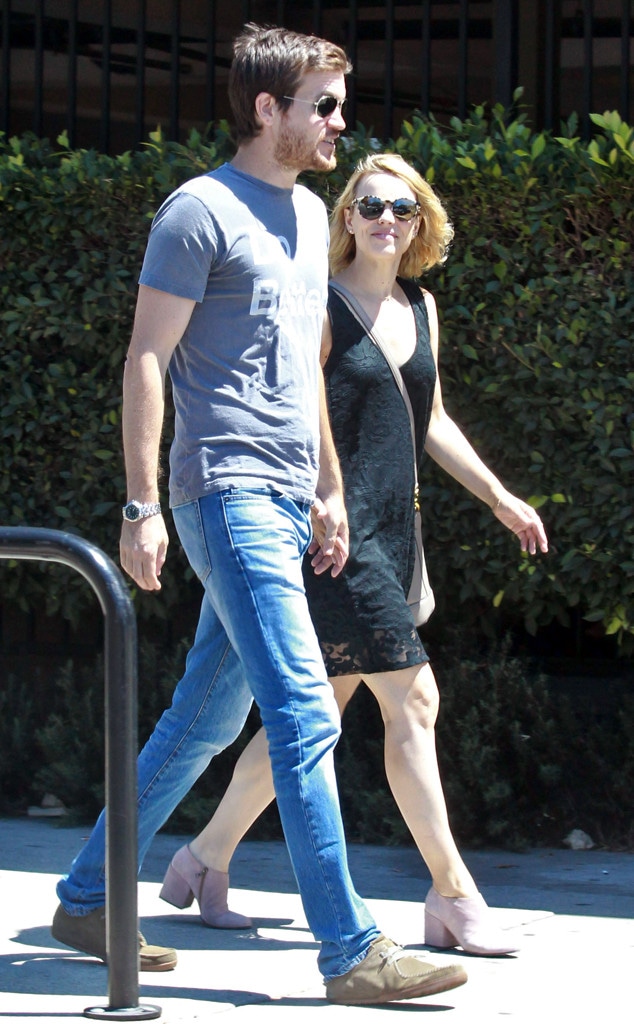 Coleman-Rayner
While Rachel McAdams has kept her love life away from the spotlight in recent years, she has been seeing a new man for quite a while.
The pregnant actress famously dated her Notebook co-star Ryan Gosling in the mid '00s and was in a relationship with Michael Sheen for more than two years until 2013. McAdams continued to pursue love in Hollywood, but away from the cameras and with someone who works behind them: screenwriter and producer Jamie Linden.
McAdams, 39, and her 38-year-old beau were first photographed together in 2016, walking together in Los Angeles and Paris and attending a friend's wedding in Virginia. They have never walked a red carpet together.
Check out seven things to know about McAdams' beau: 
1. He Used to Date Zooey Deschanel: The two were in a relationship between 2012 and 2014.
2. He's a Florida State University Alum: He majored in Digital Media Production and Marketing and graduated in 2001.
3. Linden Wrote 2 Films Starring Channing Tatum: The 2010 film Dear John and the 2011 movie 10 Years.
4. Jodie Foster Turned One of Linden's Scripts into a Movie: She directed the 2016 film Money Monster, which stars George Clooney and Julia Roberts.
5. Linden Has Been Making Money From Screenwriting for Just Over a Decade: His first script to be made into a film was We Are Marshall, which stars Matthew McConaughey and was released in 2006. The movie was inspired by the true story of the 1970 Southern Airways Flight 932 plane crash, which killed most of the members of the Marshall University football team. Linden sold his script to Warner Bros. Pictures when he was 24.
6. He Worked His Way Up Before Getting His Big Break: "My first job was an assistant at [production company] Mirage [Enterprises] for [director and producer] Sidney Pollack and [director and screenwriter] Anthony Minghella," Linden told Variety in 2012.
7. The Price is Right helped him pursue his career in Hollywood: In an interview with Florida State University's College of Communication and Information's Alumni News, Linden said that before he got his big break, he attended a taping of the game show with a group of friends, was selected to compete and won $5,000 and a Tuscan wine server cart.
"The money actually helped me stay in California longer than I had planned," he said. "I was applying to grad school and simultaneously writing my first script."