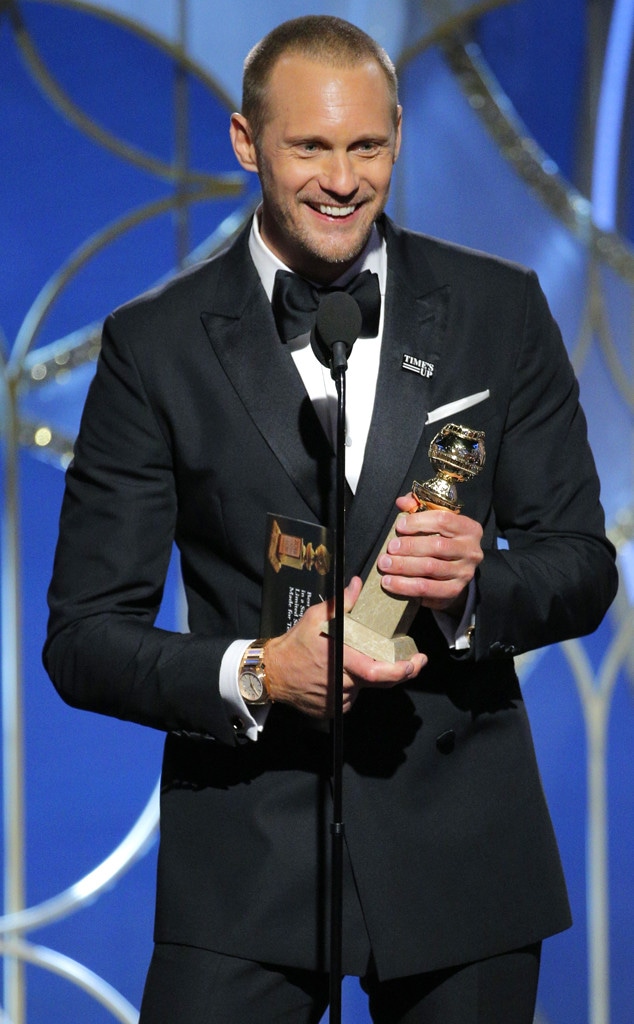 Paul Drinkwater/NBC
Alexander Skarsgård is taking home his very first Golden Globe trophy!
The Big Little Lies actor won Best Supporting Actor in a TV or Limited Series at the 2018 Golden Globes, and he's giving most of his thanks to Nicole Kidman.
After thanking a "special 8-year-old" and the rest of the cast and crew, Skarsgård pointed out that most of his scenes were with his red-headed co-star and executive producer, which he owed for "the best experience of his career."
"I am here tonight because I had a privilege of working with a group of extraordinarily talented women. Most of them are in this room tonight," he began before thanking the producers and author of the book, Liane Moriarty.
He continued, "Our extraordinary cast, we're all here. Especially Nicole. Hi. Not that you're, like, more talented than the other girls. Especially Nicole because most of my scenes were with Nicole. You guys are amazing. Nicole, I love you. Thank you for making this the greatest experience of my career."
Kidman was quite appreciative, blowing kisses back to her on-screen love interest. She also had lots of be thankful for after winning Best Actress in a TV Show or Limited Series earlier tonight.
Meanwhile, Skarsgård was up against fellow nominees: David Harbour from Stranger Things, Alfred Molina from Feud: Bette and Joan,  Christian Slater from Mr. Robot and David Thewlis from Fargo.