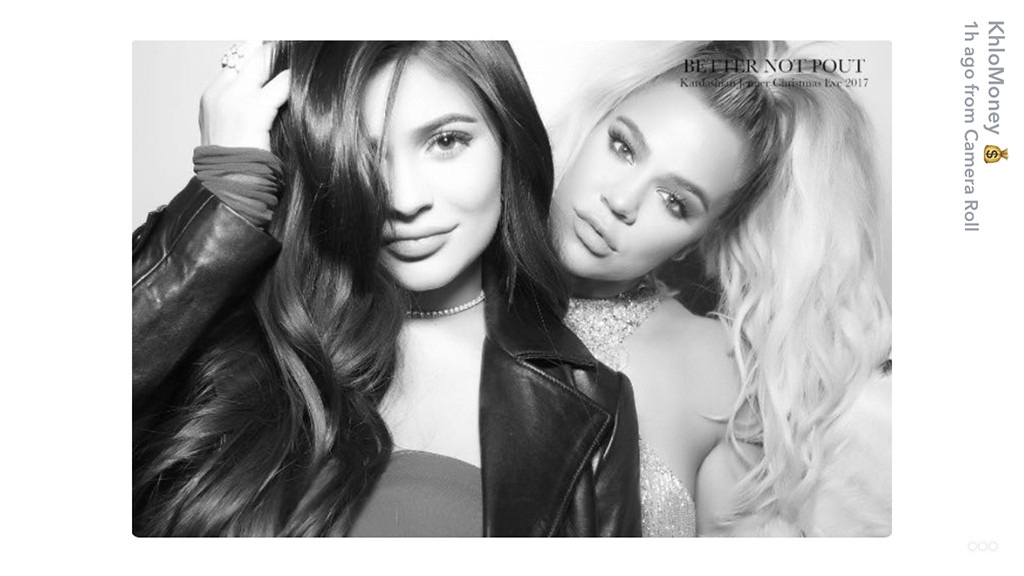 Snapchat
Need proof that Kylie Jenner was at Kris Jenner's Christmas Eve party? We got it!
After some fans speculated that the Keeping Up With the Kardashians star skipped out on the annual party, Khloe Kardashian decided to post not one but two photos of her family member enjoying the festivities.
In new photos shared on Snapchat, Khloe posed alongside Kylie in a photo booth that featured the words "Better Not Pout."
Kylie sported a pearl necklace and black leather jacket as she smiled for the camera next to KoKo.
"Everybody had an amazing time. It was beautiful and intimate, more intimate than years past but still a lot of the same people," a source shared with E! News after the celebration. "It was a very nice crowd. It was beautiful and it looked amazing. Jeff Leatham did an incredible job with the decor."
Throughout the holiday season, Kylie kept a much lower profile amid pregnancy rumors. In fact, she didn't appear in any of the Kardashian family Christmas cards that were unveiled over a span of 25 days.
Ultimately, the founder of Kylie Cosmetics was able to enjoy the annual party that featured famous friends such as Ryan Seacrest, Toni Braxton, Christina Aguilera and more. In addition, Kourtney Kardashian, new beau Younes Bendjima and ex Scott Disick were all in attendance.
Before you predict any drama among the group, however, one source says there really was peace on earth. 
"Scott and Kourtney get along very well. There was no drama at all at the party between them," a source shared. "At this point, the Kardashians are his family too. Scott is more part of the family than Younes is, that much is clear even just based on how he was interacting with everyone."
Keeping Up With the Kardashians returns this September, only on E!