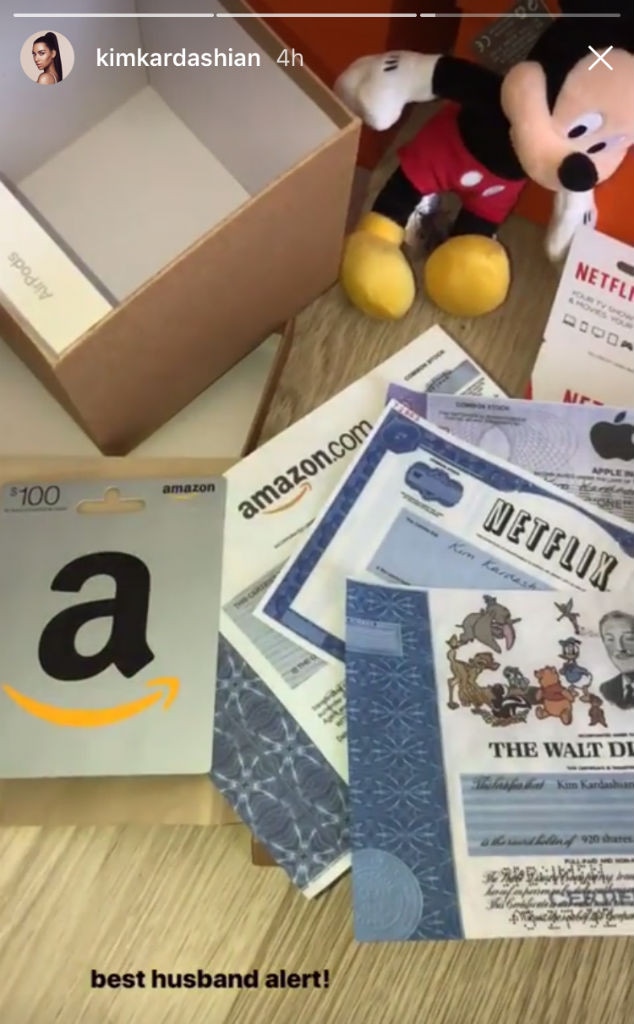 Instagram
"Best husband alert!"
Kim Kardashian is sharing her Christmas presents from Kanye West. On Tuesday, the Keeping Up With the Kardashians star took to Instagram Story to post videos of her husband's gifts to her. 
"OK so for one of my Christmas presents from Kanye he gives me this little box with a Disney Mickey toy, Apple headphones, Netflix, Amazon gift cards and Adidas socks," Kim says in the first video as she shows the presents. "And I'm like, 'That's so sweet, thanks!"
But then she opens a second box with more presents inside.
In a second video, Kim shares, "But then I open the next box and it is stock to Amazon where he got the gift card, stock to Netflix, stock to Apple, hence the little headphones, Adidas stock and Disney stock."
Kim also shows how much she loves the gift by writing "best husband alert!" on the post.
Earlier in the day on Tuesday, Kim shared with her followers another present she received for Christmas.
"OMG my psoriasis is almost gone! Best Christmas present!" Kim wrote along with a post of her leg.