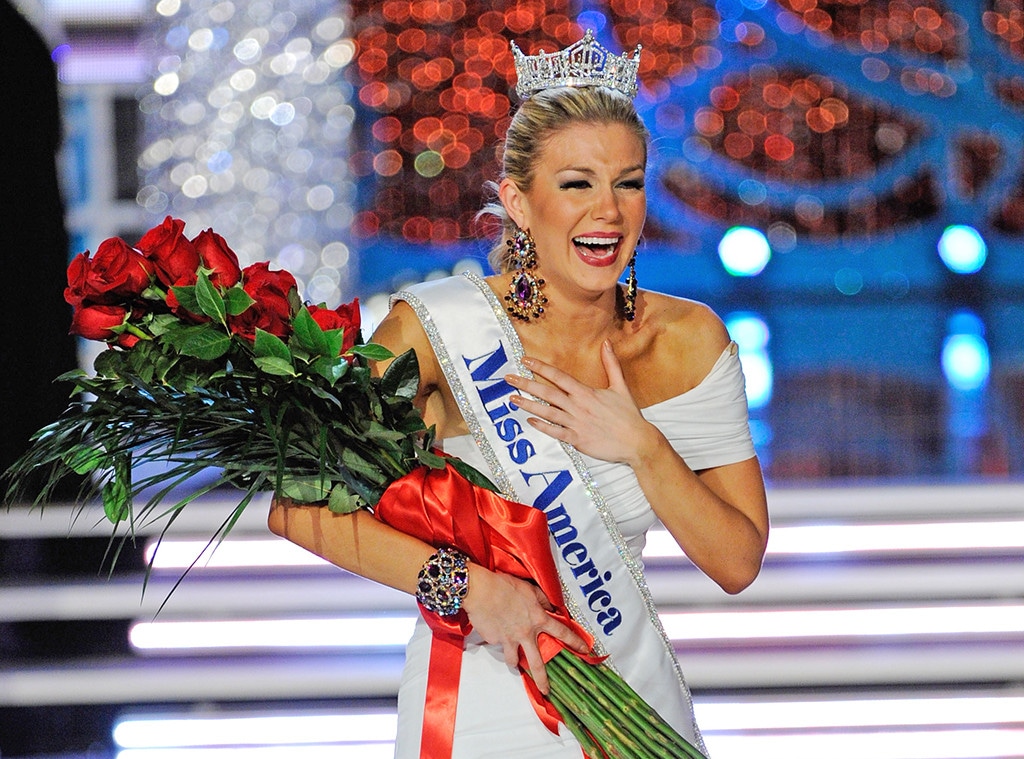 David Becker/Getty Images
After being the target of alleged insults from former Miss America CEO Sam Haskell, Miss America 2013 Mallory Hagan has a few things to say. 
Appearing live from Ala., the now-29-year-old beauty pageant alum addressed the recent email controversy allegedly involving several Miss America Organization leaders during an interview on Good Morning America Tuesday. Last week, The Huffington Post published a report detailing alleged emails between several of the organization's leaders making derogatory comments about former contestants, including Hagan's looks, weight and personal life. To start, the former winner admitted the language described in The Huffington Post's reported emails was not foreign to her. 
"I didn't experience it personally, but I did hear about other Miss Americas in this way and I didn't put two and two together in that moment, but hindsight's always 20/20, so yes that type of language was used about other Miss Americas while I was Miss America, so it really shouldn't have surprised me I guess, but like I said hindsight's 20/20," she told ABC News' Paula Faris. 
Astrid Stawiarz/Getty Images for Point Foundation
While she hasn't heard much apologizing aside from Josh Randle, Hagan is focused on the future. 
"At this point, those people are no longer affiliated with Miss America and what we really want to focus on is how we're going to move forward in the future." Initially, the board voted to suspend Haskell while it conducted an investigation. 
"In response to the vicious story on me in the Huffington Post regarding Miss America and a series of conveniently edited emails, it is important for you to know that the events are not as described," he said in a statement at the time. 
"Much of what was reported is dishonest, deceptive, and despicable. The material is based on private emails that were stolen three years ago by ex employees. The story is so unkind and untrue, and hurts me, my family, and the stewardship of this non-profit. Those who know my heart know that this is not indicative of my character, nor is it indicative of my business acumen. I was under stress from a full year of attacks by two Miss Americas, and while I don't ever want to offer an excuse, I do want to offer context."
Haskell, board chairman Lynn Weidner, board member Tammy Haddad and Randle, president and COO of the Miss America Organization, have all since resigned. 
While the decades-old organization seems to be in a state of reckoning, Hagan hopes it will allow for the change alumna like her have been hoping for all along. 
"I hope it signals the reinvention and I hope that we are starting a larger conversation here," she said. 
"[Brent Adams] stood up for me. He stood up for all of these women, and so I hope that this is a turning point for Miss America for that reason alone —that we're learning that we can stand up for others, so he stood up for us and now we all band together to save our program, so I really think that this is an opportunity to see how women can come together, support each other, rise up, take over the things that they want to see happen and move forward."
As Hagan claimed during the interview, change was only as possible as those in power allowed. 
"I think theres a lot of conversation that's been happening behind the scenes for many years from all of us formers about things that we would like to see change and unfortunately the leadership that was in place was simply not open to it," she said. "So, now we have an open door for former Miss Americas, for long-term volunteers, for former state titleholders to come together and really put together some ideas in order to help not just the pageant that you see on the telecast, but the day to day lives of these titleholders."
On the topic of diversity, she added, "Not just women should run a women's organization, but I certainly think they should have a lot of the say-so and that's not what we've seen in the last decade."