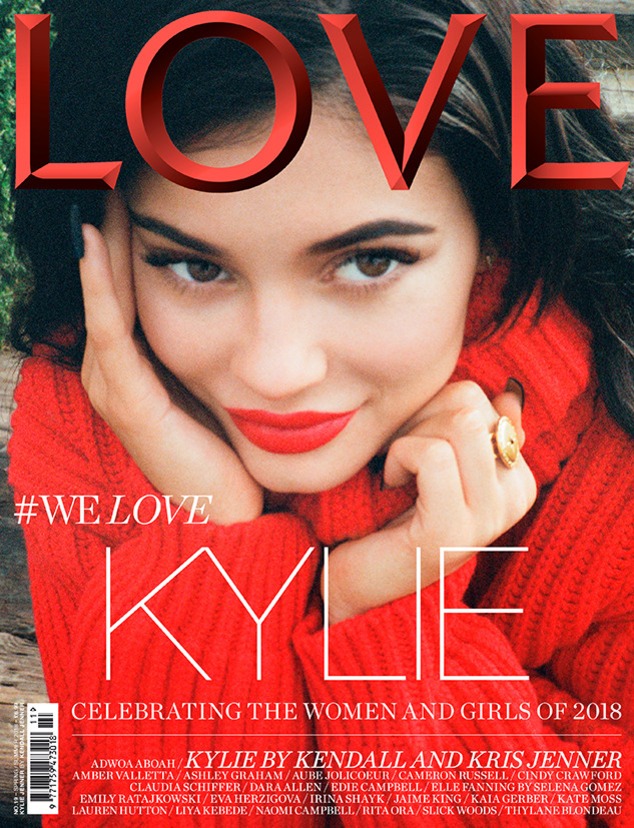 Kendall Jenner
There she is! 
Kylie Jenner may not have popped up for the finale of the Kardashian Christmas card, but she did resurface on the cover of Love Magazine just in time for Christmas. 
The 20-year-old makeup mogul, who is reportedly expecting her first child with beau Travis Scott, has been notably M.I.A in recent months. Though fans sincerely hoped she would show up for the 25th photo in the family's Christmas card series this year, she ultimately did not participate, leaving followers across the globe puzzled and asking the question: Where in the world is Kylie? 
However, the reality star did resurface on fans' social media timelines to promote a new issue of Love Magazine, starring her as the cover girl, her older sister, Kendall Jenner, as the photographer and Kris Jenner as the interviewer.  
In the headshot, Kylie is wrapped up in a red turtleneck knit as she smiles at the camera in matching lipstick—makeup done by her!—with her hands framing her face. 
"Merry Christmas! Thank you @thelovemagazine @kegrand for this special cover shot by @kendalljenner & interview by @krisjenner #love19," the star wrote on Instagram to announce the news. 
The upcoming issue, which is focused on "celebrating the women and girls of 2018," seems to address Jenner's successful entrepreneurial pursuits. 
"I was just trying to keep up with myself. All businesses, every company, makes little mistakes here and there. Growing it in front of so many people all of a sudden was kind of hard," she was quoted as saying on the magazine's Instagram account. The interview has not yet been released. 
Though she hasn't been visibly out in public as of late, as evidenced by her social media accounts, Kylie has been hard at work promoting her newest makeup products, including a line of concealers, brushes and lipsticks. 
While Kylie has not confirmed any baby news herself, her older sister Khloe Kardashian announced her pregnancy to the world just in time to celebrate over the holidays. The mom-to-be was busy getting her groove on at her mom's Christmas Eve party, complete with a belly rub for Snapchat fans. As for Kylie, it sounds like she was hiding in plain sight. 
"People think you weren't there last night," Khloe said to her sister in a quick Snapchat video on Christmas morning. As Kylie confirmed, "I was!"