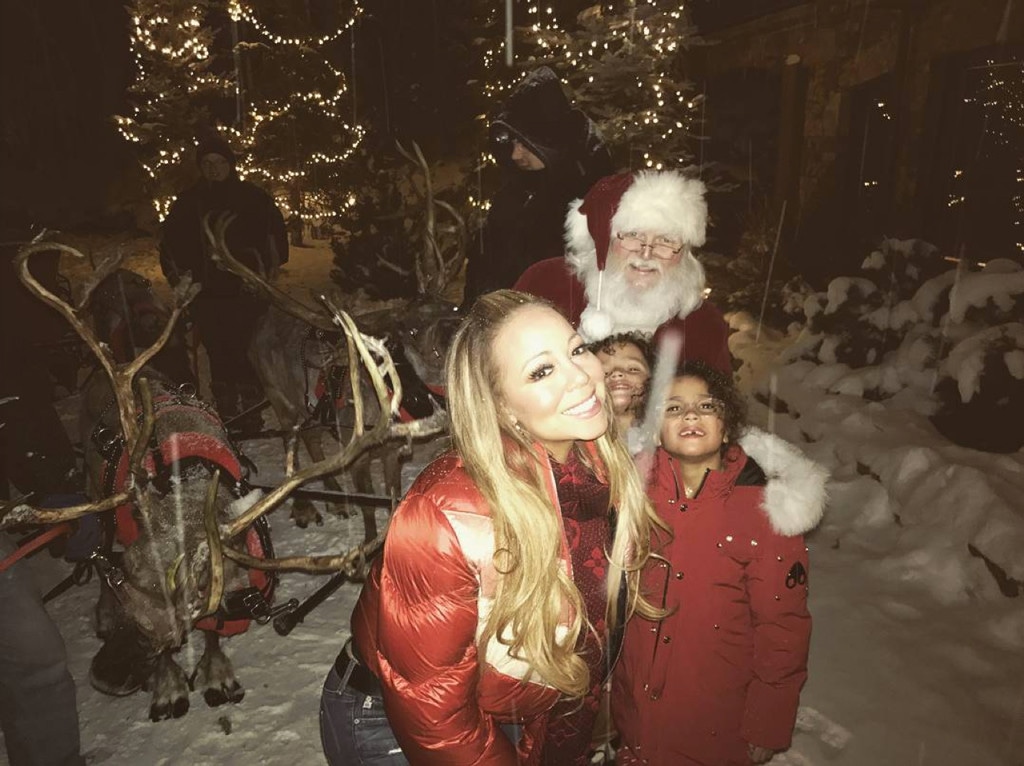 Instagram
We hope a visit from Santa Claus was on Mariah Carey's kids' Christmas list, because that's precisely what they got. 
The songstress' two little ones, Moroccan and Monroe, 6, had a highly coveted visit from the man of the holiday this Christmas Eve. After arriving in Aspen with their famous mom, the twins took a seat on the sofa as Santa Claus surprised them with gifts—as long as they promised to get along, share and play fair in the new year. 
While Santa and the youngsters chatted, Mariah listened to the conversation as her signature holiday hit, "All I Want for Christmas Is You" played in the background.
Outside, some of Santa's reindeer were waiting as the snow perfectly fell. Even Mariah was stunned by how picturesque the moment was. "Merry Christmas!!! Thank you Santa and the reindeer for stopping by! See you next year!" she captioned a photo of the trio with their guest of honor outside. 
Back in the house, the family and their guests—among them Carey's beau Bryan Tanaka—enjoyed a group dinner on Christmas, Mimi looking elegant in a maroon gown. 
Carey ended the festivities in bed in Hello Kitty-themed pajamas and her furry friend. "I said bedtime!" she captioned the happy shot. 
While the star's ex and the twins' dad Nick Cannon was noticeably missing from the pictures, it sounds like he did ultimately make it to Aspen after a cancelled flight. 
"Soon as they said my flight was canceled I had to call my Homeboy and see if he could pick me up," he tweeted on Sunday. "From Haiti to Aspen all in one Night!!" Cannon followed up. 
The exes typically spend holidays together, including last Thanksgiving when the two reunited in Hawaii for a family getaway. 
As 2018 is only a few days away, cheers to another year filled with family-fueled holiday celebrations for the pop icon and her youngsters. Remember what you promised Santa, kids!