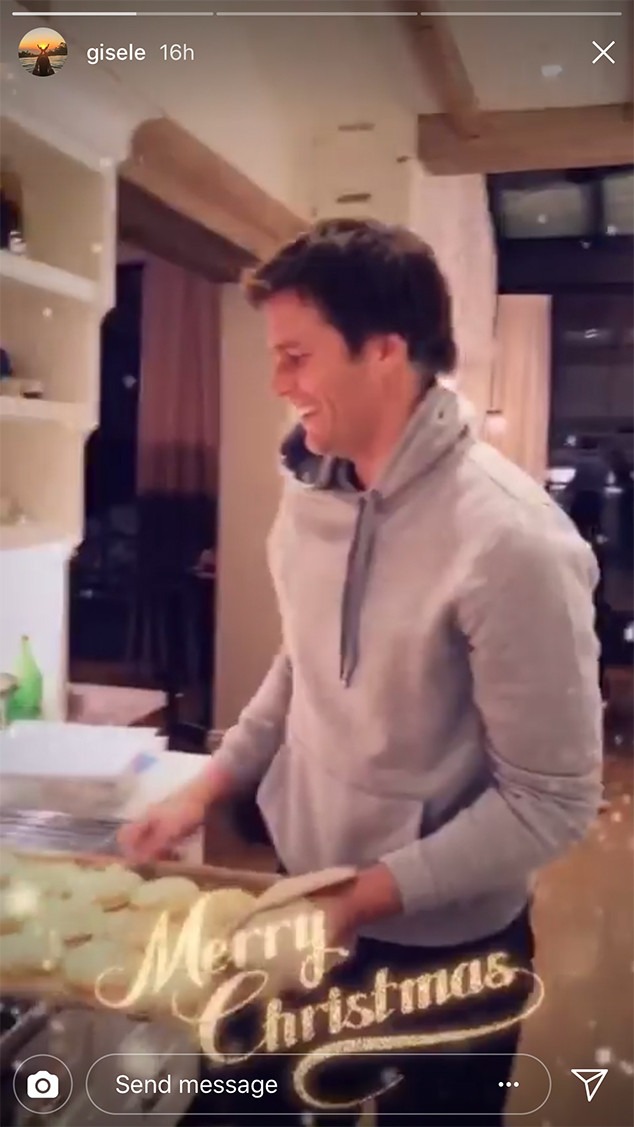 Instagram
Calories don't count on Christmas—right?
On Monday, Gisele Bündchen filmed Tom Brady baking his grandma's biscuits in the kitchen. "Mmm! Yes! Hey, Santa! Wait a minute," the Brazilian supermodel said, applying a Snapchat filter that put a Santa hat on her hubby as golden reindeer danced across the screen. "Yummy!" Calling Bündchen his "elf," he winced as he pulled a tray out of the oven. "Ooh!" he said. "Hot!" As he glazed the biscuits, the famously fit supermodel complained, "Oh, my God! More butter?"
Brady last admitted to breaking his strict diet on Thanksgiving—for the very same flakey treats. "As a young boy, my favorite part of every holiday was eating my Grandma's biscuits," he wrote on Instagram. "The first question I would ask when I walked into her apartment was, 'Grandma, did you make biscuits for me?' And of course, she always did. She is resting in Heaven now but she would be happy to know that her tradition lives on in our house. My biscuits don't taste nearly as good as hers, but after being smothered in butter and syrup, it's tougher to know the difference!" Brady's New England Patriots teammate, Rob Gronkowski, teased him about the biscuits in a press conference the next day. "He was bragging about them today, and I told him to bring some in, and he's like, 'They were so good they were all eaten.' So, I told him to make some more. I'm not lying. That's dead serious what happened. If he doesn't bring some in, there's going to be some problems." Later on, the quarterback boasted, "They were pretty good. Sometimes I screw them up but last night they were pretty good. There weren't any left."
If Brady over-indulged on Christmas, he has time to hit the gym and get back into shape. The New England Patriots' next game—against the New York Jets—is scheduled for New Year's Eve.
Holiday exceptions aside, Brady maintains a very restricted and regimented diet, consisting of only "real" foods eaten at specific times of the day. Earlier this year, he published a book—The TB 12 Method—and revealed what a "typical" day is like for him. It begins around 6 a.m., when he wakes up and "immediately" drinks 20 ounces of water with added electrolytes. After a shower, he'll make a healthy smoothie. "Typically, it contains blueberries, bananas, seeds and nuts," the athlete revealed. "It's nutrient dense, high in fat, high in protein and high in calories."
Brady will begin his workout at around 8 a.m., during which time he will drink more water with added electrolytes. Twenty minutes after his workout ends—and absolutely no later—he will have a protein shake with almond milk, protein powder and more electrolytes. "Wait any longer and your body will begin seeking its own protein sources and start tearing down muscle you've just been building up," he wrote. Brady said he never goes "long" without snacking. Lunch is usually around noon, and it's "often a piece of fish, but always with lots of vegetables."
Brady follows a so-called alkaline diet, meaning he tries to limit "acidifying" foods—think breads, cold cuts, pineapples, white rice and yogurts—to 20 percent of his diet. The other 80 percent is made up of alkalizing foods, like almonds, Brussels sprouts, dandelion greens and sweet potatoes. As Brady explained in the book, "I make sure most of what I eat is alkalizing." And if Brady wants another snack before dinner, he can have another protein bar or protein shake—or a piece of fruit. "Eat fruits alone," he wrote. "They digest quickly. Other foods don't."
Dinner comes at 6 p.m., and it's a "nutrient-dense meal that includes a lot of vegetables."
Brady "rarely" drinks alcohol. "I don't really drink tea," he added, "but I might drink a cup of bone broth." Though he drinks a lot of water (with added electrolytes) throughout the day, he cautioned, "Drinking water with your meals can interfere with good digestion. Drink water half an hour before a meal, and then wait an hour before you have your next glass." Though it may be restrictive, he vowed, "I enjoy how I eat, and what I eat, and never feel like I'm missing out."