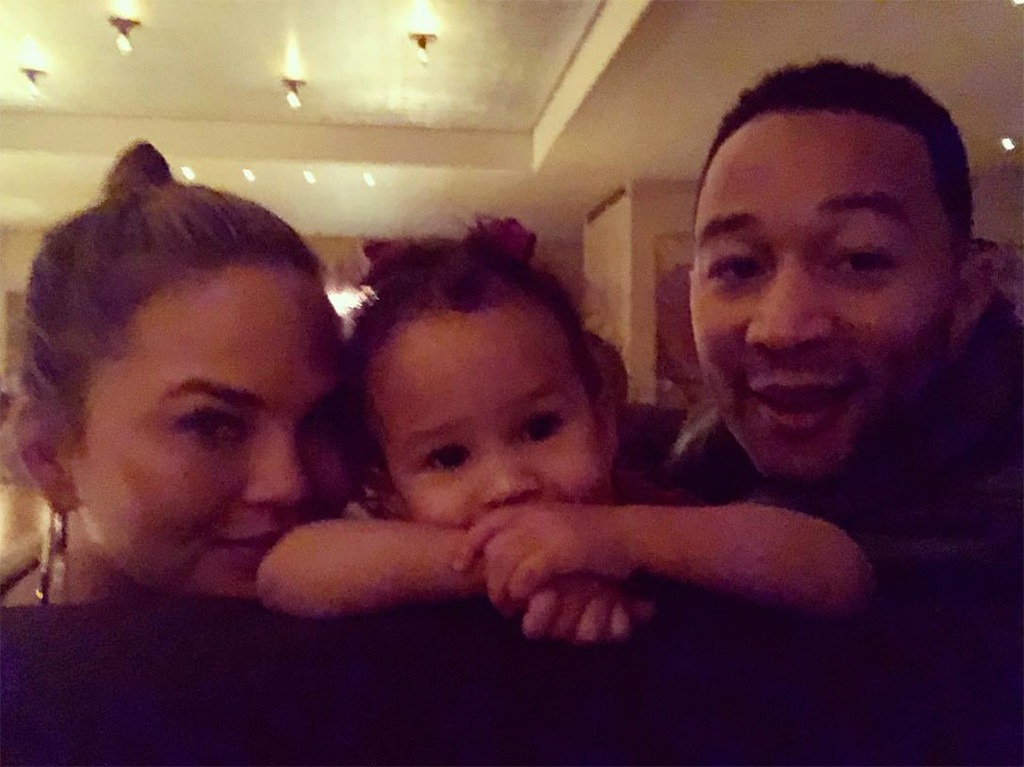 Instagram
Chrissy Teigen and John Legend had a picture perfect Christmas.
The couple, who are expecting their second child in 2018, made special holiday memories with 20-month-old daughter Luna Stephens in an undisclosed desert location. Teigen and Legend documented their festivities on social media, of course, allowing fans to join their celebration.
Teigen played Sheryl Crow's "Soak Up the Sun" as she took videos of a puppy doing just that. The TV host, who is hard at work on her second cookbook, also let fans in on what her family would be eating that night. "Merry Christmas!!" she wrote. "Tonight's menu, @TylerFlorence's beef wellington, my creamy onions, roasted carrots, balsamic bacon brussels, garlic smashed potatoes, honey butter rolls and @Nigella_Lawson's INSANE cider and 5-spice bundt cake with salty caramel sauce!" Josh Groban jokingly replied it would be "radishes for me again this year." Teigen referenced a popular New York restaurant, joking, "Very ABC Kitchen very in right now!"
Later, Teigen shared a sneak peek at her "prosciutto dress for beef wellington" on Snapchat. At first glance, it didn't look very appetizing. "Wow. This doesn't look good," she said. But after actually cooking it, it looked tastier. "Oh, my! She's beautiful. Oh, yeah!" Teigen said. "Oh, hey!"
Teigen also proudly showed off Nigella Lawson's cider and five-spice bundt cake with salty caramel sauce. "She ripped a little bit, but she's gorgeous," Teigen said. As she applied the finishing touches, Legend apparently began to salivate. "Mmm. Drizzle," he hummed. "Mmm."
Later that night, the family posed for family photos in the desert. Teigen shared four shots on Instagram, writing, "Merry Christmas!" Legend shared a series of photos with fans, too. In one caption, Legend wrote, "Christmas in the canyon," and in another, he said, "no filter Christmas."
Last year was the couple's first Christmas as new parents. "I can't wait for Luna to see our big Christmas tree up because we've never really had a proper holiday season in a home before. We've always kind of been on the move, or we tend to go on vacation during the holidays," Lip Sync Battle's colorful commentator told E! News in December 2016. "This time, we are in the house, and I think she's going to be floored because she's very into nature. I don't know how she's my daughter, but she enjoys trees and leaves and the beach, and I'm like, 'Who are you?'"