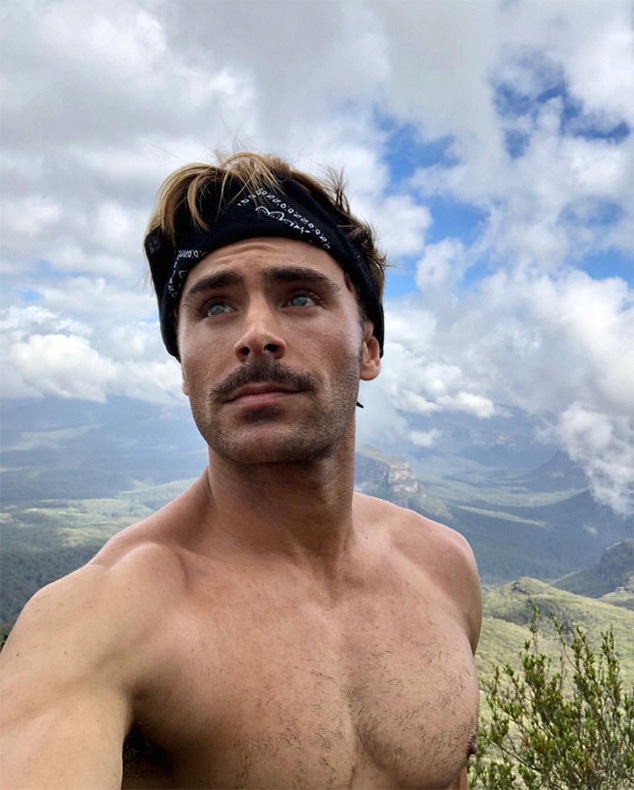 Instagram
To borrow a quote from Christmas Vacation, "It is a bit nipply out."
Zac Efron gave his 32 million Instagram followers a present Christmas morning: a shirtless shot of himself on a hike. "May your holidays be epic," Efron wrote in the caption. "#happyholidays."
Don't worry, forest rangers—the actor was fully clothed on his hike. In other photos shared on his Instagram Story, Efron wore a white tee, black shorts, neon sneakers, a hat and a bandana. In half a day, Efron's shirtless selfie received nearly 3 million likes—and Liam Hemsworth, Gus Kenworthy and Zendaya were among those who gave the 30-year-old actor a little digital love.
Efron just wrapped up a worldwide press tour for The Greatest Showman, co-starring Rebecca Ferguson, Hugh Jackman, Michelle Williams and Zendaya. The movie, inspired by how P.T. Barnum started the Barnum & Bailey Circus, marks Efron's first time singing and dancing onscreen since starring in Disney's High School Musical franchise. "It feels great, man. It feels good. This is a really neat one, too. It's just different," he told E! News earlier this month. "The movie is very powerful and it has a lot to say. I think it's an important one for our generation. It's got a big voice and the potential for it to be heard for our generation is really massive. It feels important and has weight, but it's very fun and very cool. It tells a really interesting story."
The actor plays playwright Phillip Carlyle, who romances acrobat Anne Wheeler (Zendaya). "She's a trooper, man. She's one of a kind. I didn't know what to expect—which always is the case when you have somebody to play a star-crossed lover with—but she was awesome. She took it to a whole 'nother level, which was very exciting. Once the torch was lit, we were just ready to go—as far as we wanted to go. Any creative note, she was open-minded and willing to go there," the actor said. "We took it to a whole 'nother level—literally. We took it to the sky."
Zendaya has said in multiple interviews that Efron is her best onscreen kiss to date—and once the news traveled back to Efron, he couldn't help but blush. "I think within the context of the film, the kiss is just really earned. I mean, these are two people who aren't really even allowed to touch, aren't allowed to be around each other, let alone love each other...It's 1850. It was blasphemy," the actor told E! News. "It's a shame that some of those rules are still around today, so the message still resonates very strongly. And that's why I think the kiss is so epic."