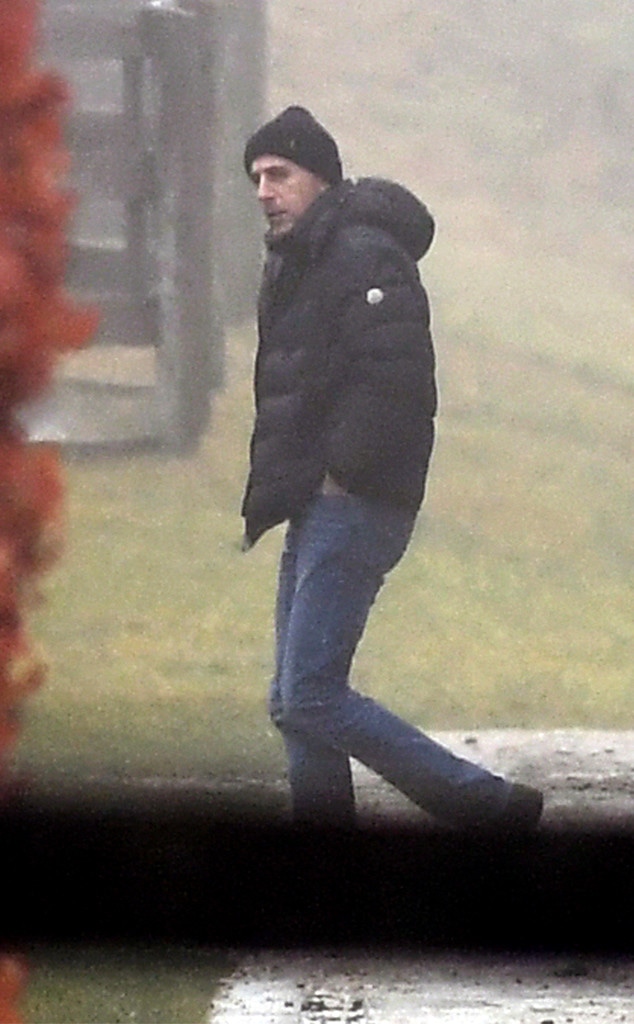 Elder Ordonez / Splash News
Looks like the holidays are bringing the Lauer family together.
Matt Lauer was fired last month for allegations of sexual misconduct, and shortly thereafter, his wife, Annette Roque, was spotted out without her wedding ring, sparking speculation that their marriage was coming to an end as well.
Though Roque was spotted leaving a New York City law firm on Thursday—a visit many publications are reporting coincided with their alleged divorce—the former couple reunited on Saturday ahead of the Christmas holiday.
Lauer was spotted walking into a horse farm in Sag Harbor, NY, where he met up with Roque and their 14-year-old daughter Romy.
Today, the former anchor was also spotted in the Hamptons with his sons, Jack and Thijs Lauer, among a group of friends.
Meanwhile, Lauer and Roque first met in 1997 and tied the knot one year later in Oct. 1998. They welcomed their first child, Jack, in 2001, and their second child, Romy, in 2004.
However, while Roque was pregnant with their third child, Thijs, in 2006, the former model filed for divorce. Three weeks later, she withdrew her divorce petition. Roque gave birth their second son in Nov. 2006.
Elder Ordonez / Splash News
A week after Savannah Guthrie announced Lauer had been fired from the Today show due to sexual misconduct allegations, the former couple was spotted out without their wedding rings on.
That same day, Roque's father, Henri Roque, spoke out to the Daily Mail, saying his daughter "is not going to stay" with Lauer. "I have no words for her husband," he added. "What he has done is bad. Everybody feels betrayed. She is not going to stay with him and work it out. They are not together trying to work it out."
On Nov. 30, one day after being fired from NBC News, Lauer released the following a statement: There are no words to express my sorrow and regret for the pain I have caused others by words and actions. To the people I have hurt, I am truly sorry. As I am writing this I realize the depth of the damage and disappoint I have left behind at home and at NBC. Some of what is being said about me is untrue or mischaracterized, but there is enough truth in these stories to make me feel embarrassed and ashamed. I regret that my shame is now shared by the people I cherish deeply," the statement read. "Repairing the damage will take a lot of time and soul searching and I am committed to beginning that effort. It is now my full-time job."
He concluded, "The last two days have forced me to take very hard look at my own troubling flaws. It's been humbling. I am blessed to be surrounded by people I love. I thank them for their patience and grace."