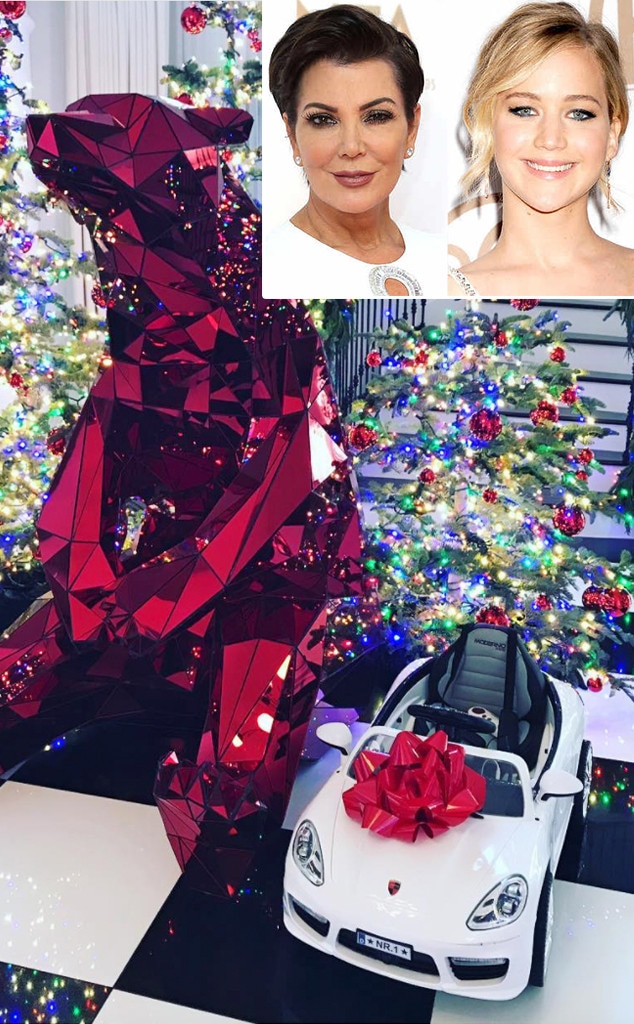 Kris Jenner/Instagram; Getty Images
Reason No. 999 why J.Law is pretty much our fave...
From a bevy of Birkins to walls of roses and blinged-out baubles, the Kardashian fam is known for gifting each other some over-the-top presents for the holidays. So when Kris Jenner joked to her gal pal Jennifer Lawrence that she wanted a Porsche for Christmas, the Oscar winner came up with the cleverest of ideas: a battery powered Porsche for kids.
On Saturday, the good-spirited grandmother took to her Instagram to write about the hilarious surprise from the self-proclaimed Keeping Up With the Kardashians superfan.
"My BFF #Jenniferlawrence asked me what i wanted for Christmas and of course I said a Porsche, DUH. My girl didn't disappoint," said the Kardashian matriarch. "Thank you Jen I love you!!! #bffsforever #christmassurprise #jlaw #soexcited."
The photo shows Jenner's rainbow-themed Christmas decorations next to the 2018 Porsche Boxster Style 12V Ride-On-Car, which comes with battery powered wheels, a dining table, leather Seat and LED Lights. The car runs at three different speeds, has a sound system and a Bluetooth remote control. 
We'd be excited too if we were Kris—this toy car is sick!
While the toy car certainly doesn't cost as much as the real thing, which would run you around $84K for the fully loaded Boxster, the Kiddie Sports Roadster will set you back $259.99. 
The toy car is designed for riders aged 2-5, so KJ probably won't be joyriding any time soon (unless the pimped-out whip also has a time machine). But we have a feeling that Reign, Mason, Penelope, North and Saint might love this lil' Porsche! 
As for how J.Law and Mama J became buds, well Kris recently star joined Steve Harvey on STEVE  and dished about her bond with the mother! actress...and that time she got naked in her closet!
"She was a big Keeping Up With the Kardashians fan," Kris recalled of meeting her for the first time. "And somebody from her team called me up and said, 'Would you surprise Jennifer on her birthday and give her a birthday cake, like you'll be the surprise.' When I walked out with this cake, she was so excited…and we've had this little texting friendship from then on."
"Well, she had some time off, and I invited her over for dinner," the mom-of-five explained. "We started having a few cocktails, and we were having so much fun. And as girls do when they all get together, we ended up in my closet, looking at clothes and some stuff, and she started trying some stuff on."
Kris explained, "She just took off her jeans and went for it!"
And that's why we love her!
Keeping Up With the Kardashians returns this September, only on E!