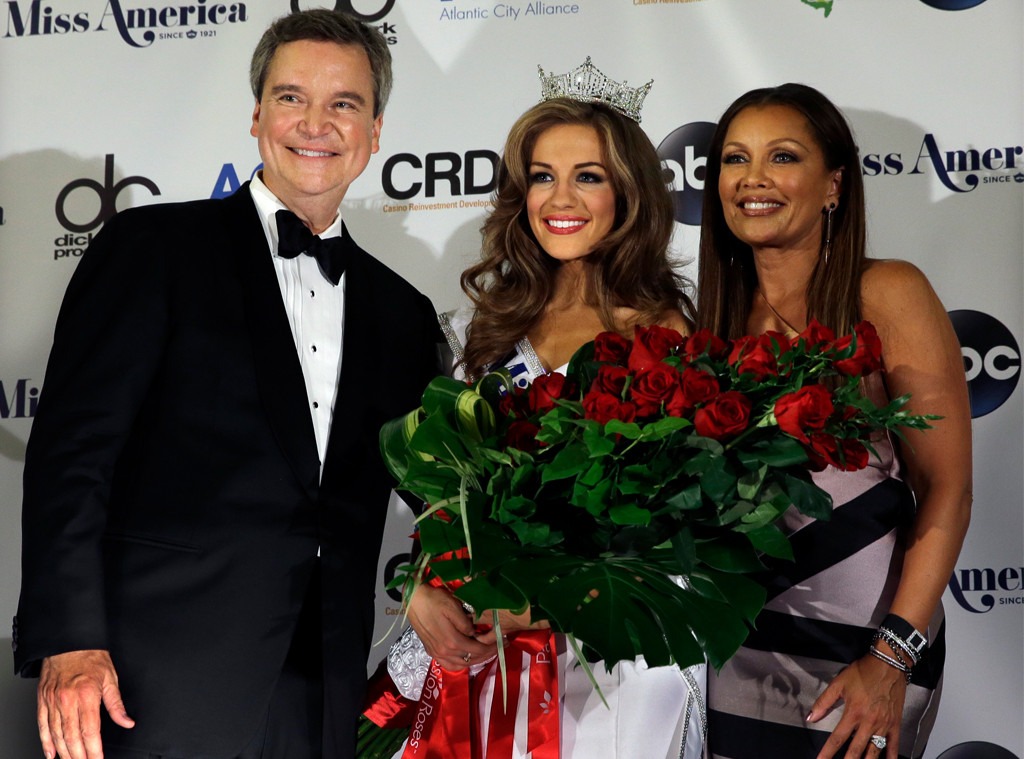 AP Photo/Mel Evans
Sam Haskell has resigned as CEO of the Miss America Organization after being suspended amid a report he had allegedly sent and received internal emails that attacked and mocked former pageant winners.
Earlier this week, 49 beauty queens who had won the pageant between 1948 and 2017 penned a letter calling on the executive and other top leaders of the group to resign following the controversy.
"This afternoon, the Board of Directors of the Miss America Organization accepted the resignation of Executive Chairman and Chief Executive Officer Sam Haskell, effective immediately," Dan Meyers, who has served as the board's vice-chair and has stepped into the role of interim chairman, said in a statement to E! News on Saturday.
"The Board of Directors also accepted the resignation of Chairman Lynn Weidner," he said. "At the Board's request, Ms. Weidner has agreed to remain on the Board for up to ninety days to facilitate a smooth transition for the MAO to new leadership. The Board thanks Lynn and Sam for many years of tireless work for, and significant financial support to, both the Miss America Organization and thousands of young women who received millions of dollars of educational scholarships from the Organization as a direct result of their efforts."
Josh Randle, president and COO of the Miss America organization, has also resigned "in light of recent events and new developments," a Miss America Organization spokesperson said.
Haskell, Weidner and Randle have not commented publicly on the decision.
The Huffington Post had exclusively reported about the emails, which allegedly referenced beauty queens' appearances and sex lives, and the former pageant winner's letter, which read, "We stand firmly against harassment, bullying and shaming — especially of women — through the use of derogatory terms meant to belittle and demean."
The Miss America Organization Board of Directors said on Friday it had voted to suspend Haskell and said it would "be conducting an in-depth investigation into alleged inappropriate communications and the nature in which they were obtained."
"In addition, the Board wishes to reaffirm our commitment to the education and empowerment of young women, supporting them in every way possible," the group had said.
After the report about the emails was published, Dick Clark Productions, which had produced pageant for television, said it had cut ties with the Miss America Organization, calling the matter "appalling."
Haskell had said after the vote that "much of what was reported is dishonest, deceptive, and despicable" and that "the material is based on private emails that were stolen three years ago by ex employees."
"The story is so unkind and untrue, and hurts me, my family, and the stewardship of this non-profit," he said. "Those who know my heart know that this is not indicative of my character, nor is it indicative of my business acumen."
TV personality and Miss America 1989 Gretchen Carlson had earlier stated publicly that "every MAO executive & board member who engaged in such crude behavior and signed off on it like it was no big deal should resign immediately."
Miss America 1998 Kate Shindle, had earlier said, "The Miss America Organization is a publicly funded not-for-profit whose stated mission focuses on the empowerment of young women through scholarship and service. I still believe that Miss America has relevance and purpose in 2017 and beyond. But in order to achieve that purpose, the entire Board of Directors must immediately resign, including and especially Sam Haskell."
After the resignation announcements, the two said in a joint statement on Carlson's Twitter page, "While it is reassuring that some of the perpetrators of the abuses within the Miss American Organization have resigned, this by no means fulfill the need for a thorough housecleaning of the Board."
"We will continue to demand the resignations of every individual who either participated in the abuse of women or stood by and was complicit by failing to conduct proper due diligence, as legally required by their fiduciary obligations," they said. "In addition, we expect that no new board members will be appointed until every implicated board member has resigned."