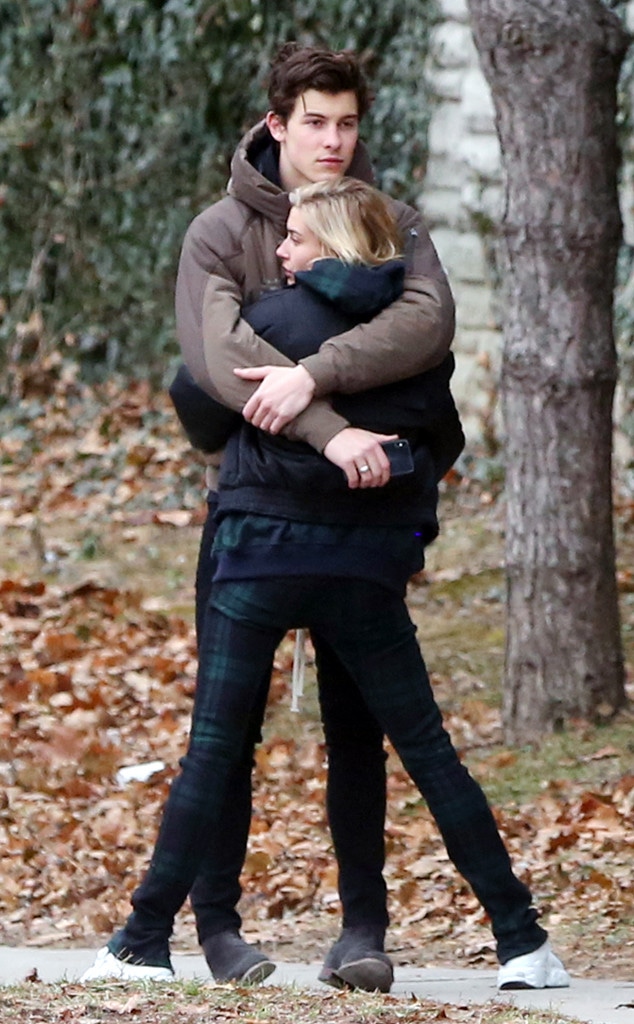 TheImageDirect.com
Hailey Baldwin and Shawn Mendes are home for the holidays—Shawn's hometown of Toronto that is!
The model and the Canadian singer were spotted hitting up a Christmas market in Toronto on Thursday and cuddling while talking a romantic stroll. The 19-year-old singer stopped to take photos with some of his excited fans.
Twitter user @sarahelizabeth13 posted photos with the singer and of the couple with the caption, "SHAWN MENDES AND HAILEY BALDWIN IN TORONTO."
For the public outing, Hailey donned a black jacket and plaid pants. The Canuck opted for a green bomber jacket, black pants and a beanie. 
Last month, E! News reported that the couple was quietly dating. The two have yet to do a red carpet together, but have taken to the chilly streets of Canada with their relationship.
On Wednesday night, the couple were spotted hanging out at Daniel Caesar's concert at The Danforth Music Hall in Toronto.
Seems like these two are having some holiday fun together!
A source told E! News that they two started out as friends but that it grew into more.
"It started out casual as they would run into each other at parties and hangout, but most recently it's become more serious," a source previously shared with E! News. "They are definitely dating and spend a lot of time together."
Our insider added, "A few months ago they were sneaking out of public venues like Delilah while trying to not make a scene and now they have gone on private vacations to Europe. Their relationship has grown and they don't care if anyone sees them now."
Fans of the "Treat You Better" singer and supermodel have had plenty of suspicions that these two were becoming more than just buddies.
Dating rumors started to swirl about the "Treat You Better" singer and the model after the 2017 MTV EMAs. The pair was spotted at an award show after party where they posed for a selfie alongside Rita Ora. Shawn and Hailey were also spotted at the same Kings Of Leon concert.
Prior to that, Hailey attended Shawn's concert in Brooklyn where she wore a pink hat that featured red roses. Oh, did we mention Shawn has a song called "Roses" on his album Illuminate?
"Hailey is not one to make things a huge deal, but Shawn worships her," our source shared. "He is definitely considerate of her busy schedule and her feelings. They are really cute together."
"Hailey's friends think Shawn is great because he is 'chill and relaxed' and is very supportive of Hailey," our source shared.
Fans are still waiting for their red carpet debut, but Hailey's heading home for the holidays is certainly a big step!