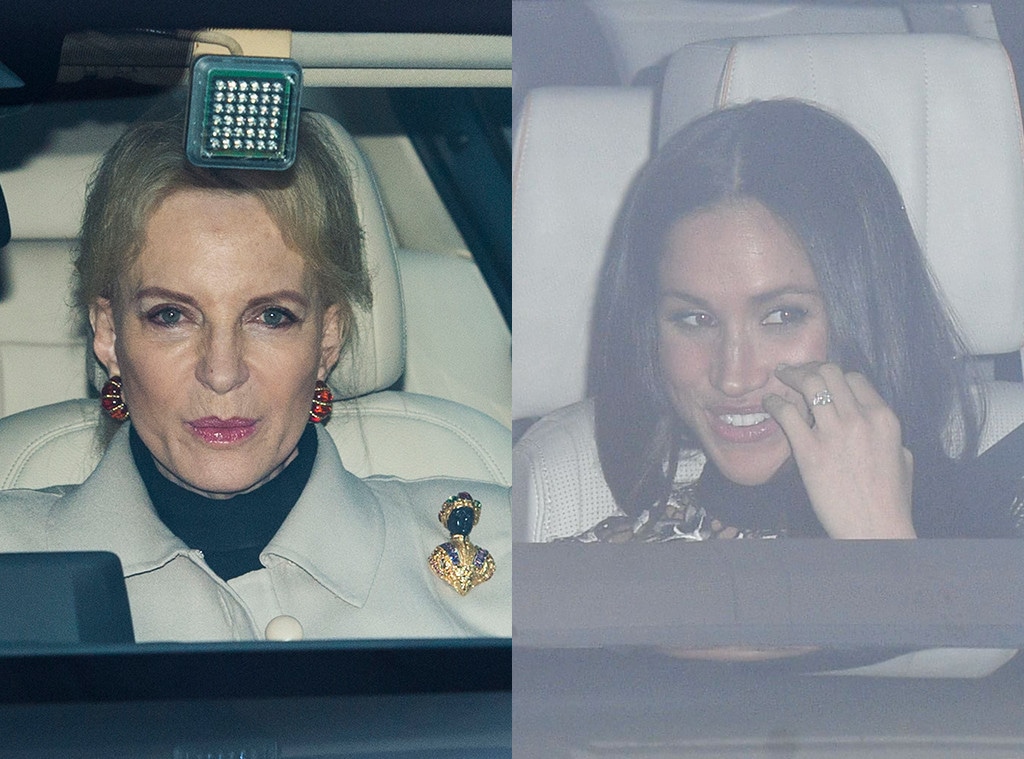 Mark Cuthbert/UK Press via Getty Images. Tim Rooke/REX/Shutterstock.
Not every vintage piece of jewelry should be re-worn...
Princess Michael of Kent, who is married to Queen Elizabeth's first cousin, has apologized after causing quite the controversy when she wore a vintage "blackamoor" brooch to Queen Elizabeth's Christmas lunch at Buckingham Palace on Wednesday, which was attended by Prince Harry and his fiancée Meghan Markle, who is of a mixed racial background (her father is white and her mother is black). The princess was photographed being driven into the royal event with the golden brooch prominently featured on her ensemble.
The controversial brooch shows a black figure in regal gold attire and headdress. Nowadays "blackamoor" jewelry is considered racially insensitive because it romanticize slavery. The jewelry, which originated in Venice in the 16th century, depicts black individuals as subservient or as members of royalty.
Many online called out the 72-year-old, who has previously been dubbed by the English press as "Princess Pushy," for wearing a "racist" piece of jewelry, which was particularly notable as she was attending the event with Prince Harry's bi-racial fianceé. 
The Guardian reports that a spokesperson for the royal said that she's "very sorry" for wearing the item, which she says was a gift that she's worn many times without issue.
In the statement, the spokesperson said, "The brooch was a gift and has been worn many times before. Princess Michael is very sorry and distressed that it has caused offence."
The queen-hosted luncheon was Markle's first meet and greet with the extended royal family, who arrived at Buckingham Palace one chauffeured limousine after the next.
This isn't the first time that "Princess Pushy" has been involved in a racist scandal. In 2004, the New York Times reported that the royal had exploded at a table of noisy diners and told them to ''go back to the colonies.'' The dinner-goers were well-connected black New Yorkers, a banker, a music industry executive, a lawyer, a public relations consultant and a television reporter, and the story went public after they took her remark as racist. 
At the time, Princess Michael told The New York Post that she said, ''You should remember the colonies,'' and was trying to remind loud eaters of a time when people had manners.
As for Markle, the Suits star spoke to the BBC about the racism she's faced since she went public about her relationship with the royal.
"It's disheartening. You know it's a shame that that is the climate in this world to focus that much on that or that that would be discriminatory in that sense, but I think…at the end of the day I'm really just proud of who I am and where I come from, and we have never put any focus on that. We've just focused on who we are as a couple."