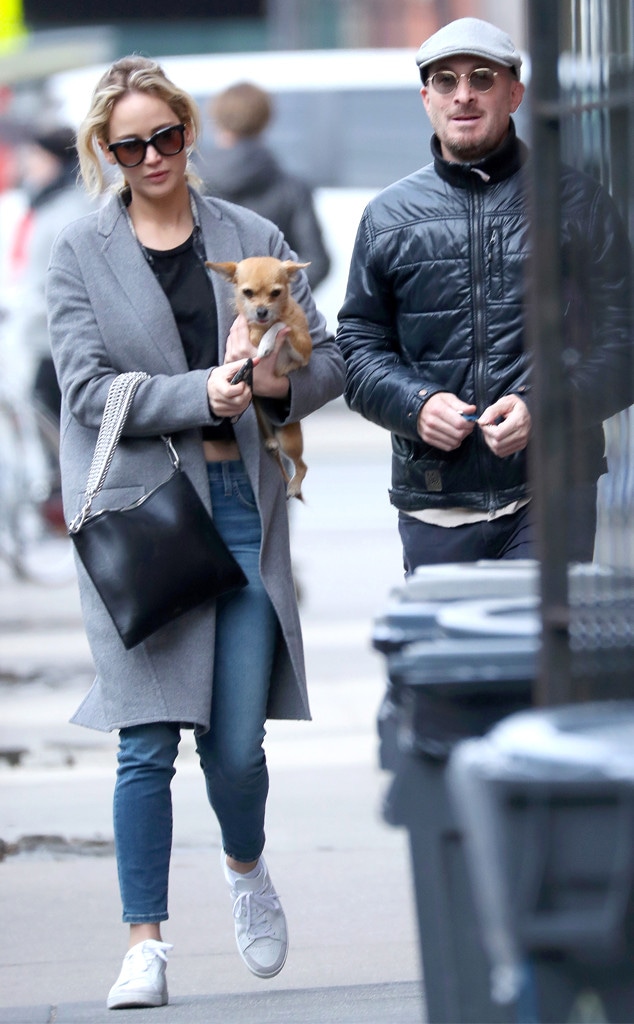 TheImageDirect.com
It's true: Jennifer Lawrence and ex-boyfriend Darren Aronofsky were definitely hanging out despite their break up two months ago. On Wednesday, the exes were photographed walking into a residence in New York City. The two were bundled up and the Oscar winning actress carried her small dog Pippi with her. 
"They are friends. They are not officially back together but are spending time together again," a source told E! News exclusively on Thursday. "They never stopped speaking after they broke up. They care about each other. They are just seeing what happens."
In November, E! News reported that the 27-year-old Oscar-winning actress and 48-year-old Oscar-nominated director, whom she worked with in the critically panned mother!, broke up in October after a year of dating.
At the time, a source told E! News that the couple was still on good terms despite the split.
"It was amicable and they are still friends." 
Looks like that's true.
Neither star has commented on their Big Apple reunion.
Over the past year, Lawrence and Aronofsky have often been photographed together in public, despite trying to keep quiet on their high-profile relationship.
The former couple fell in love while making mother!, co-starring Javier Bardem, Domhnall Gleeson, Ed Harris, Michelle Pfeiffer and Kristen Wiig.
Previously, Lawrence spoke about the origins of her romance with Aronofsky in an interview with The Hollywood Reporter's "Awards Chatter" podcast. "I had a crush on him when he pitched to me, and that was a year before we started rehearsing. But he was a professional, which only made it worse for me," the actress said. "We just kind of formed a friendship. He knew how I felt; he never told me how he felt. I mean, I assumed. And then friendship turned into a partnership once we started working. And when the movie was done, I was like, 'Alright, you're my boyfriend.'"
Well it seems like they're still getting along! In November, a month after they split, the two both attended the annual Governors Awards.