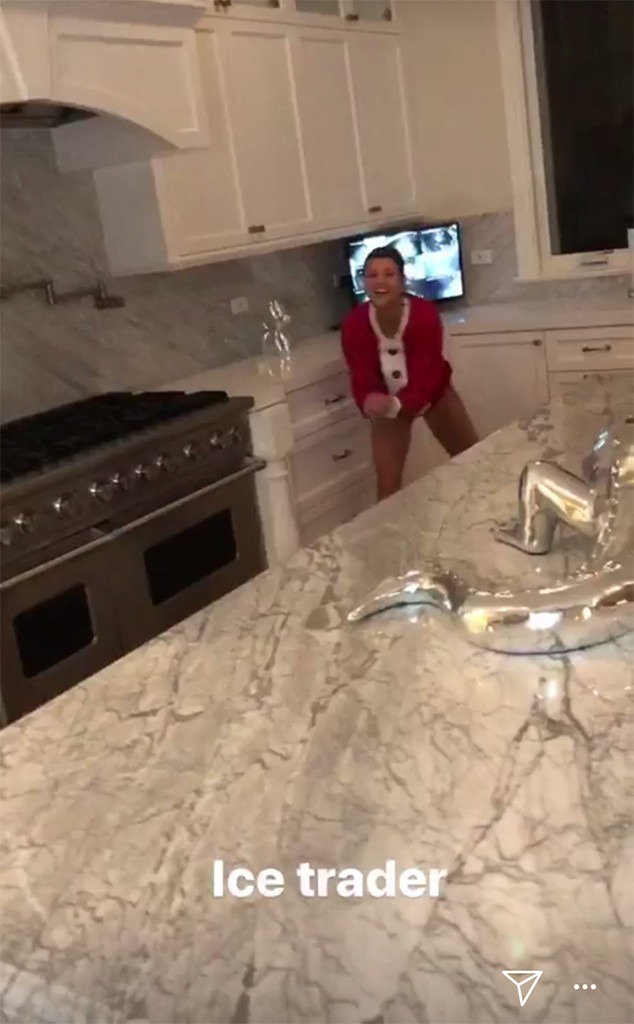 Instagram
It looks like Sofia Richie is getting into the holiday spirit. 
With the help of a Santa suit-themed shirt, the 19-year-old model dressed up like the signature holiday figure, except she was missing some bottoms.
Clad in solely the Santa shirt, underwear and socks, the star got her groove on with help from her dad Lionel Richie's hit, "All Night Long." As the song played, she showed off her moves while beau Scott Disick chronicled the moment on his Instagram story. 
In another clip on social media, Disick captured her trying to catch ice as he tossed them toward her in the kitchen. "Ice trader," he captioned the playful moment. 
Over on Richie's Instagram page, the star shared a snap of their meal together—bowls of spaghetti and taquitos. "Feasting with my [heart]," she wrote. 
The pair initially sparked romance rumors in May, though Richie initially claimed they were just "homies." However, their relationship status appeared to quickly evolve as they were spotted together traveling, partying and eventually smooching. 
"They are inseparable right now and not leaving each other's side," a source told E! News in September. "Scott is totally romancing her and she is under his spell."
While their seriousness level is still up for debate, as evidenced by their recent joint appearance at Art Basel, PDA fest in Miami and Thursday's cozy night in, they seem to still be very much into each other. 
However, they may run into trouble as far as her famous father, Lionel Richie, is concerned. During an interview with E!'s Sibley Scoles in November, the musician made a gesture that looked like he raised an imaginary gun to his head when it came to the topic of his daughter's dating life. 
"Whatever that means," she quipped. 
Here's a look back on Sofia and Scott's romance in pictures: