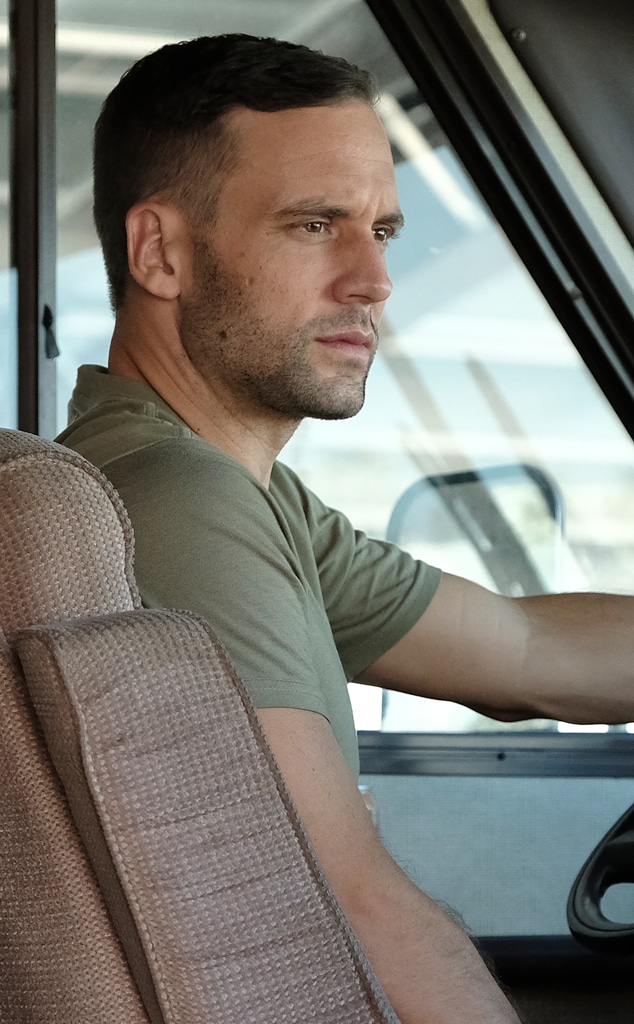 ABC
Get ready to welcome back a familiar face, Agents of S.H.I.E.L.D. fans!
In tonight's new episode of ABC's Marvel series, an hour that will finally shed some light on what poor Fitz (Iain De Caestecker) has been up to since the rest of the team was sent some 70 years into the future without him, former series regular Nick Blood makes his triumphant return as the burned S.H.I.E.L.D. agent Lance Hunter. Blood hasn't been seen on the series since season three, when he and co-star Adrianne Palicki were written out of the show and into a spinoff of their own that failed to land a series order from the network.
 In a chat with E! News about his big return, Blood admitted that he hadn't been keeping up with his old show too closely since his departure. "You're going to get me in trouble with that question," he said, laughing. "I've not been living in America, I've been going back and forth…I needed a little catching up. But Hunter hasn't been watching Agents of S.H.I.E.L.D., so he doesn't really know what's going on either. So I think I was OK."
While he doesn't get to share the screen with many of his former co-stars in the episode—the hour is contained to Fitz and his Earthly dilemma—he did get to reconnect with some old friends. "Personally, it was just really nice to be amongst the crew again. I've got some really good friends in the crew," he said of the experience of returning to a show he was one a star of. "And just to get to hang out with my mate Iain for a few weeks and have some fun shooting was a great experience…We had a lot of fun."
Unfortunately, his return doesn't also mean the return of Palicki's Bobbi Morse, Hunter's ex-wife and partner in crime, as Palicki's commitment to Fox's The Orville kept her away. "I mean, it would've been really nice," he said of the prospect of working with his leading lady again. "Me and Adrianne got on so well and had a lot of fun working together and we're good friends off screen. It would've been really nice to have her along for the ride. I think the audience would've loved it as well…Alas, it wasn't to be."
But just because she's MIA doesn't mean fans won't get an update on what the dynamic duo have been up to ever since they were forced out of S.H.I.E.L.D. in season three. "You can kind of imagine, they've been sort of wheeling and dealing and he's been up to his old tricks, working as a mercenary," Blood teased. "And as far as his personal life, it's the usual roller coaster: Arguments, then making up and breaking up and making up again. They're exactly as you'd expect."
As for how Hunter shows back up just when Fitz needs him most, Blood isn't saying. You'll have to tune in for that. But he did offer up this tantalizing tease: "In typical Hunter fashion, it's all slightly improvisational. He doesn't have all the gadgets of S.H.I.E.L.D. at his disposal, so he has to kind of wing it. So he kind of relies on his charm and his sassiness, I think is the American term, to kind of fight his way out of situations and then gets himself into trouble."
From Lance Hunter, we'd expect no less.
Agents of S.H.I.E.L.D. airs Fridays at 9 p.m. on ABC.