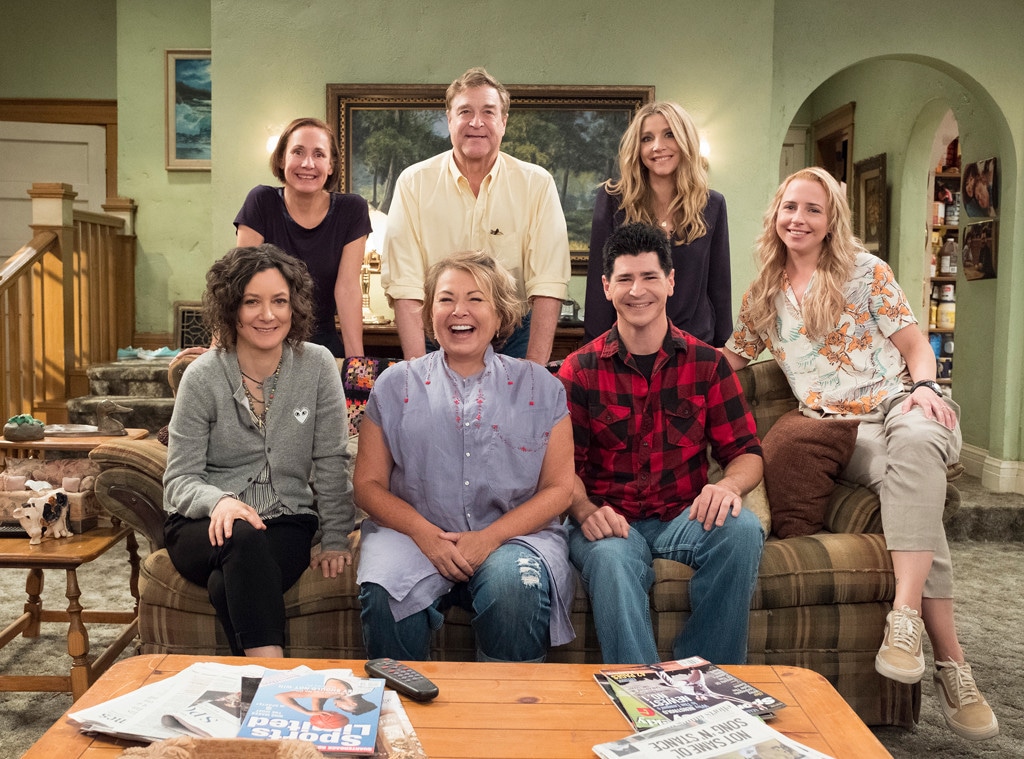 ABC
One mystery about the Roseanne revival has been solved. No, not how the show will explain away the series finale twist that revealed Roseanne Conner (Roseanne Barr) had fictionalized much of the series, including keeping Dan (John Goodman) alive after a heart attack, but the mystery of the two Beckys.
Sarah Chalke, Becky No. 2 on the series and Lecy Goranson, OG Becky, will both be on Roseanne when the series returns to ABC on Tuesday, March 27. Chalke took over the role of Becky when Goranson went to college. Goranson is Becky in the revival and Chalke? According to EW, Chalke is Andrea, a middle-class woman who hires Becky to serve as her surrogate.
"I love the part! It's such a fun part to play," Chalke told EW.
Returning faces for the revival, aside from Barr, Goodman, Chalke and Goranson, include Sara Gilbert, also serving as an executive producer, Laurie Metcalf, Michael Fishman, Johnny Galecki (yes, The Big Bang Theory star will be there for at least an episode), Estelle Parsons, Sandra Bernhard, James Pickens Jr., Natalie West and Adilah Barnes.
"It is very much tonally similar to the original show. It is unflinching, it is honest, it is irreverent at times, and it's also really, really funny," ABC boss Channing Dungey said about the new season at the 2017 TCA summer press tour. "Very topical. We're not talking specifically about the universe that we live in in that way, but we are addressing issues like foreclosure. We're addressing how difficult it is for people to get medical insurance. We're talking about topics in a bigger, broader way. We're not necessarily talking about the occupants of the White House."
So what about the series finale? Dungey wouldn't say how the show was bringing back Dan, but said, "I'm not going to talk too specifically about the season. I wouldn't say that it's ignoring the events of the finale, but I can say that Dan is definitely alive."
Will & Grace, which was just revived by NBC, had to explain away its series finale time jumps and the drifting of Will (Eric McCormack) and Grace (Debra Messing). Producers used the, "it was a dream, but some of it happened" route.
Roseanne returns on Tuesday, March 27 at 8 p.m. on ABC.