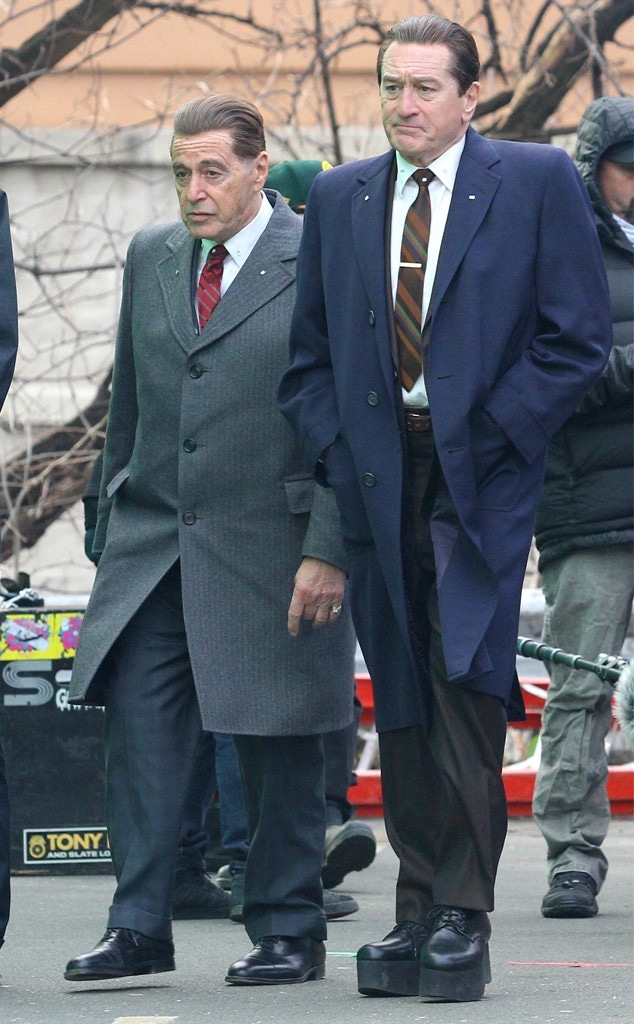 BrosNYC / BACKGRID
Robert De Niro is walking tall. 
The Oscar winner was spotted out and about in the Bronx alongside fellow actor Al Pacino.
Of course, it wasn't just any ordinary afternoon—the two stars were on the set of their upcoming film, The Irishman, directed by Martin Scorsese and also starring the likes of Anna Paquin, Bobby Cannavale and Joe Pesci. 
For his role as Frank Sheeran, the late labor union official allegedly associated with the Bufalino crime family and purported killer of Jimmy Hoffa, De Niro had to physically get into character. As evidenced by the snaps from set, that meant temporarily adjusting his height.
The actor was spotted sporting shoes with thick platforms, seemingly to give him an extra boost alongside his co-star, Pacino, who will play Hoffa in the film. In real life, Sheeran—nicknamed "The Irishman"—and Hoffa had a significant height difference, so such will be reflected on the silver screen, too. 
Without the platform shoes, the two actors are very similar in height. While De Niro and Pacino have run in the same Hollywood circles since they arrived on the scene in the '70s, they surprisingly have not acted in many films together. Aside from The Godfather II (in which they never shared a scene), they've starred in Heat and Righteous Kill with each other. 
The upcoming crime drama, tentatively due out in 2019, also marks a reunion between De Niro, his frequent director, Scorsese, and his recurring co-star, Pesci. 
The wait is on for Pacino, De Niro—and possibly his platform shoes—to come together on the big screen again.