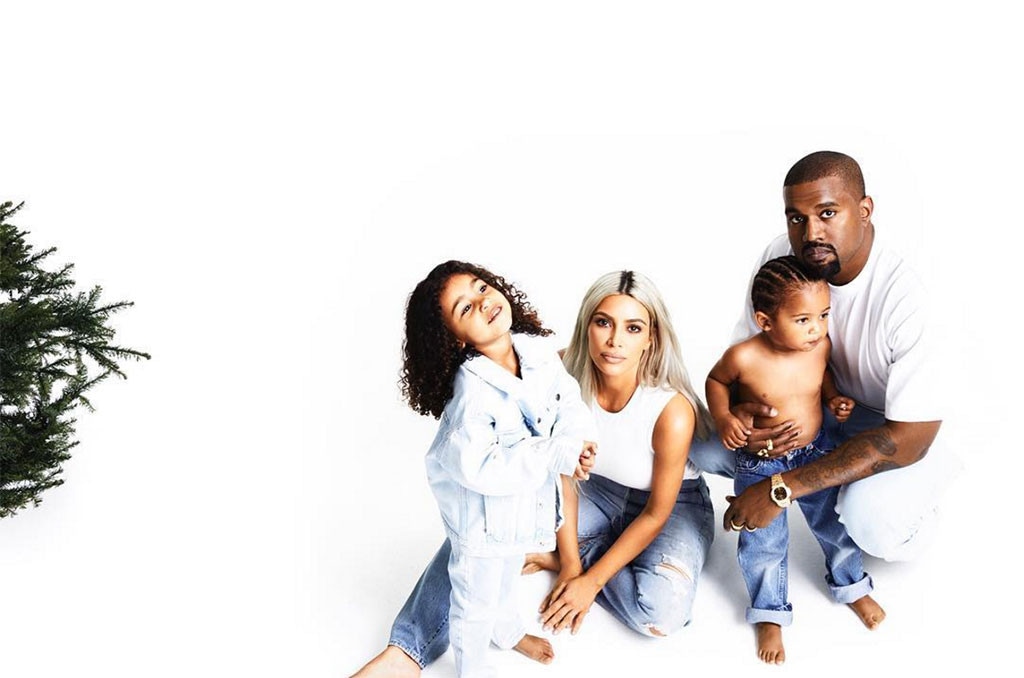 Eli Linnetz
It's day 21 in the realm of the Kardashian Christmas card and that means...it's time to focus on the Wests. 
For the newest addition to the white T-shirt and jeans-themed collection of Eli Linnetz portraits, Kim Kardashian and Kanye West are front and center—well, slightly off-center. Flanked by their two children, 4-year-old North West and 2-year-old Saint West, the reality star and rapper stare into the camera while their kids look in different directions. 
The is not the first time the family of four has been the focus of Linnetz's lens. On Day 16, the quad stood together as each of the parents held one of their little one's hands. 
"This year, we kept the look simple with denim and white tees," Kim explained of the family's Christmas card this year on her app. "I love how it turned out!"
While the famous family has developed many holiday traditions over the years, there's one Kim's children will especially get to enjoy. "At the Christmas party, we see the same Santa that we've had since we were kids. He is honestly the perfect Santa. It's really special that something I experienced in my childhood is now a part of my kids' childhood," the mogul wrote on her app. 
It's definitely a time to document with pictures because this Christmas marks the last one they will have before they officially become a family of five. The star confirmed the family had another youngster on the way in a teaser for Keeping Up With the Kardashians released in late September. 
"After talking to Kanye, I think I always knew that surrogacy was an option, but I didn't think it was that realistic of an option, and now I feel like that's my reality. I feel like surrogacy really is the only other option for me," Kim said on the show back in April. 
It's only a matter of time now for the family's surrogate to give birth and for North and Saint to have a little sister. This time next year there will be another little lady in the Christmas photo!
Check out all the other Kardashian Christmas card pictures below:
Which picture is your favorite so far? Let us know in the comments below!
Keeping Up With the Kardashians returns this September, only on E!