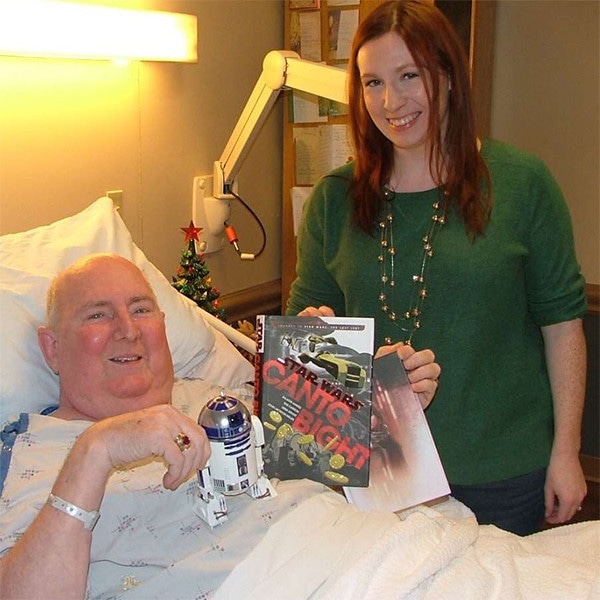 Instagram
Star Wars superfan Ron Villemaire didn't need the power of The Force to fulfill his dying wish; just the kindness of strangers.
The 69-year-old air force veteran and cancer patient, who is in hospice care in New Hampshire, wanted to watch Star Wars: The Last Jedi, which was released last week. His daughter, Elizabeth Natalie Louise Ngo, bought tickets for a showing but he was unable to attend due to pain. WMUR-TV reported. Ron, who has been a fan of Star Wars since the first movie was released in 1977, was diagnosed with stage four colon cancer earlier this year and has undergone chemotherapy and radiation.
So Elizabeth started promoting the hashtag #RonsLastJedi, tweeting at Disney, which owns the franchise, and talk show host Ellen DeGeneres. The campaign caught the attention of a couple of local fire departments and the family was also interviewed by WMUR-TV. On Saturday, Ron's wish was granted.
It started with a bedside visit from a man dressed as Darth Vader, who told him, "Ron Villemaire. You have been summoned by the Emperor."
First responders then transported him via ambulance to a theater, where members of Star Wars fan clubs and the 501st New England Garrison, a unit of the 501st Legion, greeted him sporting Star Wars costumes and props. He and his family were then treated to a private screening of Star Wars: The Last Jedi.
"I hope God will bless each and every one of them just the way I feel blessed right now. He's definitely with me right now," Ron told WMUR-TV. "It's just unbelievable all these people are here, and thank God for Star Wars fans!" 
Watch:
Daisy Ridley Talks "Star Wars: The Last Jedi"
"This, I'll tell you right now, is my favorite movie so far," Ron told FrameofMindPhoto.com, adding that he gives Star Wars: The Last Jedi five out of five stars.
"I loved it too although I must admit I was worried about his comfort so I missed a lot," Elizabeth tweeted. "It's ok I know I can see it down the road. I was just He was so happy. I couldn't stop looking at his reaction. He yelled at the screen a lot lol."
"It was incredible. We are so blessed," she added. "We don't know how long we have, but we'll always have these memories."