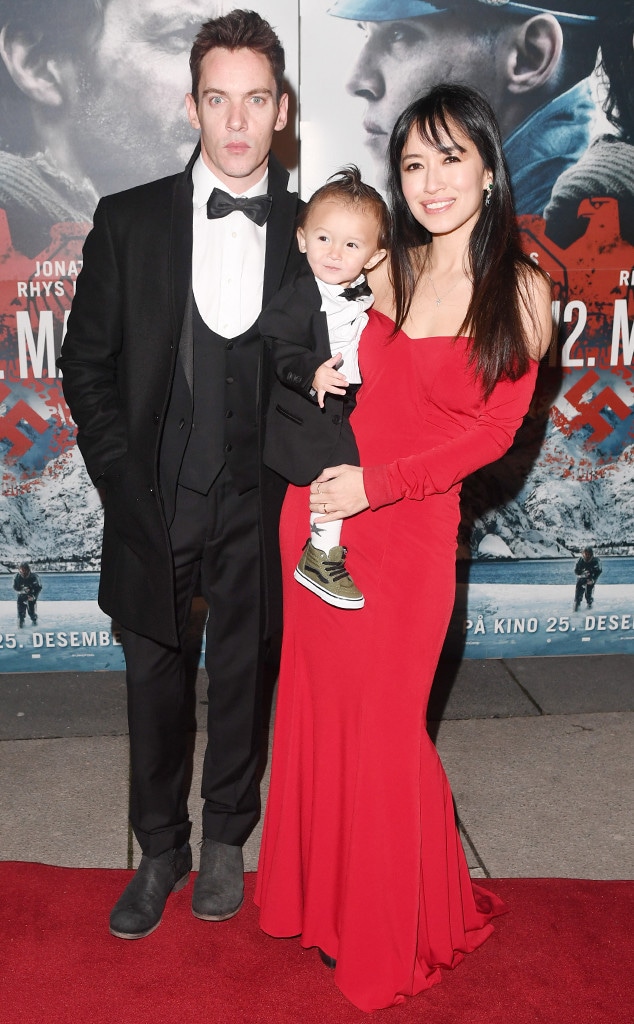 Rune Hellestad - Corbis/Corbis via Getty Images
It's been over three months since Jonathan Rhys Meyers publicly relapsed after his wife Mara Lane suffered a heartbreaking miscarriage, but on Monday night the Irish actor took to the red carpet for the Norway premiere of 12th Man premiere with his spouse and young son Wolf in tow.
The notable appearance marks the 1-year-old's red carpet debut and the tot was dressed up in a tux that matched his famous dad. Meanwhile, Lane opted for a daring red dress as she accompanied her gussied-up husband to the fashionable event. 
The Tudors star opted for a three-piece black tuxedo, complete with bow tie and crisp white shirt for the premiere at Fredrikstad Cinema in Fredrikstad, Norway.
The period piece, which hits theaters on Dec. 25, is about 12 saboteurs, 11 of which were killed by the Nazis and the true story of the one that got away.
On September 9, Lane shared an emotional post on social media, defending her famous husband after photos were taken of him with a policeman at a Dublin airport while he appeared to be intoxicated. 
In the Instagram post, Lane shared that she suffered a miscarriage while pregnant with the couple's second child and noted that Meyers was having a difficult time coping with their loss.
She began, "With much sadness, we open our hearts to share that J and I lost our second child, who was baking in the oven."
"Child was very very much wanted (right now especially by J, so he took the news particularly not so well) and we are still working with coping skills over here... when life throws us curve balls such as these," she wrote on Instagram along with a photo of a woman facing a lion.
"Depression is a real concern from past abuse as well as alcoholism which he was born with. He has been able to turn any ugliness and hurt in his life into art and is the strongest person I know. I do not know anyone who has been through what he has been through and reached his level of successes. It does seem though that every time we seem to be making so much progress... sometimes it's like two steps forward, one step back."
A few days later, the mourning mother revealed that she had laid her unborn daughter, whom she named Willow, to rest under a tree at the couple's home.
She wrote on Instagram, "I have been given peace and Baby Willow is now planted in the tree in front of our home that has weeping long branches and leaves so we can brush our faces in soft leaves in passing or we can see the baby dance with the wind in the branches as they sway. It is helping me process the situation … as Nature does."
Meyers previously went to rehab for alcohol addiction in 2007 and 2010. 
We hope that he he's keeping strong, one day at a time...